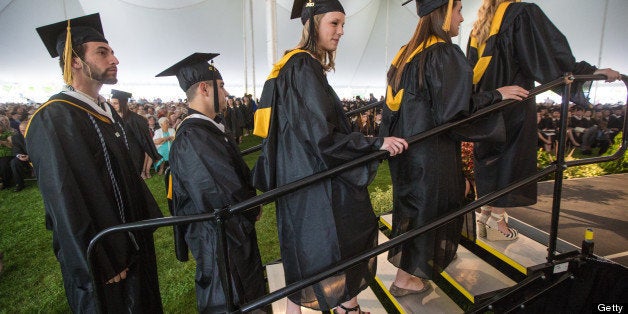 June 13 (Reuters) - The percentage of working-age U.S. adults who hold a college degree has increased incrementally during the last few years but at a pace well short of what is needed to meet future workforce needs, a report released on Thursday said.
The report, published by the Lumina Foundation, showed that 38.7 percent of Americans held a two- or four-year college degree in 2011, the most current year for which data is available, up from 38.3 percent in 2010 and 38.1 percent in 2009.
At the current trajectory, the rate for adults ages 25 to 64 will reach 48.1 percent in 2025, the study said. That is well short of a 60 percent goal set by the study's authors.
The study was based on data from the American Community Survey, a sample of a small percentage of the U.S. population compiled each year by the U.S. Census Bureau.
The president and chief executive of the Indiana-based Lumina Foundation, Jamie Merisotis, said in the report that gaps in educational achievement are linked to race, income and class and reflect "persistent inequities that have dogged us for decades."
Merisotis, whose organization promotes higher education, also said first-generation status, military service and current employment have contributed to challenges facing the United States in increasing the percentage of college-educated adults.
The Lumina Foundation made 70 grants totaling $30 million in 2012, according to its website. (Reporting by Brendan O'Brien in Milwaukee; Editing by Cynthia Johnston and Steve Orlofsky)

Related
Popular in the Community