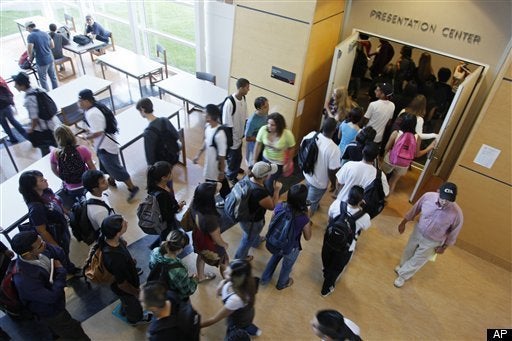 According to a new report from the College Board, a college degree pays for itself in many ways over a lifetime -- from enabling more consistent employment to keeping one's health in check.
Some of the report's more salient (and surprising) points:

Salary:
Median earnings of bachelor's degree recipients working full- time year-round in 2008 were $55,700, $21,900 more than median earnings of high school graduates.

Job satisfaction:
In 2008, about 58% of college graduates and individuals with some college education or an associate degree reported being very satisfied with their jobs, while 50% of high school gradu- ates and 40% of individuals without a high school diploma reported being very satisfied.

Health:
Within each age group, college-educated adults are less likely than others to be obese. In addition, children living in house- holds with more educated parents are less likely than other children to be obese.

Smoking:
During the decade from 1998 to 2008, the smoking rate declined from 14% to 9% among adults with at least a bachelor's degree, while the rate for high school graduates declined from 29% to 27%.

Parenting:
Among parents whose highest degree was a bachelor'sdegree, 68% read to their children daily in 2007. This compares to 57% of parents with an associate degree, 47% of parents with some college but no degree, 41% of high school graduates, and 26% of parents who did not complete high school.
But some question the validity of the report's findings. According to Inside Higher Ed, former chairman of the Bush administration's Commission on the Future of Higher Education and former chairman of the University of Texas System Board of Regents Charles Miller criticized the report as "flawed" and "illogical."
"..the benefits individuals derive from a degree result not from the degree itself, but from the economic and regulatory policies that create jobs and income opportunities, which college graduates absorb [Miller said]. And with financial aid going to students who don't need it, "the finance system of higher education favors those who have special privileges and therefore maintains an unfair compensation for those able to get a degree."
What do you think? Is a college degree still worth it? Weigh in below.
REAL LIFE. REAL NEWS. REAL VOICES.
Help us tell more of the stories that matter from voices that too often remain unheard.