Ithaca College and Coastal Carolina University hand out the most disciplinary measures to students for drug and alcohol violations per capita, a new report analyzing federal data shows.
Under the Clery Act, colleges are required to tally the number of "disciplinary actions" for offenses like drug and alcohol violations and disclose them in annual campus safety reports, as well as submit them to the U.S. Department of Education. Schools are not required to parse out how students are punished in these cases.
The marketing firm Fractl analyzed data from these reports for ProjectKnow.com, a website that provides information about rehabilitation services. In advance of publishing the data at the site, Fractl shared it exclusively with The Huffington Post. (HuffPost has worked with Fractl on other projects as well.)
Fractl only looked at colleges that have student residential facilities for 2014, the most recent data available.
"This means we only looked at drug and alcohol arrests and disciplinary actions that took place in buildings or on property owned or controlled by the institutions (including residential halls)," Fractl's report explained. "Then, to prevent small numbers from skewing the results, we filtered out colleges with enrollment populations of under 5,000 students. This left a pool of about 1,000 medium- and large-sized colleges with 210,000 drug and alcohol disciplinary actions (sometimes called "referrals") and arrests between them (70% of the total across all institutions)."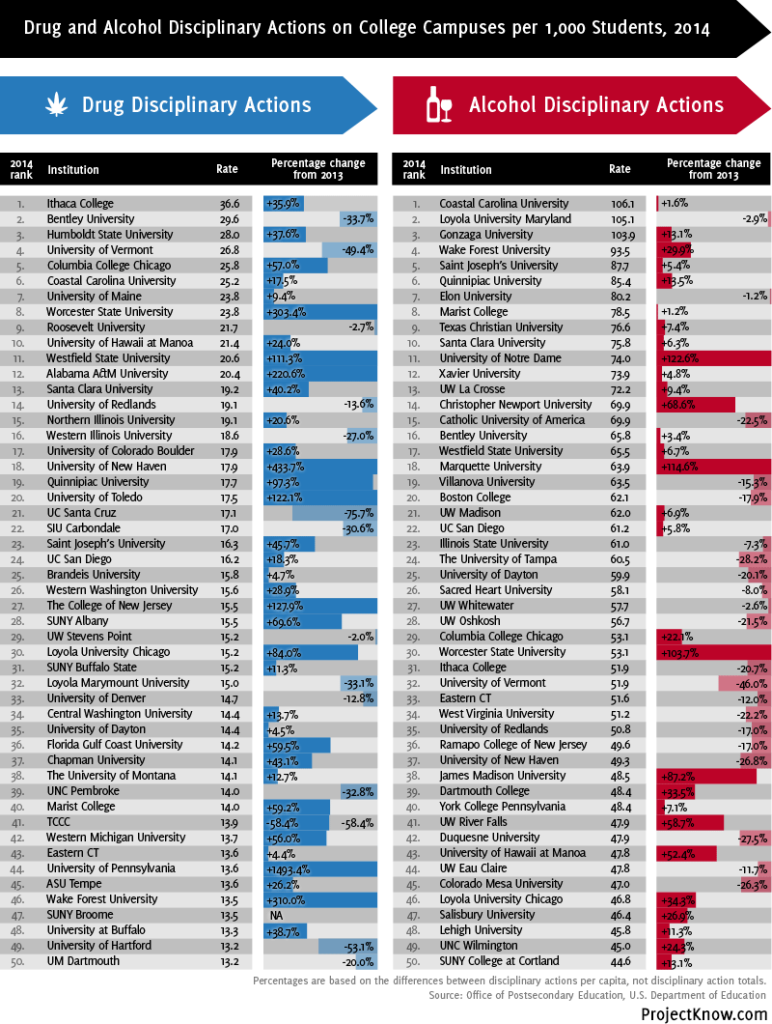 Ithaca College, a private school in New York, had the most drug disciplinary actions per 1,000 students in 2014. It also had an increase in drug-related arrests, going from five in 2013 to 19 in 2014.
Nancy C. Reynolds, a program director at Ithaca's Center for Health Promotion, said she feels their high judicial numbers reflect an "outstanding job" the college is doing to identify students who may need an intervention, and they're seeing a decrease of repeat violations as a result.
"This past year we had a larger incoming first year class, and since judicial incidents happen more frequently to first year students our judicial cases increased this year and have kept us all very busy," Reynolds said in an email. "We know from our survey data that our students' marijuana use has increased slowly over the past decade, which reflects national trends; but at least we're not looking the other way."
Coastal Carolina University was crowned the top spot for most discipline handed out for alcohol violations per capita, and came in sixth for most drug disciplinary actions. CCU had 251 referrals for discipline for drug violations in 2014, and 1,058 referrals for alcohol issues. CCU did not respond to a request for comment.
"There is significant crossover between the top 50 lists for drug and alcohol disciplinary actions: 19 colleges appear on both," the report notes.
Colleges had different explanations for why they believe they ranked highly for drug and alcohol-related discipline measures.
Loyola University of Maryland, which had the second highest rate of discipline for alcohol, said its place in the ranking could be attributed to their "commitment to comprehensive education and enforcement programming around alcohol."
"Nearly 80 percent of Loyola University Maryland's 4,000 undergraduate students live on campus in the university's residence halls, where our office of student life staff does regular rounds and responds to alcohol issues and complaints," said school spokesman Nick Alexopulos. "We practice both enforcement and education; if a student is found responsible for an alcohol violation, that student receives alcohol education as part of the standard sanction. First-year students make up almost 50 percent of students who go through the conduct process (i.e., the educational process for students who violate the code of conduct), and many of these violations are related to alcohol."
Bentley University, which placed second for most drug-related disciplinary actions, pointed out there are also discrepancies in how each school reports its numbers. In Bentley's case, none of these referrals involved more than 1 ounce of marijuana, meaning none of them rose to the state-level definition of a crime. A Bentley spokeswoman said the school wasn't sure whether to include disciplinary referrals for instances involving less than 1 ounce of marijuana.
"As an institution, we chose to take a conservative approach and continue to report drug referrals based upon federal, not state, drug laws," Bentley said in a statement.
But the institutions that don't show up much in these rankings are the universities considered to be the top party schools.
West Virginia University, for example, is often branded a wild party school known for couch burning, yet the school shows up at 34th for the most alcohol sanctions. It's not even in the top 50 for most drug disciplinary measures.
The University of Wisconsin-Madison, ranked No. 2 in Princeton Review's 2015 party school ranking, landed at 21st for most alcohol disciplinary actions. The University of Illinois was first in Princeton Review's ranking, yet is absent in the drug and alcohol disciplinary action rankings. Other well-known party schools, like Ohio University or the University of Iowa, are nowhere to be found in the top 50 of either drug or alcohol punishments rankings.
The report also looked at which colleges and universities had the most notable fluctuation in the number of punishments handed out for drugs and alcohol.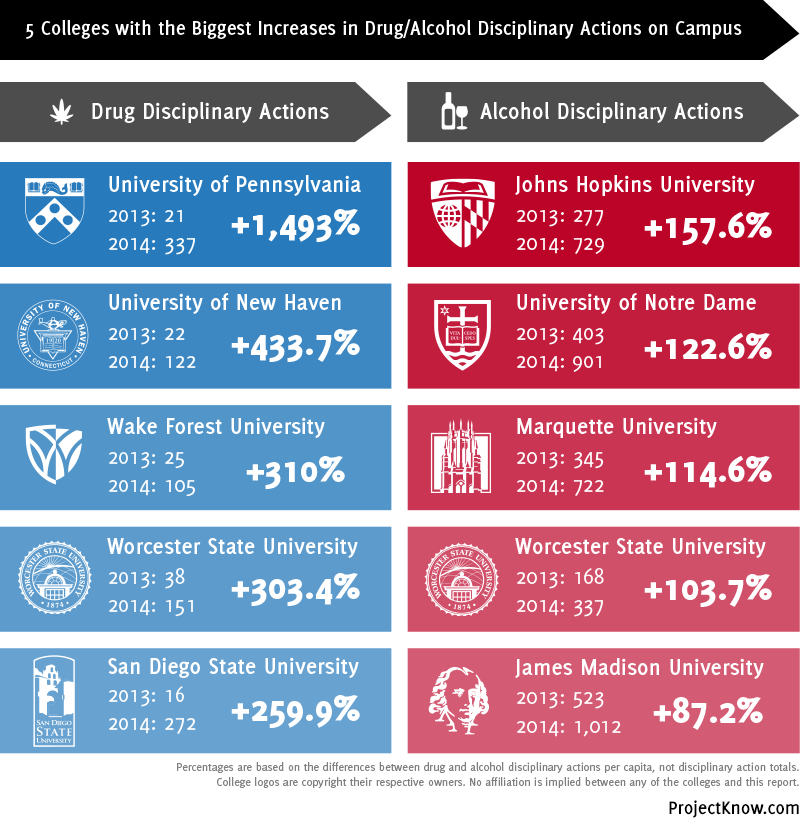 Johns Hopkins University saw the number of disciplinary actions rise from 277 in 2013 to 729 in 2014. But does that mean the number of JHU students being punished more than doubled in a year? No, said JHU spokesman Dennis O'Shea, it reflects a change in their reporting methodology.
"In previous years, these referrals were reported by number of alcohol incidents," O'Shea explained. "Each counted as a single incident regardless of the number of individuals involved. Our reporting in this category is now based on the number of individuals who were involved and referred for university disciplinary action for alcohol violations."
Likewise, the University of Pennsylvania said it didn't suddenly have a dramatic jump in students being punished.
"There had been clerical error in reporting incidents under an old system, and, when the University became aware of this, the reporting system was put back on track two years ago," UPenn spokesman Ron Ozio said in an email. "From that point forward, numbers are accurate."
This story has been updated to include comment from Ithaca College.
Popular in the Community