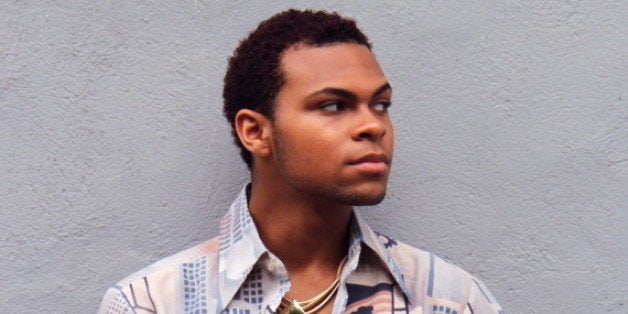 We believe your college essay is more than just a Word document saved on your desktop and deserves to be shared. That's why HuffPost Teen is featuring college admissions essays written for our series, "The College Essay Project." Submit yours to teen@huffingtonpost.com and join the conversation here.
By Nasir Fleming, Manhattanville College '18
I always knew that I was queer, odd, from being the only caramel-mocha colored child in a predominantly Caucasian pre-school, to preferring the simplicity of nature compared to the action of Super Mario Bros. But in sixth grade, I really knew that I was queer. Not just artsy, but very different than the average snot-nose sixth grade boy.
I guess the epiphany erupted when I pranced around my house to Madonna's "Vogue" and noticed the male eye-candy in her flamboyant music video. Madonna and other divas from the 1980s, like RuPaul, urged me to embrace my misunderstood creativity and to try drag. A stiletto is the only item that has held me back from being successful.
In the backroom, the sequins gleamed in my face as I visualized my performance. I repeated to myself, "Step, kick and turn," praying that I would not forget. While chanting, I prepped my face. I applied the creamy foundation and blush. I dazzled up the eye area with a metallic colored eyeshadow. I then applied red lipstick to bring a dramatic effect to my visage. The first half of the gender bending process was complete. I dressed myself in a wine red, laced corset. The daunting task soon appeared: trying to fit into a pair of scandalous hot pants.
I jumped up and down, threw myself against the wall and sucked in my gut until I could zip them up. Despite the war with the pants, I gladly slipped my size 10 man feet into a size 12 pair of women's stilettos. To complete this glamorous look, I placed a vibrant, multi-colored wig on my head. To distract my mind from the horror of performing in front of four hundred college students, I focused on the material of my stilettos. I analyzed them, concluding that, although they were appealing to the eyes, the cheap material was starting to irritate my feet. The emcee broke my thinking train when he exclaimed, "I'd like to welcome Vamiculas to the stage, performing 'Bad Romance' by Lady Gaga."
My heart stopped and shyness shadowed over me. After teasing the audience with my leg through the curtain, it hit me that I was performing in drag for the first time. I burst through the curtains and started to fiercely lip synch the Top 40 hit. Being titled "Best Queen" was my intent. Ignoring the unstable stilettos, I pranced around and smiled in front of the judges. I was profusely sweating as the last 30 seconds of the song approached. I insisted on having a memorable finish. I intended to complete a spin and pose, but instead, I managed to spin, slip and almost fracture my ankle on stage.
The crowd's gasp magnified my embarrassment. As my song ended, I quickly limped backstage in agony. Sadly, I did not come in first place, and I assumed that my accident was the reasoning. I scolded myself and I felt like a failure, but then the thought of the excitement of performing hit me. It was evident that the audience enjoyed my performance, so then why did I care about a tacky sash? I started to ponder the significance of a prize. Not being "perfect" does not make one a loser. My Payless stilettos and my infamous falling onstage is a prize for my passion and my ability to be honest with myself.
Calling all HuffPost superfans!
Sign up for membership to become a founding member and help shape HuffPost's next chapter
BEFORE YOU GO