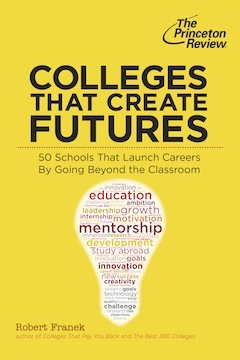 Back-to-school season is one of my favorite times of the year. September is when I take my show on the road, traveling the country to talk to high school students, parents, and college counselors about what they need to know about researching and applying to colleges. Along the way, I'm also touring campuses and meeting with university administrators and staff. This year I'm extra pumped to kick off the college admissions cycle and my travels with a new book, Colleges That Create Futures.
More and more, I hear from college applicants and their parents that what they are looking for from a college education is practical experience that will give them a leg up when they hit the job market. Visiting campuses all over the country, I get to see first-hand how colleges are working to better serve these needs every year. My staff and I conceived of Colleges That Create Futures to go beyond the usual stats and rankings and provide deeper insight into the distinctive hands-on learning experiences that launch students' careers after graduation.
Setting yourself up for a great career isn't just about your college's reputation or even your choice of major -- it's about gaining practical experience and challenging yourself to apply what you know in unfamiliar and changing scenarios. The opportunities you explore both in and out of the classroom will help you develop resumé-worthy experiences and all-important "soft skills" like teamwork, communication, and problem solving (all things I look for when I'm hiring at The Princeton Review!). Colleges That Create Futures describes such opportunities at 50 different schools -- public, private, large research universities, small liberal arts colleges--all over the United States.
To capture the breadth and depth of experiential learning opportunities available, we interviewed more than 200 faculty, administrators, and alumni. These wonderful folks described tons of experiences, some of which college applicants might already be thinking about, like internships and study abroad programs, plus many more that I want to share with students who are deciding where to apply:
• Co-ops are paid, professional, long-term experiences. Students at Northeastern University have options that allow them to alternate semesters of coursework with co-op semesters.
• Externships are short-term job-shadowing opportunities, often available through alumni. Babson College has a program to set up students with externships from one to five days during breaks in their first year of school, so they can get a jump on identifying their professional interests.
• Service learning allows students to affect positive change while gaining valuable personal and professional experience. Rhodes University's Community Development Fellowship provides students with the chance to work with local government and address social issues in surrounding Memphis.
These are just a few examples from the 50 schools we profiled in the book -- there are many more, across a wide range of majors, disciplines, and departments.
The 80+ alumni interviews were especially fascinating. We got to speak with entrepreneurs, politicians, writers and editors, scientists and engineers, doctors, lawyers, grad students, and others about the ways their campus experiences shaped their career trajectories. These alumni have had time outside of college to truly reflect on their experiences there. They've had their first entry-level jobs, their first promotions, and for the most part, are established on a career path. Many were able to pinpoint the experience in college that ignited their passion or gave them a boost when it came time to enter the job market, and it was thrilling to share their success.

I'm excited to bring these inspiring programs and stories to the high school students and parents who come to me, and to The Princeton Review, for information and guidance about finding the colleges and programs that fit them best. And I'm excited to share my stories from the road in this space--from the questions I hear most often from college hopefuls, to the first administration of the new PSAT®, to the best muffaletta in N'awlins (my first stop!). I've got some upcoming events online, too -- I hope you'll stay tuned.
Rob Franek, Senior Vice President-Publisher at The Princeton Review, is the company's chief expert on education and college issues. Over his 22-year career, he has served as a college admissions administrator, test prep teacher, author, and lecturer. Follow Rob and The Princeton Review on Twitter to share your admissions stories, or find out if he's speaking in a town near you: @RobFranek & @ThePrincetonRev
Calling all HuffPost superfans!
Sign up for membership to become a founding member and help shape HuffPost's next chapter