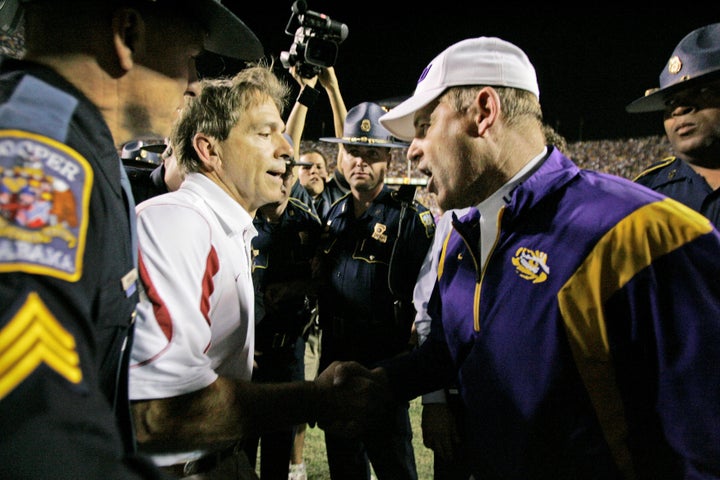 As LSU and Alabama kickoff this season's final game, I'll be glad that this college football season is finally coming to an end.
Why? Because I love college football.
Since I can remember, Saturday mornings in the fall have been dedicated to watching college football pregame shows, fitting preludes to the chorus of pageantry, poise, and athleticism that echo in games played throughout the day. I live or die by the fate of my University of Michigan Wolverines.
But beyond the sheer excitement and the weekly saga, I realize now that my love for college football represents something deeper than the latent human desire to be entertained. Beyond the hype, the fanfare -- even the game itself -- the institution of college football calls to our greatest human aspirations. A worthy foil to the version of the game played on Sundays, college football is about more than big contracts and wayward celebrity lifestyles. It's about being part of something bigger, about playing for pride in one's school and for the love of the game, about the fact that no matter the odds, David can have his day against Goliath. And beyond those won on the field, college football's greatest victories are young men who have come to understand the values of teamwork, effort, determination, and commitment.
At least that used to be true, anyway.
No season has challenged my belief in the value of college football like this one. The accumulation of small blemishes over the off-season at some of college football's most storied programs -- Ohio State, Oregon, Tennessee, Miami, USC, Auburn, and LSU (playing tonight for a national championship) -- were troubling enough. Stories of star players trading their memorabilia for tattoos, boosters using illegal money to sponsor sex parties for players, and coaches lying to cover it all up became more and more difficult to hear. But then the guillotine dropped mid-season with the tragic news out of Happy Valley, which saw the fall from grace of one of college football's greatest programs and the defamation of its most heralded coach -- a man who had embodied many of the higher callings of the institution -- for covering up something as despicable and wrong as a child sex abuse scandal to save his program.
This season has been devastating for those of us who believe that college football can be about more than just money and big egos.
But perhaps that's because it may not be about anything else anymore. Athletic departments at most FBS schools operate independently of the rest of the University -- their earnings aren't funneled back to promote education and provide scholarships (to non-athletes) like most of us think. That makes them, effectively, big multi-sport franchises of the NCAA, much like any given team in any big professional sports league. While they can't make money, per se, given their non-profit status, their employees certainly can. That's why football coaches and athletic directors are among the highest paid employees at many FBS universities. For example, according to the public register of employee salaries, the highest paid employee at LSU is John Chavis, the football team's defensive coordinator, earning $500,000 annually -- Les Miles is listed as earning only $300,000 (although it's well-known that he's on contract for $3.75 million per year, with performance bonuses -- meaning his full salary isn't even listed).
College football programs have found ways to generate money beyond ticket sales and television agreements. For example, my alma mater, the University of Michigan, signed a contract with Adidas in 2008 that pays the Athletic Department about $7.5 million a year in cash and merchandise to wear the three stripes. And when you watch tonight's game, you won't be watching the 2012 BCS National Championship game. You'll be watching the 2012 All State BCS National Championship Game -- like you watched the All State Sugar Bowl, the Tostitos Fiesta Bowl, the Discover Orange Bowl, the Rose Bowl Game Presented by Vizio, not to mention the Capital One Bowl, the Chick-fil-a Bowl, the Little Ceasers Bowl, and the Beef 'O' Brady's Bowl. Corporate funds backing these bowls largely end up in two places: Athletic Department coffers and the wallets of bowl executives. In a recent article, ESPN's Shaun Assael traces the money behind this year's All State Sugar Bowl. Greed, rather than the best interests of the game, often drives Bowl decisions -- including which teams get to play.
The influx of corporate money into College Football has raised the stakes for those involved -- from players, to coaches, to athletic department executives -- everyone wants a piece. Rather than relishing the opportunity to represent their universities, players see college as a farm system for the pros. Rather than forging men, coaches are forging paychecks. And rather than fostering meaningful academic experiences for their student-athletes, universities are banking off of their raw talents -- often delivering little in return.
This year, I'm closing the door on the most disheartening college football season in recent memory. And that's not because the football wasn't good -- it was great. But that's because this season, more than any other, demonstrated the power of money and greed to corrupt a beautiful institution.
But there's always next season.

Calling all HuffPost superfans!
Sign up for membership to become a founding member and help shape HuffPost's next chapter