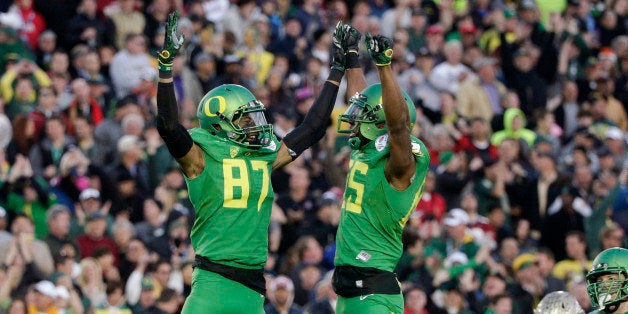 So the National Championship game is set: Oregon vs. Ohio State.
That's who you had all along, right?
Who would've thought an SEC team could be possibly left out? I'm sure that's not what Mike Slive had in mind. He might even be kicking himself right now for helping to get rid of the BCS. As Adam Rittenberg of ESPN pointed out: "If the BCS were still in place, the system almost certainly would have spat out Alabama and Florida State in the top two spots. It would have set an appealing title game but not a reflective one."
For me and most of you readers out there, if the BCS regime still ruled supreme, we'd be grumbling, but we'd be satisfied still to see a match-up pitting the SEC's best against the defending title holders. It's something to which we've been accustomed for the last decade, bowing down to the Bama, Auburn, LSU or Florida gods while they grace us with one final spectacle against a school from one of the lesser conferences.
Luckily, the College Football Playoff has saved us from such prostration as the high-flying Ducks meet the Buckeyes behind quarterback Cardale Jones. (Let's face it, it's probably time we dropped the "third-string" that usually precedes his name.)
The College Football Playoff also gave SEC-haters a gift. I'll admit, it was actually kind of nice seeing Ole Miss and Mississippi State become the torch bearers this past year though. But after their bowl losses, especially the Rebels' shellacking at the hands of TCU, it's like we've been lied to all along. Let's face it, it still wasn't a terrible year for Mississippi; the folks in Oxford churned their success into a visit from Katy Perry (which gave us this great Vine).
Notwithstanding a much more accurate national title setup, the CFP still must go one step further.
An 8-team tournament is still a far better option and might have possibly gifted us a different title game, but we'll never know. Had the 8-team option been in place like I called for a year ago, the match-ups would've looked like this:
(1) Alabama vs. (8) Boise State
(2) Oregon vs. (7) Mississippi State
(3) Florida State vs. (6) TCU
(4) Ohio State vs. (5) Baylor
In this scenario, the top seven of the final CFB rankings would be automatically in the field with the eighth spot given to the top finisher of the non-Power 5 conferences and Independents.
The 8-team format works better for many reasons, but here are just two:
1) We would be much closer to finding a true National Champion. The Horned Frogs proved this year that they could beat anyone. It would've been nice to see them get a shot against Florida State or Ohio State, or both.
2) This format is the most equitable. Every FBS team has a shot to win its National Championship. I'm not sure how this criterion is always overlooked.
These quarterfinal games would be played the weekend after the Army/Navy game with more than enough rest for the winners to meet in the semis.
Here's to hoping we see an even better College Football Playoff in the coming years!
Popular in the Community