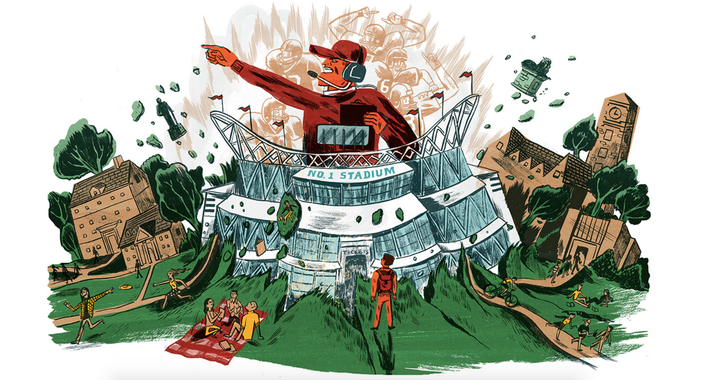 Bowl season in college football culminates Monday night with the University of Alabama, Head Coach (and possible Sith Lord) Nick Saban's awe-inspiring football machine, playing Clemson University, another southern school with a larder full of future NFL players. It is the final contest in an uneven marathon of more than 30 games, featuring the best teams in the sport -- and many exceedingly mediocre ones, some with losing records.
Even the most dedicated sports fan struggles to make sense of the inscrutable college postseason, with matchups that too often pit underwhelming teams in bizarre cold-weather locations. (Akron vs. Utah State in the Famous Idaho Potato Bowl, anyone?)
But for many of the colleges that participate, a bowl invite serves a specific purpose: to justify huge investments of student fees and other subsidies that prop up their programs. A recent investigation by The Huffington Post and The Chronicle of Higher Education found a large and growing divide between a handful of elite powerhouse schools like Bama, which can afford to spend whatever it takes to lure the best coaches and best players to campus, and more than 130 other Division I programs, which rely on subsidies for more than half of their revenue.
With that in mind, here are a few of this season's bowl matchups, with the stakes clearly defined.
The Subsidy Bowl (officially, the Autonation Cure Bowl)
This is the only bowl game ever to end with two teams with losing records, as 5-7 San Jose State upended 6-6 Georgia State before a tiny crowd in Orlando. This dismal result was made possible by the students at the universities, which collectively paid more than $100 million in fees to the athletic departments over the past five years. San Jose State and Georgia State's sports programs are the most subsidized, as a percentage of revenue, out of all teams that competed in the postseason: 63 percent and 84 percent, respectively.
Silver lining: Georgia State won its final four games and advanced to its first-ever bowl game.
Gold star: The sponsor, Autonation, donated $1 million to the Breast Cancer Research Foundation. The Orlando Sports Foundation chipped in another $150,000. That's real money, and the best possible argument for these second-tier games to exist. Other bowl games should follow suit and organize around a charitable cause.
The Subsidy Bowl II (aka the Popeye's Bahamas Bowl)
Fried chicken, mashed potatoes, strolls on the beach -- and the two programs with the biggest subsidies, by dollar value, to compete in this year's postseason. Together, Western Michigan University and Middle Tennessee State University poured nearly $200 million into their sports programs from 2010 to 2014. Over the same period, the colleges have contended with budget cuts and declining enrollment. Western Michigan has also seen faculty layoffs.
At most colleges, subsidies are made up of a mix of student fees and institutional support, and sometimes money from the state government. Western Michigan is unusual in that 100 percent of the subsidy comes from the school itself.
Silver lining: Western Michigan won its first-ever bowl game, 45-31.
Gold star: Congrats for organizing a bowl game in a place where people might actually want to go in the winter.
The David and Goliath Bowl (aka the Quicklane Bowl)
The University of Minnesota isn't the wealthiest program to compete in the postseason, and Central Michigan University isn't the poorest. But the revenue gap between the athletic departments at the two programs is greater than in any other matchup. In 2014, the most recent year for which data is available, Minnesota earned 14 times as much as Central Michigan from ticket sales, TV revenue and other outside sources: $99 million to just $7.7 million.
Silver Lining: Central Michigan almost pulled off the upset. So moral victory?
Gold star: Yet another cold-weather destination (Detroit), but at least the stadium has a roof.
The Daddy Warbucks Bowl (aka College Football Playoff National Championship)
Alabama and Clemson together earned more than $1 billion from 2010 to 2014, and as a result spend money like a Saudi prince on shopping spree. Saban is college football's highest-paid coach, earning more than $7 million a year. Dabo Swinney, Clemson's coach, is a pauper in comparison: His salary is just $3.3 million, before bonuses.
So why are the two schools still subsidizing athletics? Despite the windfall, there is always something else to spend money on: a private golf club membership for a head coach, a locker room upgrade or a cross-country recruiting trip on a private plane. Over the past five years, Alabama and Clemson have written checks totaling $50 million to their sports departments.
Silver lining: Clemson's coaching staff is in line for $2 million in bonuses if the team beats Bama. For the record, that is exactly $2 million more than their players will receive.
Gold star: There isn't a universe in which the huge sums earned by college football coaches in states like Alabama and South Carolina, where poverty is high and teachers barely make a living wage, can be considered fair or equitable. That said, Swinney's personal story -- growing up in poverty, sharing a bedroom with his mother while a college student at Alabama and eventually earning a football scholarship as a walk-on player -- is inspiring.
CORRECTION: Dabo Swinney's 2015 salary was $3.3 million, before bonuses. A previous version of this story mistakenly gave his 2014 salary.


Popular in the Community