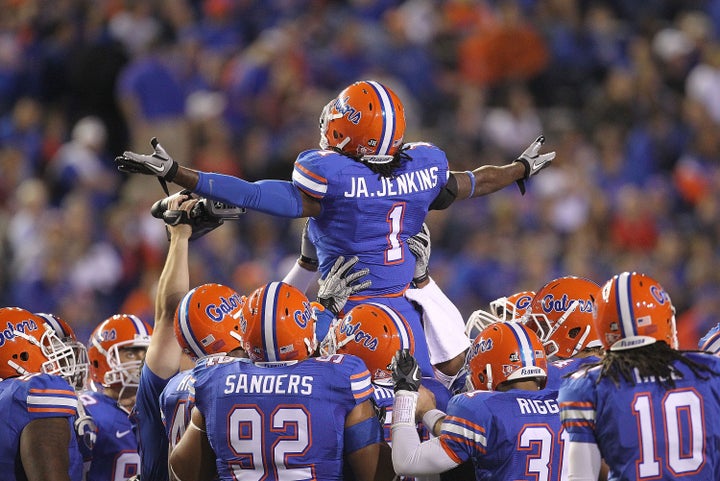 I'm excited for the start of another football season and I've spent the last month doing a team by team analysis and rating of all 120 Division 1A (aka FBS) teams. My early season ratings have proven more accurate than the Vegas odds makers and last year I pegged Stanford as the 9th best team heading into the season (they were unranked), Oklahoma State rated 19th (also unranked) and had Texas (#5 ranked in the polls) as my 34th rated team. I've used my early season ratings to give me an edge over Las Vegas over the years and this year I want to share some conference previews with you. I will also have free analysis of almost every College game in the free analysis section at drbobsports.com.
I'll start my previews with the SEC East and I'll post my analysis of the exciting SEC West later this week.
Georgia
(Projected SEC record 5.5 - 2.5, 1st Place East)
Georgia was much better last season than their 6-7 record suggests and the Bulldogs are my slight favorite to win the SEC East. The Bulldogs out-gained their opponents 6.3 yards per play to 5.5 yppl despite facing a schedule of teams that was 0.6 yppl better than average. Georgia was also +10 in turnover margin and had great special teams play, so going 6-7 while out-scoring your opponents by 10.0 points per game was a complete fluke aided by an 0-4 record on games decided by 7 points or less. Georgia's offense will be led by sophomore quarterback Aaron Murray, who emerged as one of the best quarterbacks in the nation while being named 1st Team Freshman All-American.
Murray will have to adjust to life without star WR A.J. Green, who lifted the Georgia passing game from very good to great when he returned to the lineup after missing the first 4 games due to suspension. Murray was very good in the 4 games without Green, averaging 7.1 yards per pass play (against teams that would combine to allow 5.7 yppp to an average quarterback). Murray averaged 8.2 yppp (against teams that would allow 5.8 yppp) in 8 FBS games with Green in the lineup, so he'll certainly miss his former star receiver.
I expect Murray to be a better quarterback this season but his numbers will probably be less impressive without Green's dynamic playmaking ability. Georgia could get a boost in the running game with highly touted true freshman RB Isaiah Crowell as the main back thanks to the absence of last year's top 2 rushers (Washaun Ealey transferred and Caleb King is out for the season with an injury). The Georgia defense hasn't been too much better than average in recent years but this year's stop unit has 7 returning starters and two major additions in run-stuffing DT Jonathan Jenkins (a JC transfer) and USC transfer Jarvis Jones. Georgia should improve significantly on the defensive side of the ball and their special teams will be among the best in the nation. The Bulldogs should be improved while being very likely to improve on their record in close games. Georgia will go from a losing team to a team that will be a major player in the hunt for an SEC Championship.
South Carolina
(projected SEC record 5.3 - 2.7, 2rd Place East)
South Carolina looks like the most well-rounded team in the SEC East from the line of scrimmage, but the Gamecocks will have to improve upon their horrible special teams if they want to return to the SEC Championship game. With their second game of the season being at Georgia, who has among the best special teams units in the nation, the Gamecocks will need to get it together soon if they want a leg up in the division race. There are no problems with South Carolina's offense or defense, as the Gamecocks return the nucleus of last year's strong attack (6.2 yards per play against teams that would combine to allow just 5.1 yppl to an average team) with QB Stephen Garcia coming back for his 4th year as the starter, sophomore RB Marcus Lattimore back after a very good frosh campaign (1197 yards at 4.8 ypr and 17 TDs) and 1st Team All-American WR Alshon Jeffery also returning after hauling in passes for 1517 yards at 17.2 yards per catch. Garcia can be turnover prone (14 interceptions last season), but South Carolina's offense should be very good again this season.
South Carolina's defense should be the unit that makes the difference this season, as the Gamecocks should fix some of the leaks in the secondary that allowed good quarterbacks to expose them last season. Overall, South Carolina was very good defensively in 2010, as the 5.4 yppl that unit allowed against FBS competition came against a schedule of teams that would combine to average 6.1 yppl against an average defense. The Gamecocks should be even better this season defensively with all of their key components back and with the addition of the top rated freshman defensive linemen (DE Jadeveon Clowney) and the return of LB Shaq Wilson, who led the team in tackles in 2009 but played just 1 game last season due to injury. South Carolina should be among the better teams in the nation from the line of scrimmage and they should improve their special teams enough to make a run at defending their SEC East championship. I actually have South Carolina rated as 1 point better than Georgia, but the Gamecocks face a tougher SEC schedule having to play at Georgia and having to visit Arkansas out of the West (Georgia's tough SEC West opponent is their home game with Auburn, which is not nearly as tough).
Florida
(projected SEC record 4.5 - 3.5, 3rd Place East)
I expected Florida to be a very good team last season despite the absence of Tim Tebow, but the quarterback play was the worst in Urban Meyer's coaching career, including his days at Bowling Green and Utah (even after compensating for level of opposing defenses faced). John Brantley was the top rated quarterback of his high school class and had two years in the system as a backup to Tebow, but Brantley was horrible in his first year as the starter. Brantley did connect on a better than average 61 percent of his passes, but the large majority of those completions were short passes (10.3 yards per completion is very low) and his 5.5 yards per pass play (including sacks) was well below even the lowest expectations (6.2 yppp is average). Overall the Gators averaged just 5.1 yards per play (against teams that would allow 5.1 yppl to an average FBS team) and the poor attack was too much to overcome, even with a very good defense (4.7 yppl allowed to FBS teams that would average 5.7 yppl against an average defense) and great special teams.
The Gators start a new regime with former Texas defensive coordinator Will Muschamp as the head coach, highly regarded offensive coordinator Charlie Weis as the OC and former NFL defensive assistant Dan Quinn taking over the defense (although Muschamp will no doubt has a strong influence on that side of the ball). Florida still has elite talent and I expect the offense to be much improved while the defense comes close to last year's standards despite returning just 4 starters on that side of the ball. I have Florida rated only 2 points worse than South Carolina and just 1 point worse than Georgia, but the Gators have the toughest SEC schedule of those 3 teams and that will make it tough for them to win the East.
Tennessee
(projected SEC record 2.6 - 5.4, 4th Place East)
Tennessee will be better on both sides of the ball in year 2 of coach Derek Dooley's tenure, but getting back to a bowl game after last year's 6-7 season will not be easy. The Volunteers' offense will be led by sophomore quarterback Tyler Bray, who played the last 8 games as a freshman and averaged an impressive 7.3 yards per pass play while facing teams that would allow 6.3 yppp to an average QB. I expect a slight drop in Bray's production with the loss of his top 3 receivers, including Denarius Moore, who averaged 20.9 yards per catch, but Brey was much better than Matt Simms last season and overall the Tennessee passing numbers should be better.
The Vols were just mediocre running the ball last season, averaging 4.5 yards per rushing play (against teams that would allow 4.5 yprp to an average team) but I expect a slight improvement in the rushing numbers and the offense will be good if Bray cuts down on his interceptions (10 on just 224 pass attempts). The Tennessee defense allowed 5.7 yards per play (against teams that would average 5.8 yppl against an average defensive team) but that unit should be improved despite having just 5 returning starters. The run defense is still likely to be mediocre, but all 4 defensive backs return and the pass defense should be solid. Tennessee should be a few points better in 2011 than they were in 2010, but they're another year away from contending for an SEC title and they will likely have to win all 4 of their non-conference games, or pull off an SEC upset, to make it back to a bowl game this season thanks to a brutal SEC schedule (they have to play the SEC West's 3 toughest teams and two of those are on the road).
Kentucky
(projected SEC record 2.1 - 5.9, 5th Place East)
Kentucky has played in 5 consecutive bowl games, but I think that streak will end this season unless new quarterback Morgan Newton is much better than I expect him to be. Newton averaged just 4.5 yards per pass play (against teams that would allow 6.1 yppp to an average QB) on 145 pass plays as freshman in 09 and he was 0.4 yppp worse than average as the starter in Kentucky's bowl game against Pittsburgh last season (4.9 yppp against a Pitt defense that would allow 5.3 yppp to an average QB). Without last year's top receivers Randall Cobb and Chris Matthews I don't see Newton being better than average on a compensated yards per pass play basis. The good news is that Newton has thrown only 3 interceptions on 191 career pass plays, as he usually tucks the ball and runs with it rather than forcing throws into traffic.
Last season's rushing attack was way down even with 4 returning linemen and stars Derrick Locke (887 yards at 5.3 ypr) and Randall Cobb (424 yards at 7.7 ypr) combing for 1311 yards at 5.9 ypr. Overall the Wildcats were only slightly better than average running the ball in 2010 (4.9 yards per rushing play against teams that would allow 4.7 yprp to an average team) and they were 0.4 yprp worse than average without Cobb's contribution running as a Wildcat quarterback. This season's top returning back, Raymond Sanders, ran for just 254 yards at 3.7 ypr as a freshman last season and the Wildcats look like a below average rushing team even with 4 returning starters on offensive line. While I think Kentucky's offense will go from 0.6 yards per play better than average to a bit worse than average, the defense should be much, much better with the loss of only one full-time starter from last year's team. The Wildcats allowed 5.9 yards per play in 2010 (against teams that would average 5.6 yppl against an average defensive unit) but I project Kentucky at 0.3 yppl better than average this season. Overall, I don't see Kentucky being much better than an average FBS team, and that's not nearly good enough to compete in the SEC.
Vanderbilt
(projected SEC record 1.9 - 6.1, 5th Place East)
New head coach James Franklin insists he's going to turn Vanderbilt's football fortunes around and he has plenty of experience to work with (19 returning starters plus both kickers), but the Commodores need to greatly improve their pass attack if they have a chance at respectability this season. Incumbent QB Larry Smith was horrible as a sophomore, rating at 2.2 yards per pass play worse than average (3.7 yppp against teams that would allow 5.9 yppp to an average QB) and he was equally horrible last season (3.9 yppp against teams that would allow 6.1 yppp). Smith runs the ball pretty well (429 yards on 76 runs last season), but he's simply not accurate enough (47.6 percent career completions) to lead the offense to much success.
There was hope that Jordan Rodgers could take over, but Rodgers hasn't looked good in scrimmages, completing just 7 of 16 passes for a paltry 43 yards and 2 interceptions in the 1st scrimmage and he also struggled last Saturday in the final scrimmage. It looks like Smith will be back at quarterback and it doesn't appear as if he's gotten any better either based on the two scrimmages. Overall Vandy QB's combined to complete just 23 of 48 for just 264 yards in first scrimmage and were even worse last Saturday. Vanderbilt does have two proven running backs in Warren Norman and Zac Stacy, who combined for 790 yards at 5.5 ypr last season, but the offense will only work if the quarterback play vastly improves. Vanderbilt's defense should go from slightly worse than average (5.9 yppl allowed to teams that would average 5.7 yppl) to better than average against both the run and the pass with a much more experienced unit (8 returning starters this year and just 4 last year) and a good secondary. Vanderbilt gets Kentucky at home and that's their chance to get out of the SEC East basement.
I'll post my analysis of the exciting SEC West Division later this week and will post the other major conferences as the season approaches.
Related
Popular in the Community