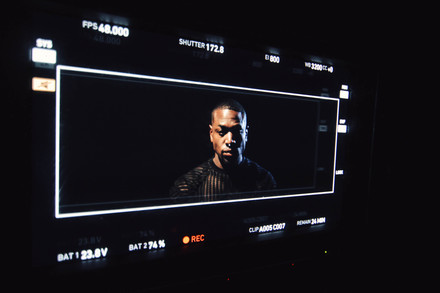 Horace Dodd isn't a household name.
And maybe that's because he's too much of a renaissance man, chasing ideas, exploring new avenues, reading poetry and philosophy. Dodd seems to be good at everything, a jack of all trades, and so far he hasn't stopped to focus on just one thing, maybe to the detriment of his career. But his varied experiences have given him a perspective that most people don't have, and that perspective lends credence to his voice.
After winning the High School Heisman trophy as a star running back in New York state, Dodd became a college football star at Penn State and Boston College. His path seemed headed toward the NFL, but things happen - life is full of unexpected twists - and he went in another direction.
For a few years, he worked in music and producing, lived in Atlanta, and got to know both the industry and the artists. Then he was asked to be on a VH1 reality show, and saw what it was like to be on the other side of the camera. For the first time, he considered getting into acting.
That's the directions he's headed now, and this past year he's appeared on ABC's "How To Get Away With Murder" and Comedy Central's "Tosh.O," along with filming for the new show "I'm Dying Up Here," a drama about L.A.'s 1970s stand-up comedy scene.
Then there's this, Dodd's new spoken-word piece, an interesting commentary on race in America, but also what he calls a "human" response - meaning, this is his response to being human in the United States, in 2016:
I caught up with Dodd after watching GENERATIONS, wanting to know more about him, about his history, his perspective, and his experiences. This is the interview that followed, an interview that got deeper and more philosophical as we went along:
PBH: Let's start back at the beginning. You were a football star in high school. How many touchdowns did you score? And/or how many yards did you have junior and senior year?
HD: My sophomore season I scored 26 td's and rushed for over 1700 yards. Junior year I missed most of the season due to a torn hamstring. Senior season I scored 25 td's and rushed for 2100 yards.
PBH: Then you won the prestigious High School Heisman senior year. Was that a surprise? Did that increase recruiting?
HD: I had lofty goals during my junior season. I wanted to rush for 3000 yards and score 50 td's. However, a torn hamstring ended that. So senior season I was certain I could put up High School Heisman worthy numbers, but it was more of a comeback season, and a season that I tried to get through without suffering another major injury. I had already garnered over 100 scholarship offers, so recruiters knew of my ability. I just needed to prove that I was 100% healthy.
PBH: Your second season at Boston College, you scored 10 touchdowns and averaged 5.3 yards per carry, and were headed toward an NFL career. Then a serious knee injury changed all of that. What did you do next?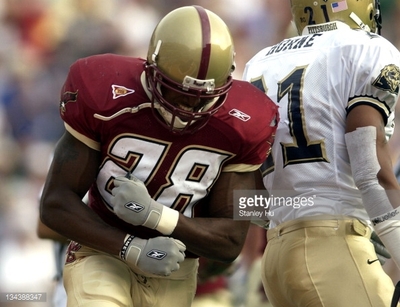 HD: I relocated to Atlanta, GA to pursue a career in music. My best friend Pierre Medor is a grammy nominated producer. We recorded over 200 songs during our high school and college years so he convinced me to seriously pursue it once my athletic career had ended. It turned out to be the right decision. Working with Pierre was like doing an internship, and a few years after graduating from Boston College I signed a major publishing deal as a songwriter and producer.
PBH: Then you lived all over the country, the northeast, the south, the west coast. Is this country the same everywhere or are there major differences between each region?
HD: Music afforded me the opportunity to live in major cities like New York, Atlanta, and Los Angeles. They each have different vibes and characteristics. New York is fast, Atlanta is flamboyant, and LA is sexy.
PBH: And now you have credits on IMDB. How'd you get into acting? What was it about acting that interested you?
HD: After I signed my publishing deal I got an opportunity to be on the reality show Love and Hip Hop Atlanta. After doing the show I wanted to pursue a serious career in acting. I have always considered myself a visual artist. Acting is the most expressive art form, and it allows me to utilize all of my talents. My brother Quaison had been living in LA. He advised me to move to Los Angeles if I wanted to have a serious career in film and television...so I did.
PBH: Let's talk about your piece, "Generations." What inspired this concept? Was it a quick jolt of inspiration or did it take many days and many drafts?
HD: It took me 20 minutes to write Generations. However, it was inspired by a lifetime of being a Black man in America. It's just a snapshot of my stream of consciousness.
PBH: 20 minutes to write, yet your piece is so incredibly poetic. It reminds of Patricia Smith. Have you read her work or listened to her spoken word pieces? Or what poets do you read and love? Who inspires your art?
HD: As far as poets, I love some of the usuals, like Maya Angelou, Gil Scott-Heron, and Langston Hughes. But Malcolm Gladwell is my favorite author.
PBH: How does this piece tie into the Black Lives Matter movement?
HD: I believe that what BLM and Generations represent are similar at the core. However, I don't want to tie myself into any organization...Yet. What we're dealing with here is bigger than an organization, or a hashtag. We're dealing with a system and an infrastructure that has been implemented for centuries now. This system is at the core of racism. Racism is a form of sickness and everybody on our planet is susceptible to it.
PBH: Did you see that Lil Wayne didn't give any credence to the Black Lives Matter movement this past week in an interview? His argument is that he's young and rich and black, so he matters, that individuals need to matter, not a group. Is that idea part of the problem, or is Lil Wayne an outlier?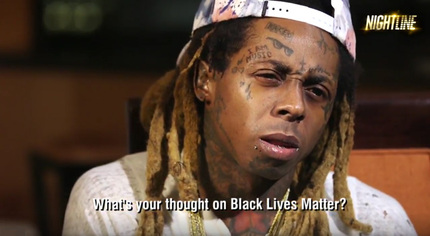 HD: Lil Wayne has the right to feel how he wants to about BLM. Perspective is everything. It's one of the most important keys to life. If he doesn't want to be associated with it I'm not mad at him. He's always been an independent thinker. However, being rich, famous, and black doesn't mean he won't face the same issues I face as a black man who isn't rich and famous. And I think he understands that as well. I interpreted what he said as him not wanting to be associated with the BLM movement. He sees himself as an individual and he will handle the matter on his own terms.
I respect that.
I want to be very clear about this.....
We can get out in the streets to march and protest, but the fight for change needs to be consistent. Not just when a black man getting gunned down by a white police officer makes the headlines. I have an issue with these fairweather activists. If you're just going to be angry, cool...but don't use a topic like this as a forum for your anger without expressing some form of solution. Go see a therapist for that. We need to channel our pain and anger to help find SOLUTIONS. If not, the cause will be lost in translation.
PBH: And the ending of your spoken-word piece has a twist? Did you plan that twist from the beginning or was that something that came about organically?
HD: I actually didn't plan that twist ending. It happened on the day of filming it. There were about 25 members of cast and crew there, and they were predominantly white. And after I delivered the monologue, they all burst into applause. It was a great feeling. I don't look at Generations as a "Black" piece. Or a "Black Power" piece. It's a human piece. An artistic statement about humanity. Yes, I am a black man, and I love my culture. However, first and foremost we are all God's children. No matter what the color of our skin is. And second, I'm a human being.
My fiance is white. We are expecting a child. A baby girl. I'm a man, she's a woman. We are normal everyday people/citizens and we want to live the life that every human being has a right to live, but because we are of different races it makes a lot of people uncomfortable. Yes, still in this day and age...2016...many people are still very uncomfortable with this. For many reasons.
So the twist ending was there to say...I'm not pointing the finger. I'm expressing an aspect of how I feel about the situation. However, we are all involved and we all need to do our part. It's not a rallying cry, and its not an invitation to pout. It's a piece for forward thinkers. We need SOLUTIONS.
PBH: Why is it important to recognize the nuances of racial discrimination and stereotyping? Why is our country still plagued with so many bigots? Is it ignorance or do we have willful and intentional racism still creeping through the fabric of our nation?
HD: This is an extremely dynamic question. One that requires an extremely layered answer. I could fill a library worth of books with thoughts about this question.
I've attempted to get to the core/root of our issues and so far I've come to this: Fear, ignorance, entitlement, and lack of education are within the DNA of racism. These things make people extremely uncomfortable to talk about. And it's understandable, nobody wants to feel guilty about something that they didn't directly have a hand in.
However, it's necessary to have these conversations..and sooner rather than later or the world as we know it will self destruct. It's already beginning to manifest itself. Our 2016 presidential election is evidence of that, but we will save that conversation for a later time.
I had a conversation with a friend of mine who happens to be a successful white man. He asked me a similar question about the intentionality if racism. And if I thought most of today's racism is intentional. I believe most of it is intentional, but it's born through an ideology of privilege and self-entitlement because the system and infrastructure of our culture has taught people that "this is the way things are supposed to be." This dates back to the "Willie Lynch Theory."
What I'm saying is this...I don't believe that we as a culture are asking for hand outs from anyone. Like the name of Solange Knowles' new album, we are asking for "A Seat at The Table". And what that means is the people in power want us to continue to come to them for fish, but they don't want to teach us how to fish. This means they will remain in control and maintain power. And I believe this is done intentionally. So is this a problem of racism or just a human problem of power hungry and god-like aspiration? The question is up for debate.
However, if we know that this is at the root of the issue then it is up to us to educate ourselves about things like real estate, stocks, and bonds etc. Our country is built off of these things and we have to understand it just as well as anyone else. We have to go further.
PBH: What would it take to find commonalities? What would it take to see issues from other people's points of view? Or do we need to do something else? What would you advise?
HD: I believe this starts with the willingness to hear others and attempt to understand the human condition. Take you for example. Because of your experiences you have been shaped into the man that you are today. Throughout your life you have taken the time out to try and understand others on a higher level than most. It's now second nature for you. Most people are not like this. They care, but not enough to truly understand someone else's situation. That takes too much time and energy for most people. So now, it's left up to you and other important voices like yours to document the human experience and condition. You understand that this is a major responsibility and you feel accountable. And think more people in this world should feel ACCOUNTABLE. In some way we all should, because we all owe it the society we share and inhabit.
PBH: Definitely. And thank you. I feel grateful for the opportunity to be a writer, to get to talk to so many people, and to hear so many perspectives. But to continue from your answer - do you think that our country is changing for the better? Or is it getting worse? Or is there a sort of boiling stasis, of - as Shakespeare would word it - continuing civil strife?
HD: There are some super intelligent people out there. Everyday people who do their do diligence. They truly want a better world, not just for themselves but for everybody. All walks of life...people, animals, the environment, our entire earth. The number of forward thinkers is growing. However, we still have a very large demographic of people that continue to perpetuate certain fears that have led to the creation and maintenance of the status quo. And there's an even larger demographic of people that accept this because they don't want change. Because change is not only uncomfortable, it requires work. There's a certain laziness in general when it comes to implementing these types of changes. It requires much more work to actually care than to not care. So yes, I think some things are changing for the better but we have a long way to go. And in order for things to get even better, we will all have to go through some very uncomfortable times. Sometimes being uncomfortable is the only way to find the truth.
REAL LIFE. REAL NEWS. REAL VOICES.
Help us tell more of the stories that matter from voices that too often remain unheard.