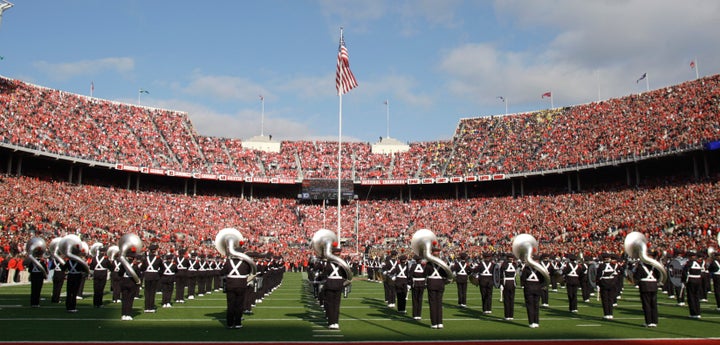 The following is not intended as a defense of the current BCS system, racked as it is with imperfections and inherent unfairness. Rather, I choose to celebrate the pageantry that is college football. And it is meant as a counter to an argument, recently promoted, by Buzz Bissinger that the game should be banned from campuses across America.
Consider this phenomenon: nearly all of America's great universities are, or once were, prominent in football. A quick review of the top 25 rankings of any given season will undoubtedly include some of our country's finest public institutions: Michigan, UC Berkeley, Wisconsin, Texas, Virginia, and Florida. Douglas Toma of the University of Pennsylvania, in his thought-provoking book, Football U, attempts to define the powerful galvanizing force that is college football. While baseball may be considered America's pastime, football -- both collegiate and professional -- has captured our nation's attention and devotion in a manner unrivaled by any other team sport. The National Football League's television contracts for coverage of its games exceed those of baseball, basketball and hockey combined. True, the game is currently undergoing scrutiny as it relates to players' safety not seen since President Teddy Roosevelt's historic foray into the game and its rules in the early part of the last century. TR's insistence that the game be changed to lessen its brutality and foul play led to the formation of the American Football Rules Committee, a group which later implemented revisions that included the distance for a first down (from five to ten yards) and the establishment of the forward pass.
A listing of America's football powerhouses in the 1900s included Harvard, Yale, Penn, and Princeton (three of which were summoned to the White House by Roosevelt in 1905 to consider the rules changes). Franklin Field at Penn and the Yale Bowl date to the early part of the last century and remain today a testament to the importance of college football on Ivy League campuses during that era. Another football powerhouse in the 1920s, the University of Chicago, was a founding member of the Big Ten in 1895 but chose to abandon football in 1939. Chicago's legendary president, Robert Maynard Hutchins, once stated: "Football, fraternities and fun have no place in the university. They were introduced only to entertain those who shouldn't be in the university." To be sure, President Hutchins would get a stern argument to the contrary from the 110,000 blue and maize-clad fans at the Big House on a Saturday afternoon in Ann Arbor, Michigan.
According to Toma, while various external constituencies -- alumni, trustees, regents, legislators, donors -- may appreciate academic pursuits such as undergraduate teaching and applied research, they are often more interested in things collegiate. These same entities are brought together in hopes of increased support around a common interest: spectator sports on a football Saturday from South Bend to the Swamp, Lincoln to Los Angeles, Baton Rouge to Boston.
By sheer force of numbers of participants and spectators, college football far exceeds any other team sport. Yet beyond the numbers, there is a unifying influence football Saturdays bring that is unmatched by any other community activity. As it relates to rivalries endemic to states and regions throughout our country, there is no other activity that brings together such diverse groups of people -- on both sides of the aisle and from every imaginable camp, persuasion, belief, conviction and allegiance -- as a football Saturday. Each side identifies with "their" team, regardless of what differences might possibly separate them on the other 364 days a year.
It is truly a phenomenon unlike any other and, in my opinion, deserves to be celebrated and supported. Now, if we could only come up with an agreed-upon playoff system like we enjoy in the Football Championship Subdivision (FCS).