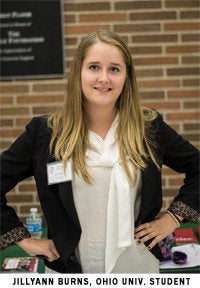 Jillyann Burns likes neither President Obama nor Mitt Romney and figured there were others students at Ohio University in Athens who are "sick of the two party system." So in early September she pasted a notice on the door of her dorm inviting like-minded Bobcats to come to a meeting of the OU College Libertarians.
Days later, though, a residence hall adviser blasted out an email to students warning that "NO political posters/flyers should be hung in the hallways or on you[r] door until 14 days before an election." Burns was ordered to take the flyer down. As a protest, she put up a piece of paper with the words "Censored Until Further Notice."
She also appealed for help to the Foundation for Individual Rights in Education (FIRE), an advocacy group that focuses on protecting individual rights on college campuses, in combating what she saw as censorship and a violation of her First Amendment right to free speech.
This week, as FIRE reported on its website, Burns won. Bowing to a formal complaint to OU President Roderick McDavis, the university quickly reversed course and said it "will work to clarify posting policies immediately." In the meantime, Burns and other students can go back to posting political signs in their dorms.
"Our society has long recognized that not only does political expression deserve the strongest protections against censorship, but that the college campus is of particular importance to our national dialogue," FIRE Senior Vice President Robert Shibley said in a statement on the group's website. "Thankfully, Ohio University saw the light before doing even more damage to the First Amendment."
Calling all HuffPost superfans!
Sign up for membership to become a founding member and help shape HuffPost's next chapter
BEFORE YOU GO