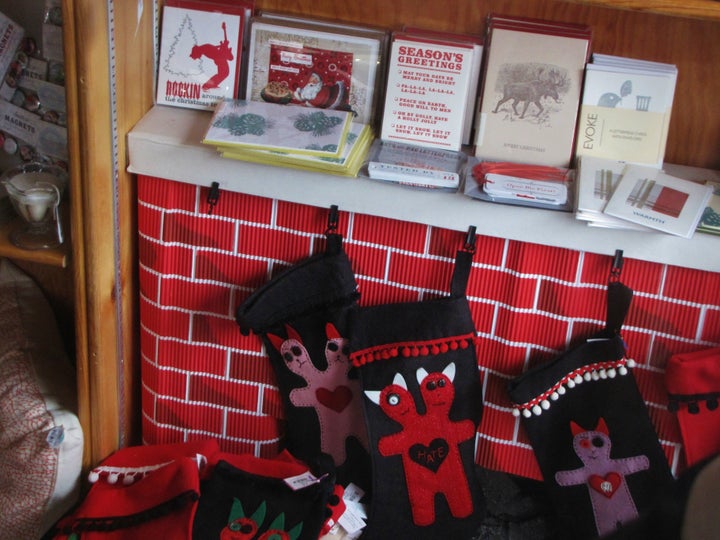 Finding the perfect holiday gift isn't always easy. And if you've got college students on your list, it can be difficult to think beyond those two staples -- cash and gift cards. Below are a few stocking stuffers they might not expect, but could be grateful for down the road.
The FitKit: Billed as "total fitness in a kit," this portable workout solution weighs in at under two pounds and contains all of the tools for a total body workout. It includes an exercise band, resistance tube, jump rope and stability attachment, as well as a pedometer, reflective arm band and ID tag all tucked into a sleek capsule-like case. Also included is access to an extensive online exercise library developed by co-founder and fitness professional Amie Hoff. The perfect gift for the student who wants flexible and always accessible fitness options, the FitKit at $34.99 costs less than a gym membership and is a health-inspiring dorm room accessory.
The Surf Shelf: For students prone to multi-tasking, the $39.95 Surf Shelf just might be this season's favorite gift. This laptop holder designed for treadmills, stationary bikes and ellipticals allows exercise and studying to happen at the same time. It may look precarious, but as a daily user, I can verify the laptop is securely fastened onto the shelf. I love the ability to walk for hours and get email and social media work done at the same time. Caution: Not recommended for those with balance and coordination problems.
Luggage Scale: Fees for overweight luggage can rival tuition payments. For $12 and up, a portable luggage scale is the perfect gift for students preparing to study abroad.
Starbucks' Creative Tumblers: These days it feels like "college" and "Starbucks" always go together in that word association game. If you're going the gift card route, consider tucking it into one of their latest creative carriers ($8.95). A throw back to those elementary school art projects, this tumbler will make them smile.
Clever Cases: Whimsical cell phone, tablet, or laptop cases are always a welcome gift. Whether they're designer or discount, the sleek and silly options offer a fun change of pace for students on the go. From $5 and up, these gifts can be the surprise they didn't see coming.
InternSushi.com: If there's a future college intern on your gift list, consider introducing him or her to InternSushi.com. This free multimedia platform allows interns and companies to share their stories. Replacing the paper resume with a digital profile, Intern Sushi levels the playing field for applicants by connecting them with internships in some of the most competitive industries. The unique application dashboards allow both interns and companies to easily track and organize the interview and acceptance process. Free membership includes 10 applications per semester and 1 standard video resume upload. Premium membership ($8.99/month or $79.99/year) includes a 48-hour head start on application submission, unlimited applications, unlimited video resume uploads and targeted company-specific video uploads.
Mad Men on The Couch: If you are shopping for a psychology major, look no further. Psychoanalyst Stephanie Newman, Ph.D. has Don Draper and those other characters diagnosed in her latest book Mad Men On the Couch: Analyzing the Minds of the Men and Women of the Hit TV Show ($14.99). As the next season approaches, this will be a must read for "Mad Men" fans and those students wanting to understand the nuances of human behavior.
The Comedy Bible: Judy Carter's The Comedy Bible: From Stand-up to Sitcom -- The Comedy Writer's Ultimate "How To" Guide ($16.00) is perfect for the wannabe stand-up kid on your list. Whether it's joke writing or joke telling, this gift might keep the whole family laughing.
Note: The author has received no financial compensation from any of these products or companies.