So, it's that time of the year again when all of the lucky college students finally get to move back to campus. As my TimeHop app keeps reminding me, I was always extremely excited to get back to Georgetown.
And I have to say, I'm a teensy bit (okay, maybe a lot a bit) envious of those who get to call their campus home once again.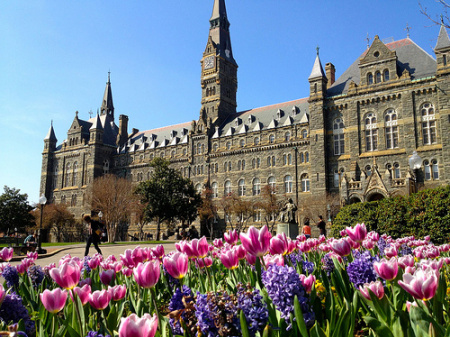 Because c'mon who wouldn't LOVE to call this place home?
Clearly, I'm also completely in love with Georgetown, so the pill is a little harder to swallow this year watching my sister move in to my beloved campus.
And while I couldn't be more excited for her and everything she's yet to experience, I have finally started to come to terms with the fact that I am, for better or for worse, a college graduate. An alumni.
This is not a word I have been a fan of over the last year.
Everyone tells you that college is going to be the best four years of your life. For me, that statement holds pretty true. Although, I must admit I'm hoping they're just four incredibly great years, because peaking at 22 seems pretty bleak.
Back to the point: What they neglect to tell you is the incredibly hard transition you're about to dive into head-first. No matter how great your job is or much you love your new city or how sweet that new paycheck may be, it isn't the same as college.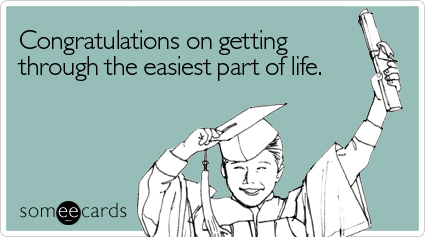 Well, duh. You graduated. Get over it.
Yea, I know, and believe me I'm trying, along with many of my friends who are also suffering through these college grad blues. But while everyone can't wait to tell you how unbelievable those four years will be, they somehow seem to leave you rather unprepared for the reality of the transition that awaits. It's hard.
It makes you take a step back for the first time in a long time and actually start to look at your life in a new way. College goes by in a blink of an eye, and now you're a real, live grown-up with bills and loans and rent and a job.
For many of us, we start to wonder how in the world we got here already. And more importantly, we start to question where we're going. The quarter-life crisis sneaks itself in, creeping in on every decision we evaluate. Is this actually what we want to do? Could we do this for another 50 years? What truly makes me happy?
It's overwhelming and scary and hard and so so so NECESSARY.
For some of us, it's the first time we start to ask these questions and really feel their weight and value. Growing up, there's somewhat of a guidebook to life. You go to school. You join clubs or sports. You work hard to get into your choice college. You go to college and pick a major. You get internships and jobs and build up your resume (while also having the time of your life). You graduate. You get a job. You move away from home.
Well, that's exactly what we're trying to figure out. That next step is a huge transition point in all of our lives, and it's guided by what your individuals needs, goals, aspirations and passions are. Find out what YOU want out of life. This is the time to do it.
We could land a dream job. We could fall in love. We could fail. We could make mistakes. We could change our minds and start something new. We can do anything we want to do -- we just need to put ourselves out there and actually go after it.
So while we all may be singing along to the College Grad Blues, slowly (albeit reluctantly) accepting the new alumni status, we're right where we need to be.
Photos: Nerd Wallet, Flickr, Someecards
This post was originally published on Quarter For Your Crisis, an online community created to share stories of those who don't think normalcy is an option and who want to actually live and breathe their passions.
Popular in the Community