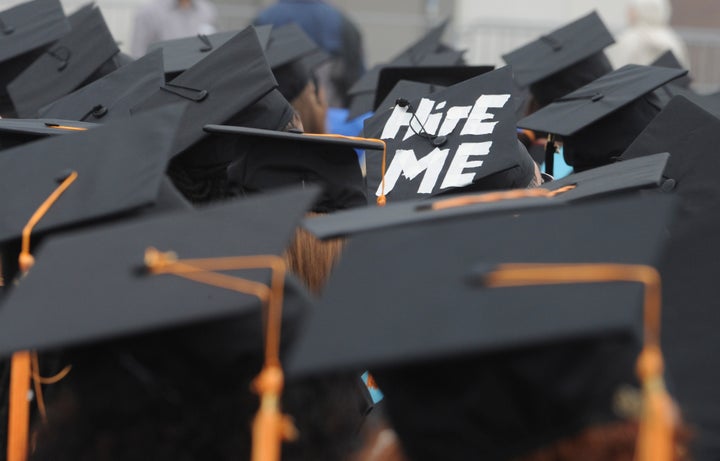 If the idea of beginning your career at a start-up makes your palms sweat, then you aren't alone. According to a recent SimplyHired.com survey, only 4 percent of 2012 graduates said a startup would be their ideal place to work. This is most surprising to startups, who, in the past, have recruited heavily from the pool of young and educated new graduates. While startups often offer a culture that new graduates might enjoy such as flexible hours and casual dress, this graduating class is looking for stability over perks. They perceive established businesses as offering greater job security, while startups are seen as having higher risk and instability. And it's no mystery why -- over the last four years, while they've been working on getting their bachelor's degree, they've watched their friends and family struggle in the job market. The economy has been tough, and the class of 2012 had a front-row-seat to witness it all happen.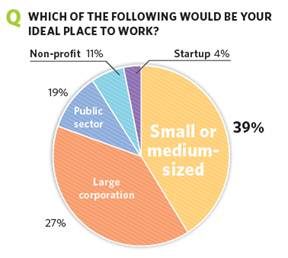 We also see evidence of the uncertain job market when SimplyHired.com asked new graduates what they value most in their first post-graduation job. It was clear -- a stable job with growth is most attractive to candidates who entered college during the recession. Salary and healthcare and other benefits were also of high importance to new college grad job seekers, followed by company culture and perks.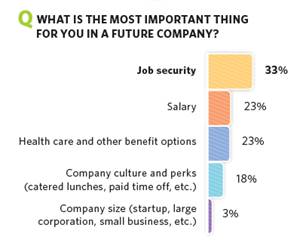 The class of 2012 is looking for a place where they can stay and grow as a professional. When asked how long they expected to stay at their first job, 41 percent of students surveyed planned to stay with their employers for at least a year, and another 38 percent aimed to stay two or more years. Another 17 percent would like to stay at their first employer for five+ years! Most recent grads are looking for a place to develop their skills and invest some serous time, so they need to be sure potential employers offer mentoring and advancement opportunities. Along with seeking long-term growth opportunities, new college graduates cited job security as their top priority for a future employer.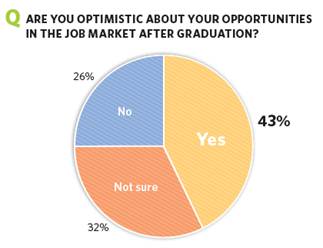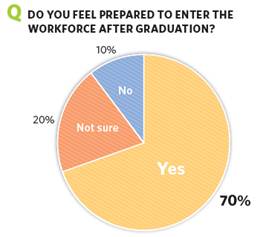 The survey by SimplyHired.com also found that while 70 percent of graduates feel prepared to enter the workforce after graduation, less than half of college students are optimistic about their opportunities in the job market. If new grads are wondering just how optimistic they should be about their chances of landing a job, take a look at the most recent snapshot of the job market, SimplyHired.com's Monthly Employment Trends report. Nationwide, there are three job seekers for every one job opening. However, a lot depends on where you look geographically and in which industry.
REAL LIFE. REAL NEWS. REAL VOICES.
Help us tell more of the stories that matter from voices that too often remain unheard.