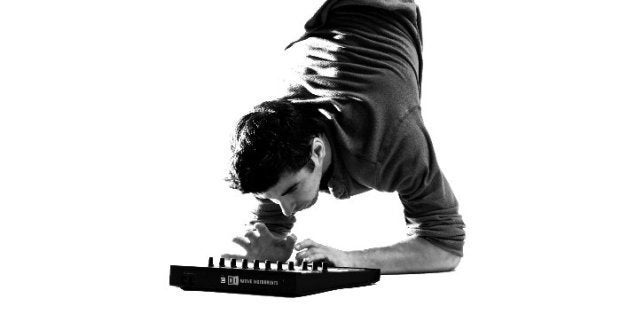 In 2012, Marc Freccero graduated from the University of Massachusetts Amherst with an interest in accounting and a passion for music. He'd interned at Deloitte, one of the "Big Four" consulting firms, the summer before his senior year of college. Deloitte offered him a job upon the completion of his internship, and Freccero accepted. But it didn't take long for him to realize that corporate life just wasn't for him.
The recent grad was at a crossroads: Should he continue working a steady job that paid the bills, or risk everything to pursue his dream?
A 9-to-5 day at the office quickly turned into a 7-to-7, as Freccero began to seriously pursue music outside of work. In the evenings, Freccero played and wrote music and worked on production, getting only three to four hours of sleep a night. To try to make up for it, he'd take 15-minute naps several times a day in the bathroom stalls at work. But the 12-hour days and sleep deprivation eventually started to wear him down.
So Freccero quit his well-paid auditor position at Deloitte just two months after he started. He didn't have a plan for what to do next -- all he had was his love of playing and creating music. The decision to give up stability to pursue his dream was difficult, but as Freccero told The Huffington Post, "Life's way too short and I just needed to go for it."
Music has been Freccero's passion ever since he can remember. Growing up, he played saxophone for seven years and classical piano for a decade. He loved classical music and jazz, and later developed an interest in electronic music. He began producing songs that incorporated both piano and sax.
"I wanted to become something," Freccero said. "I wanted to do everything I loved doing and make a living doing it."
Freccero spent about a year in Boston struggling to make ends meet, pursuing what he called "creative and unorthodox ways to make money": real estate, promotion, DJing, modeling and participating in psychological studies.
A year after graduating, Freccero moved back in with his parents to save money and keep pursuing his passion for music. Around this time, he spoke with a friend who traveled the country doing music and club promotion work. The conversation inspired Freccero to do some traveling of his own.
Today, Freccero is midway through a cross-country tour among 10 different cities known for their vibrant electronic music scenes. Destinations on the tour, which began this February, include Seattle, Chicago, New York City and Portland, Oregon. Freccero is spending a month in each city, and every month he hopes to produce a song inspired by the local ambience and culture. By year's end, the aim is to have a complete album.
"At the end of this journey, the album will contain an array of styles designed to encapsulate my experiences," Freccero said. He refers to the yearlong endeavor as the Light Nearby Project.
To make the idea a reality, Freccero sold the car he'd bought after graduation and got a van, which he currently lives in. He has a small mattress and some plastic cabinets for clothes. He budgets just enough for gas and one meal a day. Freccero started the tour in Boston, and has traveled to Austin and Miami. He's currently in Las Vegas.
"There were days where I've been so low on money I'd go into Starbucks and get honey packets and that'd be my meal for the entire day," he said.
But Freccero remains optimistic about creating a great album and launching an entrepreneurial career in music.
"I would define entrepreneurship as searching for happiness," he said. "I feel like that's what everyone wants. I feel like entrepreneurs are happiness engineers."
While on tour, Freccero also developed the idea of #ForwardThinkingFriday, a riff on the social media meme #ThrowbackThursday. At the end of each week, he posts a picture to Instagram of where he wants to be in the future and where he sees his life heading.
"I think the important thing is not necessarily what's behind you, but to look forward as well," he said. "Every Friday now, I post a picture of where I want to be looking forward."
Once the tour concludes in November, Freccero hopes to release an album encapsulating his experiences on a major record label. He also hopes that after touring the 10 cities he'll have a wide network of people who know him as a DJ and music producer.
Currently four months into the tour, Freccero said he hopes he's "inspiring other people to pursue what they love."
No matter what that ends up being, he'll have the support of family and friends along the way.
"I'm definitely proud of him and I'm happy that he's doing it," Freccero's younger brother Luke, who also attended UMass Amherst, told The Huffington Post. "I know that I'm certainly inspired by what he's doing, and there are tons of other people who are too."
Though Freccero has encountered his share of struggles since leaving the corporate path, he hasn't once looked back. The name of his project comes from a quote attributed to Ruth E. Renkel: "Never fear shadows. They simply mean there's a light shining somewhere nearby."
"The whole idea behind it is that whenever you're struggling, or when you're at a bad point in your life, there's certainly a light nearby," Luke told HuffPost. "You just have to know how to find it and where to look for it. So I think that sums up the project. No matter where [Marc] is on the trip or if he's struggling or not, he knows that eventually there's going to be a light helping him out somewhere along the way."