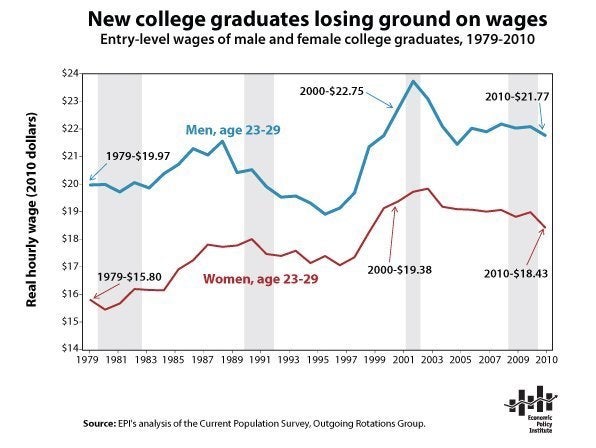 Despite remaining the safest road to financial prosperity, a college degree isn't earning the recently graduated quite as much these days.
The average wage for young college graduates has dropped by nearly a dollar per hour over the last decade, once accounting for inflation, according to the Economic Policy Institute. Yet despite that entry-level wage stagnation, data still finds that a college degree remains a worthy investment.
While the recession has taken its toll on graduating class, hiring for 2011 graduates is up 10 percent from last year, and unemployment rates among those with a degree remains less than half the national average. In fact, it's those with only a high school diploma that sit above the national average.
It's not just going to college that betters a student's probability of obtaining a higher wage; it's what you study once there. The starting salary for a petroleum engineer, for example, is around $97,900, The Huffington Post reports. Compare that to social work, where a just-graduated job seeker can expect a starting salary of $33,000.
Here is a graph from the Economic Policy Institute showing the drop off in average starting wages for college graduates over the last decade: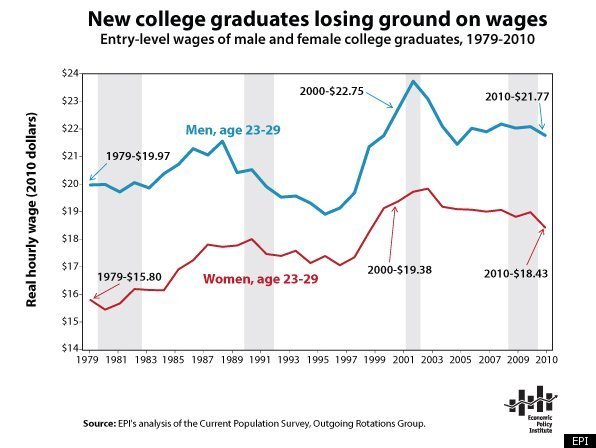 Popular in the Community