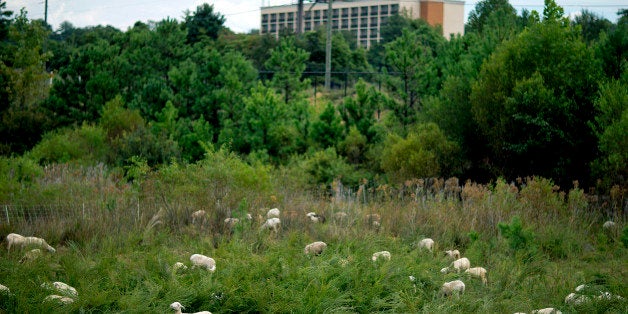 No irony is more copious than the fact that industrial tycoons ruined the environment in their quest for riches. The result is thousands of bright-eyed, clever college graduates are seeking to begin their careers in green jobs. Job growth and economic opportunity are the subtext of the save the environment movement.
The United States had more than 3.4 million green jobs in 2011, according to the U.S. Bureau of Labor Statistics. Employment was highest in the areas of trade, education and health services , and green job growth outpaced all other industries. The U.S. Conference of Mayors predicts millions of additional green jobs will be added by 2028.
According to the BLS, green jobs are jobs where the worker's duties make the production process environmentally friendly or jobs which "produce goods or provide services that benefit the environment or conserve natural resources." Jobs in this category include recycling, renewable energy, and nature conservation.
In 2014, Forbes reported that the top four states which added the highest number of green jobs were Arizona, California, Michigan, and Utah. The magazine reports that many of these jobs help the states to comply with the federal requirements in the Clean Power Plan, announced last June, which aims at reducing carbon dioxide emissions by 30 percent below 2005 levels in the next 15 years. The solar industry created the bulk of the jobs in clean energy and transportation, and the auto industry led hiring in clean manufacturing, according to the Forbes.
Any company with a large number of employees and a complex physical infrastructure will eventually hire employees to fill green jobs. In the United States, this includes all of the Fortune 1000, 3,304 county governments, 19,431 municipal governments, 16,056 township governments, 13,522 school districts, 35,356 special district governments, 4,100 colleges, dozens of military installations and 50 state governments, according to experience.com.
Finding a job in the clean, green marketplace takes internet savvy and the same skills you would need for any other type of job. Eco-friendly companies still need employees with marketing, accounting, and communications skills, according to AARP. Online resources, such as LinkedIn, Monster, and CareerBuilder, provide databases of jobs nationwide, including green jobs.
An old-fashioned job search might be just as effective for candidates. Send a query letter to the human resources departments of companies on the "Newsweek" green ranking, a list of some of the most environmentally friendly companies in the world. Take time to research green businesses at the library, which may also help candidates to find employment options.
College career centers provide counseling, job listings, and employment referrals. College graduates shouldn't ignore regular companies in their search for a green job because most businesses are going green, according to mnn.com. However, some jobs are more environmentally specific, such as sustainability officer and renewable energy manager, and may require additional training.
For entrepreneurially-minded graduates, the opportunities available for sustainable businesses are infinite. The U.S. Small Business Administration provides guidance for green businesses, including information about certification, grants, and loans.
Since the green economy is a relatively new phenomenon, candidates with sustainability knowledge and skills can make themselves almost indispensable in the workplace. According to Market Watch, The American Recovery and Reinvestment Act provided $500 million for grants in research and training for green jobs. The grants trained workers on green jobs, like solar panel installation and fixing hybrid cars. Though not everyone has agreed that creating green jobs is the most beneficial course of action for the economy, statistics on the number of green jobs created in recent years is undisputed. The development of millions of green jobs appears to correspond with the improving economy.
Employment opportunities for new graduates have increased, as evidenced by the recent decrease in the unemployment rate nationwide. Nowhere is this more apparent than the clean jobs market. A career dedicated to environmental protection brings an employee the satisfaction of being a part of making life on Earth more sustainable, in addition to a paycheck. Our need for seeds of hope that spring forth to create fresh possibilities has never been greater.
Related