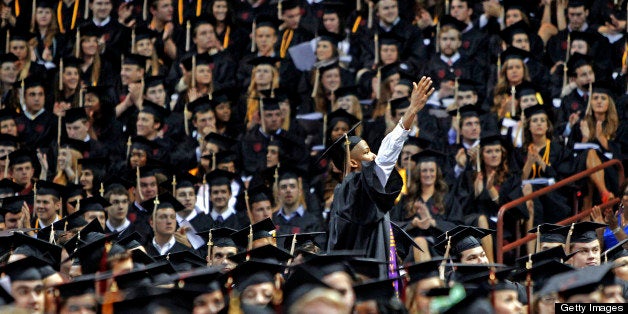 These grads shared the live-and-learn insider information to campus life and career that they can't always teach you at orientation or in class (or in some cases, they try to teach it, but you might be too stubborn to listen.). Here are four of their stories.
Build relationships with your professors.

David graduated with his Bachelor's degree a few years ago and wants to apply to graduate school. The program he wants to apply to requires two references from his undergrad program. He was an assistant to one professor for a semester and knows she will give him a glowing letter of recommendation. He has a couple of other professors in mind to ask for the other letter, but he hasn't stayed in contact with them over the years and is afraid they won't remember the work he did in their class. If David could go back and talk to his freshmen self, he would say: Get to know your professors and keep in touch with those you've established a relationship with, not just for a letter of rec, but also to have mentors in your field after graduation.
To make a lasting impression, build a relationship, and gain a mentor with a professor many students:
Become a professor's assistant for the semester.
Visit with their professor during office hours.
Take multiple classes with a favorite professor.
Many employers and graduate programs require at least one academic letter of recommendation to be considered for the position. Start the dialogue your freshmen year and keep it going.
Take advantage of the career center.

Angelica was in the last week of her senior capstone class when a woman from the career center came to give a PowerPoint titled: What Do I Do with a Degree in English? The presentation sent the class of seniors into a panic. We have a career center? We have to think about careers and we haven't even graduated yet? That's what English majors do? Angelica had ideas of what she would like to do after school, but hadn't seriously pursued a career path while balancing being a full-time student with a full-time job and an internship. The career center presentation was eye opening. If she could go back, her advice would be don't get blinded by the college-life workload and miss exploring different careers and opportunities while you're still a student.
The career center won't always come to you, and if it does, it might be late. Seek out the career center and take advantage of all the resources they have such as:
Personality assessments that show you your strengths and weaknesses.
Job placement assessments that help you explore different careers that fit your strengths and weaknesses.
Career advisors who help you develop a pathway from college to career.
The career center also remains a great resource after graduation for alumni looking for a new job or career change.
Choose classes and minors that complement your major.

Maria graduated with a degree in studio art 10 years ago. She's worked odds-and-ends food service jobs over the years, while painting on the side. Every year, she travels overseas where she volunteers five months out of the year. The people she's worked with in her travels have inspired her to start her own business, which she hopes to fund in part with the sales from her paintings. This year will be the first year she doesn't return to the service industry and strictly focuses on painting and selling her art. Her dad -- also an artist -- told her to take at least one business class so she would know how to sell her artwork. She refused; business was boring and she didn't want to be a sellout. Years later, she says her biggest regret is not taking her dad's advice and gaining the skills to talk about, market, and sell her work to start her career as an entrepreneur.
Ask yourself:
What class could give you a skill that would set you apart from other grads with the same degree?
What classes could help you become an entrepreneur in your field?
Whether it's just a few classes or you're earning a certificate or minor, consider what classes could complement your major and improve your employability.
Be active in the community, on or off campus.

Out of college, Jake applied for a job that required a 3.6 GPA to be considered for the position. He graduated with a 3.5 GPA, but thought he had nothing to lose by applying anyways. As compensation for the GPA discrepancy, he chose to highlight other strengths on his resume, such as the multiple leadership roles he held in college. It worked. The organization was impressed by his involvement in student government and the volunteer work he did outside of school. His drive and real-world experience proved to be aligned with the mission of the organization, and being a tenth of GPA point didn't stand between him and a job. He would tell his freshmen self: Get involved and try to get a better grade in astronomy.
There are many ways college students can build their leadership skills while gaining real-world experience on and off campus.
Join a club with students who share your interests.
Learn a new skill by joining a group you don't know much about.
Research volunteer work in the community.
The biggest takeaway from these college grads: If you want to be better prepared to take the step from college to career, take advantage of the wisdom, activities, and resources available beyond the classroom walls. My book, Majoring in the Rest of Your Life: Career Secrets for College Freshmen, explores additional stories from college grads and student interns, and gives entering freshmen advice on everything from finances to landing an internship to getting hired. Thinking through these larger issues before you begin college will help you get the greatest return on your investment in time, money, and fulfilling employment once you graduate.
REAL LIFE. REAL NEWS. REAL VOICES.
Help us tell more of the stories that matter from voices that too often remain unheard.