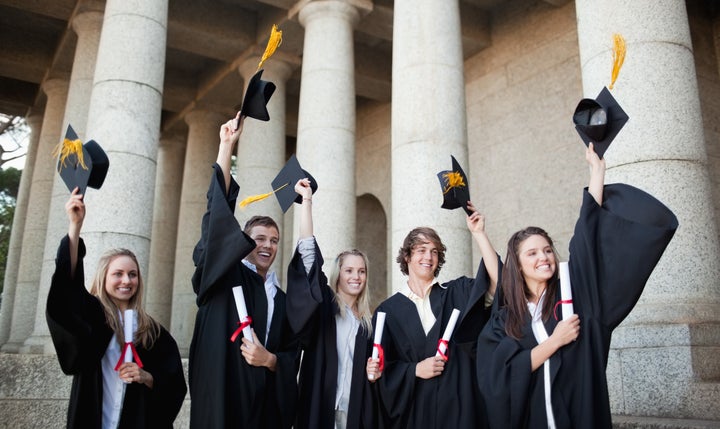 Commencement season will soon be upon us, which means that more than two million black-robed graduates will conclude their college years hearing the sage advice of all manner of speakers, from peers to politicians to celebrities. However, my 16 years of college teaching tell me that seniors need to hear more personal words of wisdom right now from friends, mentors and loved ones as they deal with the strong emotions attendant on closing this distinct chapter in their lives.
Seniors often feel a heightened appreciation for their college experience -- the insights of a seminar, the community of a team, the thrill of performance and artistic creation or the self-driven discoveries of a thesis.
But, they also experience tremendous stress. Of course, many worry about finding the right job or taking out loans for graduate school. And this transition provokes deep questions. What do I want to do and become? Where should I be? How can I use my education? Am I ready to be out on my own?
There's also the anxiety provoked by the upcoming shift in identity and community. Some graduates can feel regret over unresolved relationships with friends, professors, coaches and mentors. Some feel remorse for not having achieved more in college, particularly in comparison with others. And some feel intense pressure to finish ambitious academic projects. All of this can be overwhelming, and we should be empathetic.
I find that the most engaged students may suffer these pre-commencement blues most acutely -- the meaning-makers who have studied seriously, led clubs, played sports, counseled peers, edited newspapers, tutored children and performed on stage. It's precisely because they've cared so much that they may grieve so deeply -- during what they think should be a joyous period.
Such highs and lows have been part of the academic year's annual rhythm for as long as we've had colleges, but the feelings are experienced anew by each class of seniors. Rather than waiting for commencement speakers to provide wisdom, there's a lot that families, faculty and friends can say right now.
First, we can encourage seniors to make these final days and weeks count. They can share memories with their friends. They can reconnect with people who helped define their early college years. They can seek out professors and advisors, who are used to the rituals of ending. They can say thank you, again and again, to everyone who helped them.
Second, we can help seniors to think of achievement in broad terms. As a reflective exercise, I like to ask my students to imagine writing alternative "resumes" that convey life lessons rather than jobs held and GPAs. From your college years, what learning will truly last? When did you experience joy? When did you cope well with adversity? When did you help someone else?
The answer to these questions may matter most in the long term, because adulthood isn't simply about honors and titles. It's about developing our capacities for learning, for service, for happiness, for resilience, for giving freely and for lifelong growth. Most of our seniors know deep down that these "achievements" have enduring value and also should be celebrated, but they need to be reminded.
And third, for all those young women and men who lament leaving communities they've created and come to love, we can offer a simple truth: You may be graduating, but you don't have to leave. Your college experience will always be a part of you and will grow in significance as your adult identity continues to emerge. For searchers, learners, creators and givers, commencement is not goodbye, but an invitation to a life of meaning.
REAL LIFE. REAL NEWS. REAL VOICES.
Help us tell more of the stories that matter from voices that too often remain unheard.