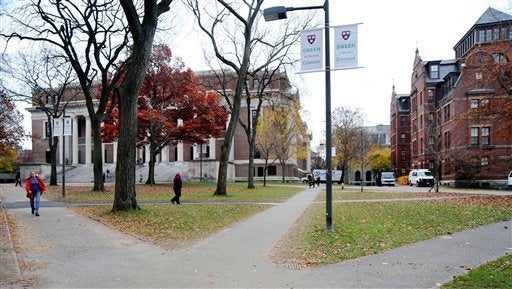 WASHINGTON -- Top-level college executives are enjoying rising pay packages, often exceeding $1 million annually, even as students are facing ever-higher tuition rates and universities are being forced to cut programs and low-level staff, according to a new report.
Researchers with the Boston-based public-interest group Tellus Institute reviewed the most recent tax filings of the 20 most well-endowed private Massachusetts colleges and universities, including Harvard, MIT, Boston University, Boston College and Northeastern University. The study found the schools, which have a combined endowment surpassing $50 billion, had gaping pay disparities between high-level officials and rank-and-file employees.
At the top of this list is Harvard. The Ivy League school employs 11 out of the reported top-20 highest-compensated private-college employees in the state, each earning well over $1 million annually. Many of these employees don't work for the University itself, but for the affiliated Harvard Management Company, which handles the school's $32 billion endowment, the largest in the nation.
The highest-paid employees at Harvard earn 180 times more than the school's unionized custodians, according to the report, which was funded in part by the Service Employees International Union.
While many of the colleges did not wish to comment on the report, Harvard Management Company defended its executives salaries in a statement to HuffPost, saying the high pay packages were often the result of incentives.
"In several cases, the payments reflect an accumulation of several years' positive performance," said Kevin Galvin, a Harvard Management Company spokesperson, in the statement.
A decade ago, an annual compensation package for a senior executive of $1 million was rare on college campuses, according to Joshua Humphreys, co-author of the report and founding director of the Institute's Center for Social Philanthropy. "It was very exceptional," Humphreys told HuffPost. "Now, it seems business as usual."
As many students and parents struggle to pay climbing tuition fees, several top college employees have enjoyed a boost in their pay. In 2009, tuition at Northeastern University rose 4.9 percent while President Joseph Aoun received a 20 percent increase in his salary, jumping from $737,863 in 2008 to $912,983 -- the same year economists say the recession hit schools the hardest. According to the report, total college costs in New England have increased 21 percent over the last decade in real terms.
"The 2009 fiscal year happens to include the academic year most dramatically impacted by widespread endowment declines during the financial crisis, when schools implemented severe austerity measures, layoffs and other reductions in force," the report notes. "Despite these draconian measures meted out during this difficult year, 20 school officials across our sample still reportedly received more than $1 million in compensation."
The report found income inequality in these Massachusetts private colleges and universities to be wider than averages among some of the largest for-profit corporations in the United States.
At Boston University, the average pay is $31,699 for a unionized custodian and $135,700 for professors. Meanwhile, the school's eight highest-paid employees earn an average of $1.9 million.
Humphreys said the widening income disparity among higher education employees "tears at the fabric of an institution."
"We are at a breaking point," Humphreys said. "At some point we have to stop."
Humphreys noted that the pay for many higher-education employees mirrored the compensation for executives at the top 500 for-profit American corporations.
"This is a tax-exempt entity that's supposed to have a charitable purpose, and yet people are compensated as if profit-making is in fact the core of their institutional mission," he said. "It is as if some of these schools have become hedge funds with libraries."
According to the report, new IRS guidelines have required fuller disclosure of compensation at nonprofit organizations since 2008. Humphreys, however, suspects that a narrow definition of "key employees" in the law has allowed many compensations of highly paid college employees to remain undisclosed.
Unreported compensation from outside corporations has also led to even higher earnings for some college executives, often with possible conflicts of interest.
The report's findings highlight cases such as MIT's president, Susan Hockfield, who received $940,000 from the school in 2009, along with $250,000 in compensation from General Electric for her role as a director. MIT recognized Hockfield's GE work in its tax filings but did not disclose how much she earned from it.
The report's release follows the introduction of legislation in Massachusetts that calls for more scrutiny of outside compensation for higher-education executives.

Calling all HuffPost superfans!
Sign up for membership to become a founding member and help shape HuffPost's next chapter