A goalie chugging a beer at a hockey game would not be the top story for a traditional college newspaper, but a website like The Tab knows Internet gold when they see it.
This is the new college media world: a trend of quickly growing startups, fueled by investors and seed money, running entirely on content that college students and fans of the provocative create.
In the past couple of years, websites like The Tab, the Odyssey, Spoon University and FlockU began to create a foothold in collegiate life and culture, just as student newspapers have scaled back. A small, central staff of professionals runs each outlet, while students write all of the articles. Some sites pay and some don't. But each say they can offer a more unfiltered view of collegiate life and a larger platform for writers, with potential connections to professional media outlets.
FlockU president Zanny Oltman said that existing publications were highly filtered. "The idea behind creating FlockU was to fill a void in the media space for college students," she told The Huffington Post. "We consider ourselves a destination where students can come and really discuss their lives in an unfiltered way."
The Tab's style of reporting is different from most college newspapers; they're like a campus version of Vice Media, a bit more edgy and often written in the first person, mixing opinion with local news and reporters' experiences.
"In the college media landscape, there are a lot of dinosaurs, there's a lot of people who still focus on the print paper, they're way too into styles which are now out of date, and they're a bit elitist," The Tab editor-in-chief and co-founder Jack Rivlin told HuffPost.
As of February, The Tab had raised $4 million and reached 45 American campuses, 46 British universities and one Canadian school. FlockU rolled out a relaunch last week after spending most of the fall semester touring campuses to recruit students. The Odyssey collected about $3 million in funding last year, while Spoon U raised $2.7 million in summer 2015, both to continue fueling expansions.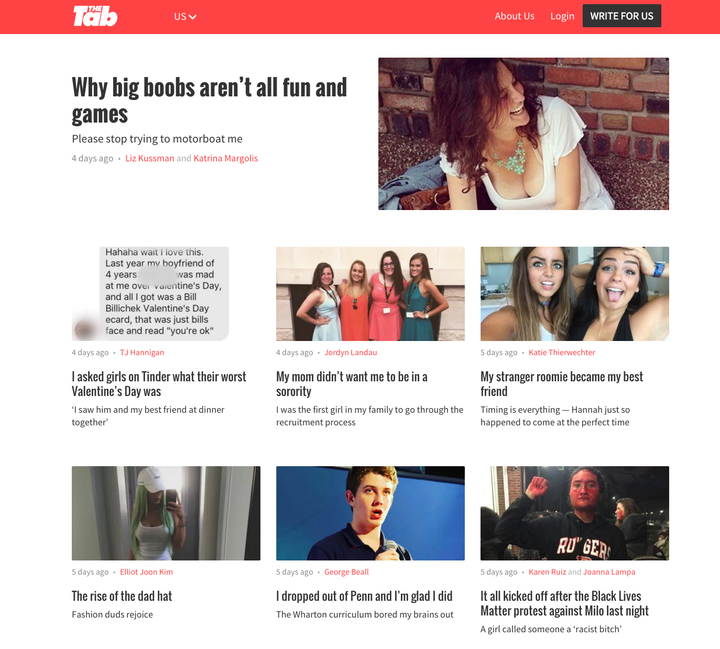 That calculous changed for college newspapers largely due to the growth of smartphones, which made social media available at all times, and allowed for the rise for new platforms like Snapchat and Yik Yak. By 2014, even elite student papers like the Columbia Daily Spectator announced they were cutting back their print publication. Smaller papers cut printed editions altogether.
These startups won't replace traditional campus newspapers, said Gary Kayye, who teaches at the University of North Carolina journalism school, but that doesn't mean they won't have an impact.
"It'd be short-sighted and downright naive to think that these types of publications won't have any effect," he told HuffPost. "The plethora of campus newspapers that are owned by campuses need to seriously join the digital age and certainly the mobile age."
With everyone jockeying for attention in the same space -- social media -- it has offered an opening for outsiders like FlockU or The Tab.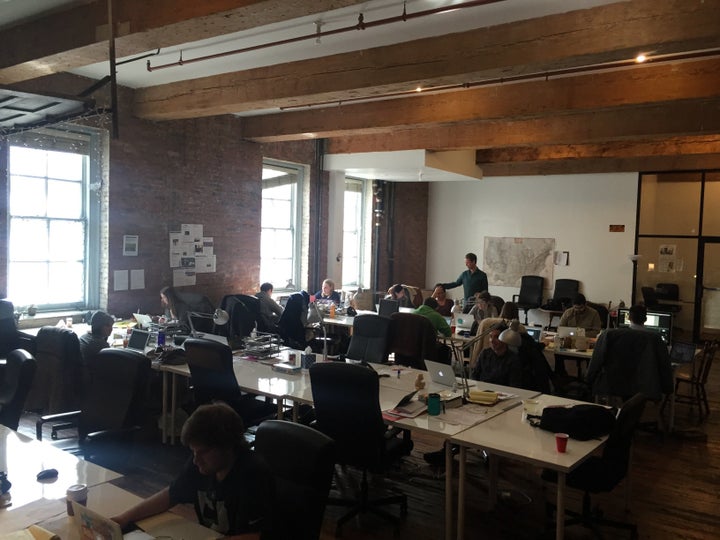 Rivlin and George Marangos-Gilks started The Tab as students at Britain's Cambridge University in 2009, trying to cover more of student life than the campus newspapers, which often focused on national and global issues. Rivlin spent a brief time working as a professional reporter in London after leaving Cambridge, before he and Marangos-Gilks, who handles the business side, raised enough money from investors in the U.K. to work on outlet full-time.
In 2015, The Tab began working on an American expansion. A handful of its editors came over from England, but the rest of the couple dozen staff members in the Williamsburg, Brooklyn, office are recent graduates from the United States.
The Tab's writers on campus are not paid for their work, but Rivlin said they're provided with analytics, editing and guidance on story ideas. They are experimenting with cash bonuses if students' stories do well to "share in the benefits of our growth," he added.
"We're very adamant about trying to build value for these students other than money"
"Fundamentally, this is a talent network of reporters," Rivlin said. "It's a newsroom that's distributed across two countries -- hopefully plenty more countries -- and we are constantly thinking of ways to help our existing reporters and editors publish more, but also to help people who wouldn't write, who wouldn't login to WordPress to write a whole story, but who might send a photo or send a video that could be a news story."
Spoon University doesn't pay either, but Mackenzie Barth, its CEO and co-founder, said writers get more out of training and exposure.
"We're very adamant about trying to build value for these students other than money," she told HuffPost. "I think once you introduce money, the incentive changes and we've held that idea pretty strongly over the last couple of years."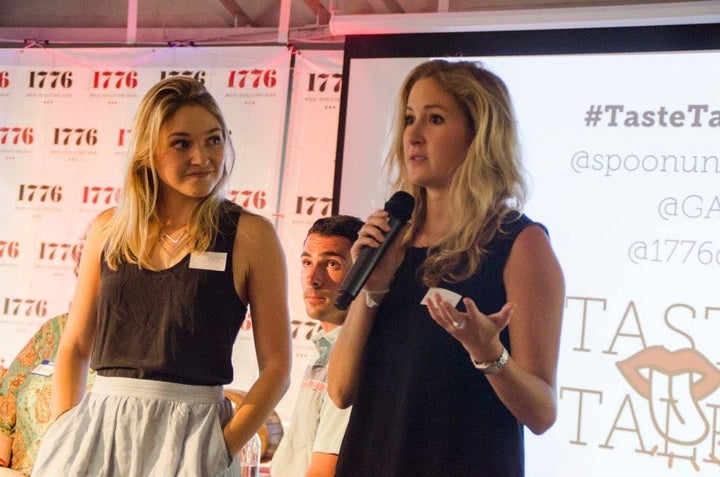 Spoon U started similar to The Tab -- Barth and Sarah Adler co-founded it as undergrads, originally as a print magazine about food at Northwestern University. After amassing a staff on campus of more than 100, and receiving interest from students at five other universities to start their own versions, Adler and Barth felt like they should try to continue building Spoon as a website post-graduation.
They worked out of an apartment for a few months until they got accepted into Techstars in 2015, which offered them a bootcamp in running a startup and introduced them to potential investors. Now with a Manhattan office and hiring budget for the professional staff, Barth said Spoon is on track to add as many as 60 new campus chapters by April, on top of the 110 existing ones. They're considering expanding outside of food to write about similar topics like health and travel, and are focusing on adding more video content.
It's not about churning out an unlimited number of articles, Barth said, because Spoon works from the idea that "quality is so much more important than quantity."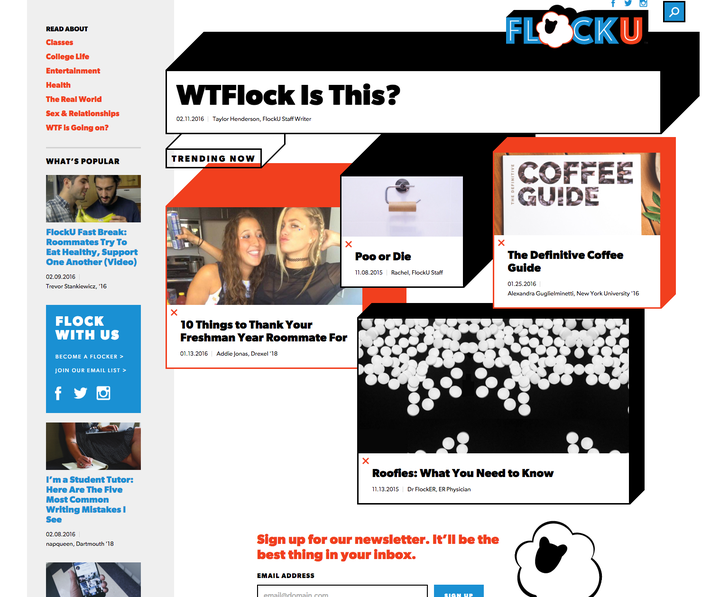 The Philadelphia-based FlockU pays $50 per article through Venmo to each of its 300 student writers, or "Flockers." The Odyssey, based in Indianapolis and New York, pays a small amount to its campus editors.
FlockU isn't raising money right now, but it has a revenue model based on marketing partnerships, and Oltman said they're being "very selective" about brands they work with. Caroline Weller, the site's managing editor, said they want to make the website feel like a "members only club for college students," more akin to Reddit than a newspaper.

"I'm for it, with caution," said University of Southern California journalism professor Robert Hernandez, in reference to whether students should write for these sites. Hernandez said that he worries about students being exploited for unpaid content, but "sometimes you do the ones that don't pay and the trade-off is it's great for exposure."
Another bonus, outlets like The Tab can offer, are that they are financially independent and can't be bullied by university PR offices -- there are no faculty advisers that administrators can pressure.
"We represent students," Rivlin declared. "I have no interest in doing institutions or authorities any favors. I'm happy to have a cordial relationship, but if they do something wrong, we want to be the first to report it."
Related
Popular in the Community