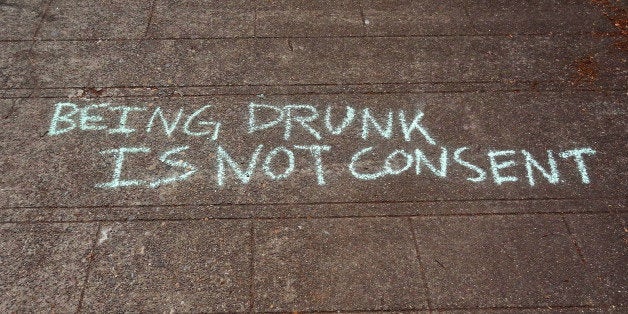 Close to 1-in-3 collegiate males admitted in a recent study they would force a woman to sexual intercourse, but many would not consider that rape, Newsweek reports.
The survey found 31.7 percent of men said they would act on "intentions to force a woman to sexual intercourse" if they could get away with it, but just 13.6 percent said they had "intentions to rape a woman" if there weren't any consequences.
The authors of this study note the difference relies on whether or not they described what constitutes sexual assault, versus whether they simply called it rape. For this study, the researchers defined rape as "intercourse by use of force or threat of force against a victim's wishes."
When combined with what the study's authors described as "callous sexual attitudes," the results suggest a man with a hostile attitude toward women may view "forced intercourse as an achievement," and a woman saying "no" could be "perceived as a token resistance consistent with stereotypical gender norms."
The team surveyed 86 male college students, most of whom were juniors and Caucasian, at one university. In addition to asking them about forced sexual intercourse and rape, the participants were quizzed on various items to determine whether they held hostile attitudes towards females. The researchers concede their sample size was small, and hope to expand on it, but Edwards told Newsweek, "the No. 1 point is there are people that will say they would force a woman to have sex but would deny they would rape a woman."
Similar to the results of this survey of would-be perpetrators, victims are often found to shy away from identifying their experience of forced intercourse as rape. For example, at the Massachusetts Institute of Technology, 17 percent of female undergraduates said in a survey they experienced unwanted sexual behaviors involving force, threat or incapacitation. But only 10 percent of those MIT women also said yes when asked if they were sexually assaulted, and just 5 percent said yes when asked if they were raped.
The researchers from the Violence and Gender study argue it would be beneficial for men should undergo educational programming in college clarifying the different behaviors that constitute sexual assault.
Another 2002 study by David Lisak at the University of Massachusetts-Boston, speaking with 1,882 men, found 120 had committed rape or attempted rape. Among those men, 76 reported being a repeat offender.
Lisak's research and analysis has also shown males are more likely to be sexually assaulted than be falsely accused of rape.
Related
Popular in the Community