Rachel Williams restarted her collegiate career in fall 2013, but that wasn't her decision.
As a freshman who had dealt with severe bulimia and anorexia in the past, Williams developed depression. While at Yale Health Urgent Care to get bandaged in January 2013 for cutting herself, a university psychiatrist came to speak with her.
Williams said she was explicit when she told the psychiatrist the cuts were not a suicide attempt. It was self-destructive behavior, she conceded, but it always made her feel "more in control." Still, Yale officials suggested she leave the university, at least temporarily, and get admitted to the hospital for immediate treatment, she said.
"I realized after a few minutes it wasn't a choice," Williams recalled to The Huffington Post. "I had officially lost my autonomy."
Authorities locked Williams inside the Yale-New Haven Hospital, and later transferred her to the Yale-New Haven Psychiatric Hospital for a week. None of it was voluntary, she said. Days after Williams was released, she was told by the university she needed to go home to continue therapy, withdraw from college, and apply for readmission in the fall.
Another Yale student, a current senior who asked to remain anonymous, said the university contacted her parents and strongly suggested she get treatment before her first day as a freshman. But even after getting treatment, the university told the student to take time off. Because Yale has a policy that students cannot start their education halfway through the year, that bumped her back from the class of 2014 to the class of 2015.
"Your immediate reaction is to be angry and extremely pissed off and embarrassed because you have to go through all this," the Yale senior said. "You realize as you go through Yale, this happens to lots of people, but it feels like it's just you, like you're the only fucked-up person."
Some of the same universities criticized by students who sought help for mental health -- like Yale, Northwestern University and Princeton University -- also signed up to work with the non-profit Jed Foundation to examine how they handle student mental health. Jed just announced that 55 colleges are examining their services, focusing on medical leave policies.
Yale spokesman Tom Conroy wouldn't talk about specific students' cases, but called involuntary leaves a "last resort," noting most are voluntary.
"An involuntary leave is only recommended when there is a very severe and unremitting problem that makes it impossible for a student to function," Conroy said. "An involuntary leave in this situation protects the student's academic standing rather than allowing him or her to fail. Thankfully, most students come back to successfully complete their Yale education."
John MacPhee, the head of the Jed Foundation, said the group would prefer not to see students get kicked out of college due to depression.
"We don't, and it's not our right to, know all of the facts of that particular circumstance, so it's hard to know whether it was handled the right way," MacPhee said. "Our view would be, if it is at all possible, to have the student stay on campus."
Removing a student from campus for "their own good" is controversial, and the stigma may prevent other depressed students from asking for help, some students say.
"People are afraid that they are going to send you to a psych hospital," said one Massachusetts Institute of Technology student, who requested anonymity because she is a sexual assault survivor who said she has struggled to get support at the school. "There's a campus climate of being worried about becoming the next one to disappear. You don't see anything wrong with someone and then all of a sudden they're gone."
One of the MIT student's sorority sisters said she landed in a psychiatric ward for a week after telling MIT counselors that home life stress was giving her a "strange sensation that I should hurt myself, but I'm not going to."
"They wouldn't let me go home," that MIT student said. "I was like, 'There is nothing wrong with me, let me go home now!'"
Colleges are paying close attention to their handling of these cases, said Kevin Kruger, president of the professional group NASPA – Student Affairs Administrators in Higher Education. Mental health is at the top of university administrator's minds, he said, as is sexual assault, since the two issues can go hand-in-hand.
Some students who complain about how sex assaults are handled also say on-campus mental health treatment is a big problem, like at Amherst College and Emerson College, both facing federal investigations into alleged failures that forced rape victims off campus.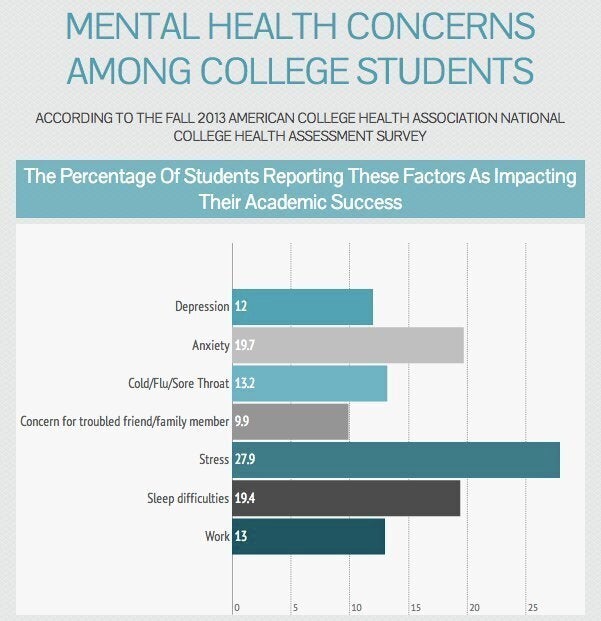 Nearly every residential campus has a counseling center, or some office to provide services for students with mental health issues. Counseling centers grew in the late-1940s, with the influx of veterans heading off to college on the GI Bill. Since then, campus counselors have consistently reported more students using their services, and about half noted an increase in students with requesting help due to clinical depression, anxiety or sexual assault issues, though very few are adding staff to deal with the greater demand, according to the annual report released last month from the American College Counseling Association.
A lot of college leaders grew wary when a lawsuit from the family of an MIT student who committed suicide was allowed to proceed against four individual psychiatrists at the university, though it was settled out of court in 2006. The MIT suit alleged the school did not take the student's depression seriously. Another lawsuit around the same time against George Washington University said a student was wrongfully removed from campus because he was depressed.
Colleges are facing regulatory shifts as they try to determine how to treat students who may be a threat to themselves or others. In 2011, the U.S. Department of Justice altered the criteria needed under Title II of the Americans with Disabilities Act used to determine if a school can remove a student from campus for posing a "direct threat" to themselves or others. But since then, colleges ran into federal complaints and lawsuits from students who say they were involuntarily withdrawn from their university for mental health reasons, in violation of civil rights laws.
Schools are now stuck trying to prevent someone from committing suicide, adhering to Americans with Disabilities Act protections, and avoiding a federal complaint, Kruger said. And they're doing it without clear guidance from the Justice or Education departments, he added.
As it stands, "campuses have lost the ability to do something we think is really important: that is to make a decision on what is the best for the student," Kruger said. "Sometimes what's in the best interest of the student is them being home."
Lewis Bossing, senior staff attorney at the Bazelon Center for Mental Health Law, said his organization regularly gets calls from students on the verge of being removed from campus. The Bazelon Center represents one student suing Princeton for allegedly making him withdraw following a suicide attempt.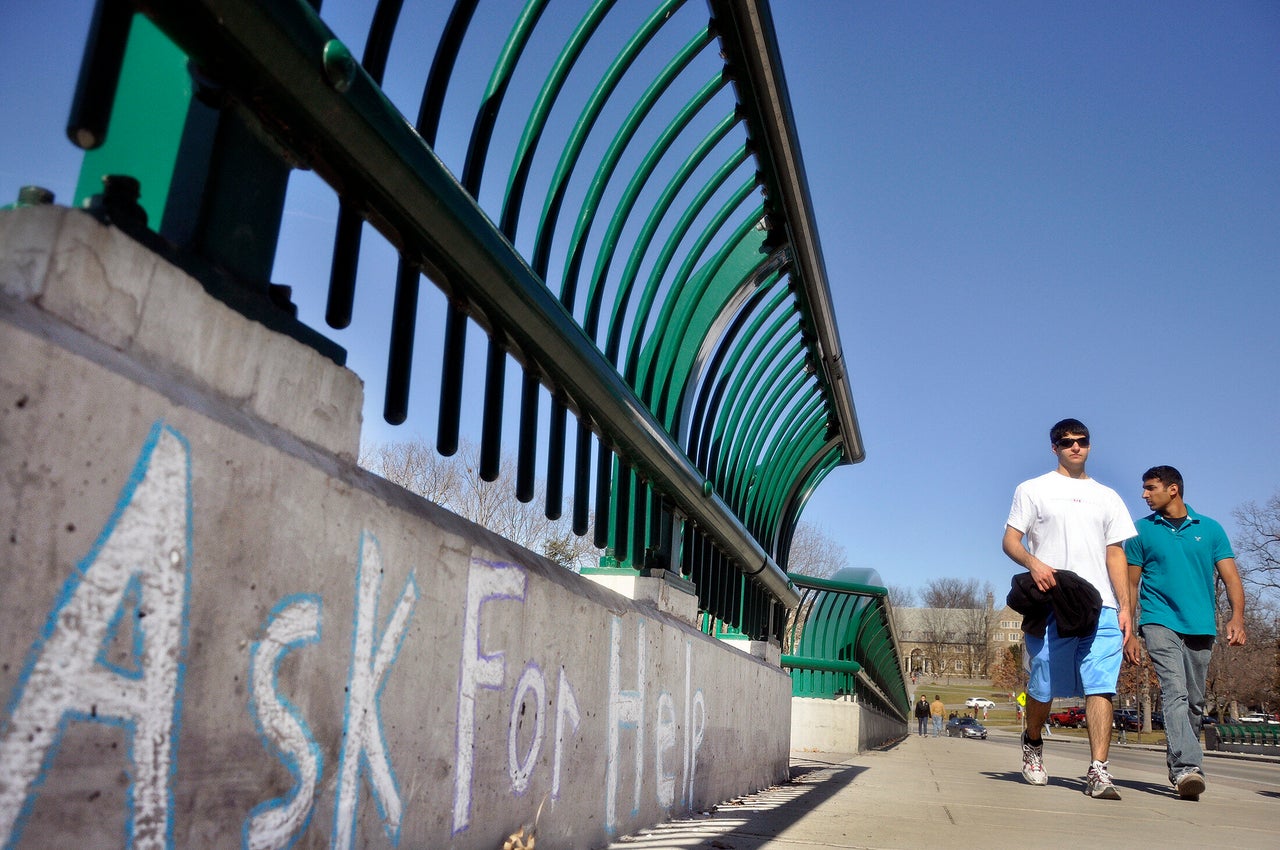 Death at college can affect an entire campus. Prime examples include University of Pennsylvania students taking their own lives this year, a similar series of deaths at Cornell University in 2012 and the litany of shootings on campus. Part of the reason a university would remove a student is to prevent a risk to the broader community, because no university wants violence -- self-inflicted or otherwise, Bossing said.
"It is because they think that they may have exposure to liability, because certainly there have been instances where students engaged in acts of self harm including suicide," Bossing explained. "The fact of the matter is there are very few cases in which students with mental health issues actually engage in harmful conduct. In virtually all the cases -- 99 out of 100 cases where there may be that the student has done something or said something that raises concern -- very few cases that the student actually goes on to do something that does harm themselves or others."
MacPhee, of the Jed Foundation, said each involuntary medical leave should be determined on a case-by-case basis, but schools should make clear the circumstances that would cause them to ask a student to leave and the circumstances that would allow them back.
A case where a student is removed from campus today would likely involve some action on the part of the depressed student that disrupts the university, said Dr. Dan Jones, director of Counseling and Psychological Services Center at Appalachia State University in North Carolina.
"It's behavior that's occurred multiple times involving multiple people in multiple situations," Jones said. "It's not just somebody getting depressed and getting kicked out of school."
Some students who spoke with HuffPost were more offended by how their medical leave was implemented, than the leave itself. Moreover, they said they were angry that schools insisted on such a drastic step before the students could get access to treatment.
A month before Aubrey D. Blanche checked into a hospital to get treated for sexual assault-related post-traumatic stress, she tried to visit the Counseling and Psychological Services at Northwestern University, where she was attending school. Blanche said she was told the center was completely booked, unless she was suicidal. She later took voluntary medical leave from October 2011 to March 2012. When Blanche got back, she was required to meet with counselors from Counseling and Psychological Services.
"What I found frustrating was that only at the point I had already been hospitalized for a severe mental health issue did the university make resources available to me," said Blanche, a 2012 graduate.
Blanche said she feels her medical leave was in her best interest. But she also said she thinks more mental health services should have been available to her and other students at Northwestern.
But balancing emergency cases with those of students who want preventative services is difficult, Jones said.
"Most university budgets do not support all the resources and staffing that's needed to provide instant service for anybody that walks in," Jones said, calling it their "core dilemma."
"With students coming in greater numbers and more severity," Jones continued, "university mental health and counseling service centers are having a hard time keeping their head above water." In order to fix that, it's going to require more money.
This article was updated after publication with a comment from Yale University.
Related
Popular in the Community