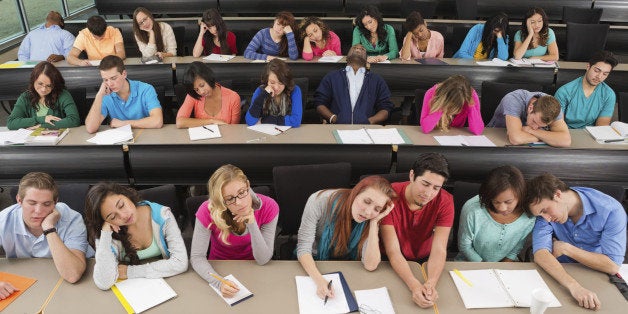 College students are often sleep deprived, yet they rarely receive help from their schools. Art Center College of Design is the exception.
The college notes it was important to have the option at least part of the time in an effort to prevent students from falling asleep at the wheel, since it's largely a commuter school.
"Our Nap Room is available for students 4 weeks during each 14-week term. We are a year-round program with 3 terms a year," spokesperson Teri Bond told HuffPost in an email, "The room is available 24 hours on Mondays, Thursdays, Fridays, Saturdays and Sundays during those four weeks each term."
There isn't a permanent location; instead, the room is determined by space that is available each term after all classes have been assigned a room.
In 2013, Harvard University considered creating a nap room after student Yuqi Hou started a petition that received 191 yes votes. But the Ivy League school is still yet to start one.
Students at other schools, such as the University of Texas-Austin and the University of California-Davis, have designed "nap maps" that reveal the best places to snooze on campus, based upon factors like which buildings have best air temperatures, the hallways that have the comfiest couches and which rooms are quietest.
In addition to nap rooms, Art Center offers "student stress-busting opportunities such as dog therapy, chair massages, yoga, basketball tournaments and free food at lunch to create a supportive, fun and more relaxed environment," according to Bond. "The campus community is deeply committed to helping students succeed and these are just a few examples of how we try to help students be well and thrive."
Full disclosure: we're a bit biased about these efforts.
Making student health and wellbeing a priority seems to be a slowly growing trend among colleges, and we admit, we're in favor. If HuffPost were in charge, we'd establish nap rooms on every college campus, just like our own "NapQuest" rooms in our offices.
Related
Popular in the Community