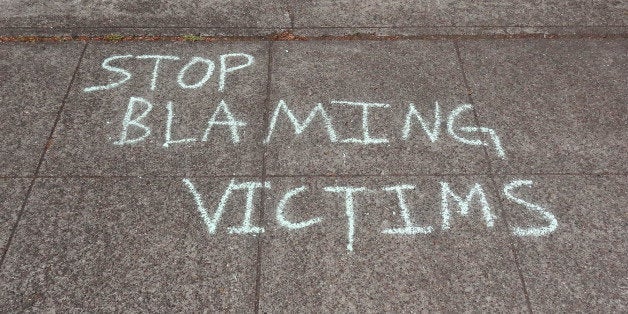 When Tom Hogan, the district attorney for Chester County in Pennsylvania, heard about a local college president's remarks in September about campus rape victims, he was upset. It wasn't only because he thought the comments were offensive. Hogan was also worried that they could stop rape victims from coming forward.
Lincoln University President Robert Jennings drew condemnation earlier this year for telling female students that women on campus lied about rape when things "didn't turn out the way they wanted" and suggesting that women are responsible for getting themselves into situations in which sexual assaults occur. Hogan, whose jurisdiction includes Lincoln, felt that statements like this interfered with the work his office does to investigate cases of sexual assault.
"The message we are putting out there is, these young women should report it," Hogan exclaimed over the phone. "But we need to have a prompt report, a full report."
Experts and advocates worry that statements like Jennings', which they perceive as blaming victims, can have a chilling effect, stopping rape victims from reporting their experiences and potentially leaving perpetrators unchecked in the community.
"Offenders have not only groomed their victims, they have groomed society as a whole," said Carrie Hull, a detective at the Ashland Police Department in Oregon. Rapists, Hull said, prey on victims who would think "if they do report, they are not going to be believed."
"Whether it's a school [employee] or anybody, the worst thing they can do is make some sort of victim-blaming comment," Hull said. "We very rarely recover from that. Depending on how that person is treated with whatever place they choose to disclose their assault to, it does set the tone. It's why it's so important you get proper training to people within the school."
College women are more likely to seek counseling, drop a class or move residence than seek criminal charges or disciplinary action against their rapist.
Sexual assault is a notoriously underreported crime, and college women are even less likely to disclose it. According to statistics from the Justice Department from 2000, fewer than 5 percent of women who were sexually assaulted reported a completed rape to police, and that figure was lower for attempted rape and other types of sexual assault. Of the victims who didn't report, more than one in five said they didn't think police would think the incident serious enough to investigate, two in five thought the incident was not serious enough to report and two in five declined to notify law enforcement because they thought they didn't have enough proof.
A more recent Justice Department study, from 2007, found somewhat better reporting rates, but similar reasoning on the part of victims who did not come forward. The study further noted that college women were more likely to seek counseling, drop a class or move residence than to seek criminal charges or disciplinary action by their university.
Over the past two years, a number of women have come forward to file complaints with the U.S. Department of Education, stating that college officials made troubling remarks to them when they reported their sexual assaults:
A former University of North Carolina-Chapel Hill student who filed a complaint in 2013 said one college counselor told her, "Rape is like football, and you're the quarterback; when you look back on a game, Annie, how would you have done things differently?" UNC is currently under federal investigation as a result of that complaint.
A federal complaint against Harvard College stated that a college official told a woman of color who attempted to report her assault, "It's in your culture that men are gropey." Harvard College and Harvard Law School are both under federal investigation.
At the University of Connecticut, a student claimed a school police officer told her, "Women need to stop spreading their legs like peanut butter or rape is going to keep on happening 'til the cows come home." The federal government's investigation of UConn is ongoing, but the university paid $1.3 million to settle a lawsuit earlier this year. The police chief has disputed that any of her officers made that remark.
A graduate of the University of Akron claimed one campus police officer said to her, "I'm not in the business of calling people liars, but in your case it doesn't look so good." The university is currently under federal investigation.
A rape survivor in New York City recounted an assistant district attorney telling her after speaking with her assailant, "Well, I met him. He's really cute. Maybe you just had a weak moment and you thought maybe you could get away with it, and then after the fact, you realized what you had done, and thought, 'Oh, I shouldn't have done that, I got upset about it.'"
A student at the University of Texas-Pan American said administrators questioned her about whether there was promise of marriage in her relationship with her alleged assailant, and asked if the relationship was "Facebook official."
And these administrators' responses are far from the only problematic things being said about sexual assault on campus. Students have spoken out in shocking ways on the issue, as illustrated by fraternity members chanting and writing "No Means Yes, Yes Means Anal" and referring to women as "rapebait."
Jen Marsh, vice president of victim services at the Rape, Abuse & Incest National Network, said that the initial response victims receive after disclosing an assault is one of the biggest factors determining the subsequent process of getting help and treatment.
"For so many survivors, they feel self-blame," Marsh said. "They may be doubting what happened to them is really that bad. To have somebody minimize their sexual assault or rape really validates those feelings they may have and they may push it aside."
"It's important for people -- both in terms of the campus issue, but also in everyone's general life -- if someone discloses to you they were a victim of sexual assault, that was a difficult choice for them to make, to have that conversation to disclose to someone," Marsh added.
"It's important for the person to respond that what happened to them wasn't their fault, that they believe them and there is help and resources available."
Related
Popular in the Community