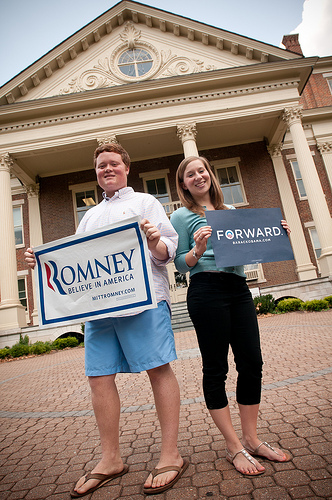 The presidential election has devoured the Internet. Like a b-movie monster from the 60s -- I'm thinking Mothra, or maybe the underrated Gamera -- election talk has demolished my Twitter timeline and pulverized my Facebook feed. Don't get me started about my e-mail inbox, which is a mess of poll chatter, fundraising pitches, and petition drives. And offline, back in the real world, it's just as intense. My walk to work takes me past dozens of campaign signs posted in people's windows, the office watercooler talk is still dissecting Wednesday's debate, and of course you can't turn on the television without hitting a solid wall of horserace analysis and campaign ads.
But you know what? This is exactly how it should be. As American citizens, we're supposed to be up to our eyeballs in election talk -- that's part of being a citizen in our dynamic democracy. The First Amendment's guarantee of freedom of expression was designed to protect political speech and commentary above all. Indeed, as the Supreme Court has put it, the First Amendment "embod[ies] our profound national commitment to the principle that debate on public issues should be uninhibited, robust, and wide-open."
Unfortunately, every election year, too many colleges and universities make the incomprehensible and illiberal decision to censor their students' and professors' political speech.
You might think that colleges would encourage students to pay attention and join the debate. But as Director of Legal and Public Advocacy for the Foundation for Individual Rights in Education, a non-partisan non-profit organization dedicated to protecting student and faculty rights, I see political speech on campus silenced again. And again. And again.
Take Christopher Newport University (CNU) in Virginia, which shut down a student protest of Republican vice presidential candidate Representative Paul Ryan late last month. Student groups like the Feminist Alliance and the Gay-Straight Student Union wanted to protest Ryan's campus appearance, but Ryan's visit was announced with just two days' notice -- meaning that the groups weren't able to provide the 10 days' notice required by CNU's "Demonstration" policy, which also establishes a tiny "free speech zone." The university refused to waive the unreasonably long requirement, so the protest never happened.
Thankfully, this case has a happy ending. Under pressure from CNU's student government, FIRE, and the ACLU of Virginia, CNU President Paul Trible dismantled the unconstitutional policy. To his credit, Trible reversed the school's mistake -- taking down the free speech zone, rescinding the 10 day notice requirement, and making clear that CNU had learned its lesson about the First Amendment.
Unfortunately, CNU is just one of many examples of student political speech being censored on campus.
Take the case of Morgan Freeman (nope, not that Morgan Freeman), a student at Sam Houston State University in Texas. To protest a restrictive social media policy her school had proposed, Freeman joined forces with student groups from across the political spectrum -- SHSU Lovers of Liberty, Bearkat Democrats, Sam Houston Democratic Socialists, and College Republicans -- to stage a "free speech wall" event on campus. Everything proceeded smoothly until a professor, outraged by a comment reading "FUCK OBAMA," took a boxcutter to the wall. That's right -- a boxcutter. (And for the record, the anti-Obama line was right next to a "FUCK BUSH" line, as well as one reading "NAZI PUNKS FUCK OFF." What can I say? There's room for all at the free speech table.)
When Morgan and her fellow students complained to campus police, the officers actually sided with the professor, and demanded that other comments be censored, too! So much for the First Amendment, huh?
Here's Morgan telling the incredible story in her own words:
Again, these are just two of many examples of political speech on campus being shut down in the last year. There's the student at Auburn University who was ordered to take down his Ron Paul banner, while other student banners were allowed to remain posted; the student group at the University of Cincinnati whose signature gathering for ballot initiatives was restricted to a minuscule "free speech zone" comprising less than .01 percent of campus -- until they sued their school in federal court and won on First Amendment grounds; the student protesters at Sinclair Community College in Ohio who learned that their school bans any student from holding a sign on campus for "safety" reasons; the chapter of Students for Sensible Drug Policy at Northern Virginia Community College who were denied the funding available to other groups because the college unconstitutionally banned funding groups with "a political agenda"; or the students and faculty at the University of Illinois at Urbana-Champaign who fended off a proposed policy that would have imposed a laughably broad prohibition on "political campaigning" over e-mail.
That's just from this election cycle. Unfortunately, 2008 wasn't much better. Last go-round, the University of Oklahoma tried to impose a ban on "the forwarding of political humor/commentary." Grambling State University prohibited "joke e-mails" that might contain "offensive comments" about political beliefs. The University of Texas-Austin threatened to punish a pair of cousins for posting an Obama sign in their dorm room window before permanently rescinding the ban under criticism from both the College Democrats and the College Republicans.
The list goes on and on, and sadly, I expect it will continue to grow. After all, we're still a couple of weeks out from Election Day -- plenty of time for a few more universities to try their hand at censoring political speech!
You may be wondering why exactly universities try so hard to tamp down on election-related speech. What gives? Well, a big part of the answer is that many universities are worried about running into trouble with the Internal Revenue Service, which prohibits 501(c)(3) tax-exempt organizations from engaging in political activity. Adopting a hyper-risk-averse posture, universities crack down on student and faculty political speech, worried that if they don't, they'll violate IRS regulations or other applicable law.
Students, student groups, and faculty members do not endanger the 501(c)(3) status of private colleges and universities by engaging in partisan political speech when such speech is clearly separate and distinct from the institution's views or opinions. The presumption is that such speech does not represent the views of the university as an institution. Moreover, this presumption applies with particular vigor when speakers clearly indicate that they are not speaking for the university. The risk of appearance of institutional endorsement may be greater when the speaker is a high-level university administrator, but decreases as one moves down the chain of command to lower-level administrators. Additionally, this risk does not apply to students or student groups, or to faculty who do not hold a position as an administrator or department head.

At public universities, partisan student groups may use institutional resources and facilities for partisan political expression and activities when the use of such resources and facilities is obtained in the same way that non-partisan student groups obtain such use. Similarly, students and student organizations at private institutions promising freedom of speech are not prohibited by IRS regulations from using student activity fees to engage in political speech and activity. They may also use institutional resources and facilities for such speech, again provided that (a) the resources are made available to all speakers and student groups, and (b) they follow the same procedures observed by all other student groups seeking to obtain use of university resources.
And of course, students at public universities enjoy full First Amendment rights to speak their minds on campus -- and especially about politics.
So as the nation continues to debate political issues big and small on the march to Election Day, I ask university administrators to remember that students enjoy the right to join in, as well. After all, if students don't learn the habits of participatory democracy in college, than we're all going to be in big trouble a few years down the line. Democracy is a team sport.
And students, if you find your political speech silenced on campus, we're always standing by to help.
Related
Popular in the Community