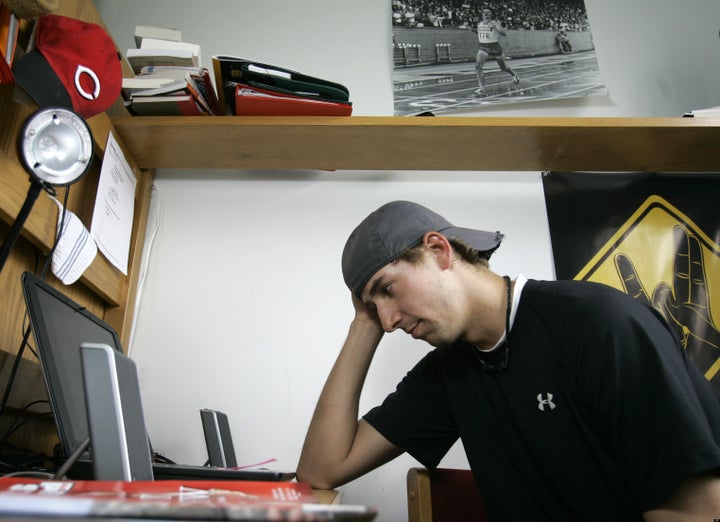 Nia is a senior at Rich Central High School in Chicago and is a student contributor for The Mash, a weekly teen publication distributed to Chicagoland high schools.
Preparing for college can be very stressful. Trying to figure out your future career at the same time is even worse. Everyone has interests, so why not try to turn that into your major?
But what if you have no idea what to do for your future career? Some seniors say it's not that big of a deal.
"I think it's normal to not know your major; in my mind, it's too early to know what you want to do for your career," said Brittany Younger, a senior at Rich Central.
According to The Princeton Review, many students select the "undecided box" when applying for college and they wait to decide on a major later. Some students declare a major on their application, only to switch in college as their interests change.
"Studies show that students change their major three to four times before they stick to one," said Danny Mason, college advisor for the Illinois College Advising Corps.
Most of the time, students can take general education classes that count toward any major, but classes for art majors differ from classes that science or business majors have to take. So, having a general idea of what you want to major in can be a huge help.
Lance Jefferson, career research counselor at Rich Central, suggests dabbling in a field you're interested in. "Try internships or shadowing for programs like 'Future Teachers' to see if that's what you want to do for your intended major," he said.
Mason adds that using resources available is helpful too. "Branch out (and) talk to college advisors, tutors and upperclassmen," he said. "Find out what classes to take to build a foundation."
Ricola Braxton, a senior at Chicago Vocational, explained how she found out that she wanted to be a nurse. "I had real life experience having to take care of my mother," she said. "So many people said I was already good with people so I felt it just fit me."
But Lanier Zimmer, undergraduate admissions officer at University of Illinois at Urbana-Champaign, said that going to college with an undecided major isn't too bad. "I think it's good being undecided because it's hard to know what you want to do," Zimmer said. "You can explore more in college because it opens new doors."
The Mash asked some college freshmen on how to go about exploring majors and here's what they said.
"Tap into what your strengths are, make a list and do what you're passionate about because passion speaks." —ENIOLA ORENUGA, ILLINOIS STATE UNIVERSITY
"Go undecided and try to find programs like freshmen academy at my school that helps you adapt to campus life and find interesting majors." —MARCEL BRUNIOUS, GRAND VALLEY STATE UNIVERSITY IN MICHIGAN
"Depending on what college you attend, they will have counselors and resources at your service to help educate you (about) the different majors. You just have to take on the responsibilities of stepping up and scheduling your appointment about your future. So just remember not to panic if you don't have it all planned out. Take initiative. —TATEANNA FOSTER, UNIVERSITY OF ILLINOIS AT URBANA-CHAMPAIGN
"Pursue something that you love so you wouldn't mind turning it into a major." —JULIAN MCCLINTON, SOUTHERN ILLINOIS UNIVERSITY AT CARBONDALE
Calling all HuffPost superfans!
Sign up for membership to become a founding member and help shape HuffPost's next chapter