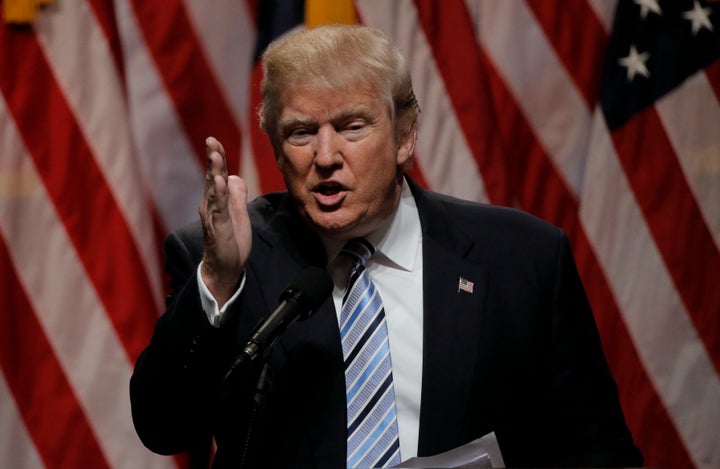 People in academia might have a special reason to look askance at Trump. He has expressed doubt about the value of experts ― that is, people who really study a subject. And he's not a big reader, as The Washington Post points out.
But that doesn't mean those leading America's colleges and universities are willing to step up and offer their opinion on Trump.
The Huffington Post reached out to college presidents in Cleveland about the man set to receive the Republican presidential nomination in their city this week. We asked if they would like to comment on Trump's language and proposals, whether they approve of Trump, or if they think he's worthy of the U.S. presidency. 
The answer was mostly silence.
Staff for Cleveland State University President Ronald Berkman said they did not hear back about his availability. 
Cleveland Institute of Music President Paul Hogle declined to weigh in on Trump. 
Cuyahoga Community College President Alex Johnson, John Carroll University President Rev. Robert L. Niehoff and Ursuline College President Sr. Christine De Vinne did not respond to requests to comment. 
"While I sit in open-mouthed amazement at Mr. Trump's achievement in apparently winning his party's nomination, I must say I am no fan of the form or substance of his positions," Nunes said in a statement to HuffPost.
Where [Trump] mocks the disabled and castigates the different, I see it as my duty to celebrate and embrace them.

Grafton J. Nunes of the Cleveland Institute of Art
"I see his campaign as cynically playing on the fears and anger of working-class Americans economically dislocated by global markets and alienated by changing demographics," Nunes continued. "But where he would build walls to control and restrict, as an educator and artist I must build bridges of welcome to empower and engage; where he promises security through exclusion, I am obligated to promote people being comfortable with being uncomfortable through understanding multiple viewpoints. Where he mocks the disabled and castigates the different, I see it as my duty to celebrate and embrace them."
Nunes said, "I have spent 45 years informing and moving people in schools, theaters, galleries and print with a commitment to respecting truth in its multiple dimensions with intellectual honesty and emotional responsibility. I have yet to detect those values from Mr. Trump."
Beyond Nunes, there have been a few academic voices speaking out against Trump.
And some college leaders have made public statements this year condemning Trump's comments. One example is the president of Dordt College, the Christian school in Iowa where Trump once joked that he could shoot someone and get away with it.
"Today's comment by Mr. Trump regarding the loyalty of his followers, namely that 'I could stand in the middle of 5th Avenue and shoot somebody, and I wouldn't lose any voters,' went far beyond a broad-brush promise about his policies or plans for our country," Dordt College President Erik Hoekstra said in January. "In no way do I, nor does the college, support such an odd and inappropriate comment. I have no concept of why Mr. Trump thought that was an apt example to highlight the loyalty of his followers."
Dr. Everett Piper, the president of Oklahoma Wesleyan University, was celebrated by conservatives last year for his statements criticizing students who want "safe spaces" on campus. Trump is often touted as someone who disavows "political correctness." But that doesn't mean Piper considers Trump someone who is "on my side."
Anyone who calls women 'pigs,' 'ugly,' 'fat' and 'pieces of a–' is not on my side. Anyone who mocks the handicapped is not on my side.

Everett Piper of Oklahoma Wesleyan University
"Anyone who calls women 'pigs,' 'ugly,' 'fat' and 'pieces of a–' is not on my side. Anyone who mocks the handicapped is not on my side," Piper wrote in a blog post in January. "Anyone who has argued the merits of a government takeover of banks, student loans, the auto industry and healthcare is not on my side. Anyone who has been on the cover of Playboy and proud of it, who brags of his sexual history with multiple women and who owns strip clubs in his casinos is not on my side."
Brian Rosenberg, president of Macalester College in Minnesota, wrote in April that it can feel unnatural for heads of colleges to speak out about politics, but that Trump's comments and proposed policies are "antithetical to the mission of higher education."
"A higher education president who opposes some of the offensive behavior that Trump engages in or the policies he promotes might run the risk of being too outspoken," Rosenberg wrote. "But passively observing Trump creates a risk that is in my view much greater: that of failing to speak when the values most important to the institution within one's care are imperiled."
Calling all HuffPost superfans!
Sign up for membership to become a founding member and help shape HuffPost's next chapter