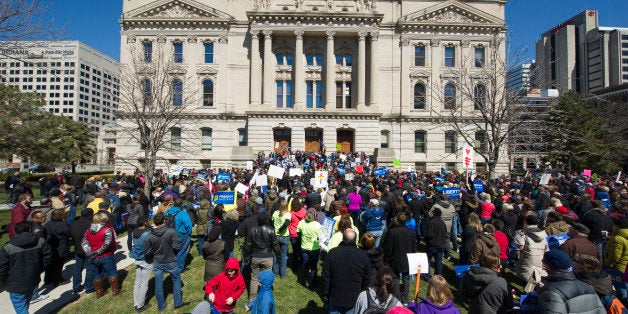 Pence told the Indy Star he would "clarify the intent of the law" to show it does not promote discrimination against LGBT citizens.
On Sunday, the presidents of Indiana University, DePauw University and Butler University all issued public statements opposing the bill. Each pledged to continue their own non-discrimination policies in how they provide services, and their recruitment, hiring and promotion of employees.
On Monday, Valparaiso University and Hanover College joined the group opposing the law.
In a statement, Valparaiso President Mark A. Heckler said:
Valparaiso University stands with numerous Indiana organizations, businesses, and communities of learning in its longstanding commitment to renounce discrimination. Regardless of personal opinions about the RFRA, we must engage in open and respectful dialogue among people who may hold fundamentally opposing and irreconcilable beliefs. We must find a way to live and work alongside one another in community. We must love one another. As Paul writes in Galatians 5, "For the whole law is summed in a single commandment, 'You shall love your neighbor as yourself.'
"The damage already done to Indiana's reputation is such that all public officials and public institutions in our state need to reaffirm our absolute commitment to the Hoosier values of fair treatment and non-discrimination," IU President Michael McRobbie said.
"These are not merely words written in a policy and soon forgotten," McRobbie added. "These are core values by which every member of the Indiana University community is expected to treat his or her fellow colleagues, students and visitors."
McRobbie said he hopes the controversy will move the state to reconsider the "unnecessary legislation."
"While I have read a variety of opinions and rationale for RFRA, it strikes me as ill-conceived legislation at best, and I fear that some of those who advanced it have allowed their personal or political agendas to supersede the best interests of the State of Indiana and its people," said Butler President James Danko. "No matter your opinion of the law, it is hard to argue with the fact it has done significant damage to our state."
DePauw President Brian Casey said: "I am, by practice, reluctant to comment in any way on current political matters. As president of a university, I must do all I can to ensure that the free exchange of ideas is both protected and nurtured. I would not want any statement from me to chill discussion on DePauw's campus on any issue. Legislation that has the effect of either encouraging or condoning discrimination, however, must be addressed.
Hanover College President Sue DeWine said in her statement:
Whether intended in its origins or not the "Religious Freedom Restoration Act" can have the effect of legitimizing acts of discrimination against other individuals, fellow citizens and visitors alike. Regardless of whether such actions occur, the legislation aligns the power of the state with attitudes of prejudice, discrimination, intolerance, incivility, and an acceptance of inequality that are injurious, even poisonous, to the interests of Indiana's educational, civic, commercial, and religious institutions.

As President of Hanover College, I ask that Governor Pence honor the values of his alma mater. At Hanover College we celebrate inclusion, acceptance, and openness to all persons. We do this not only because it represents the very best of what it means to be a Hoosier, but also because it is morally the right thing to do.
Purdue University President Mitch Daniels, the former Republican governor of the state, has not weighed in on the law personally. The office of the president at Purdue issued a statement Monday afternoon reading, in part: "While a longstanding Board of Trustees policy precludes Purdue taking institutional positions on matters such as the current controversy, we wish to take this opportunity to affirm our unwavering commitment to our principles and our opposition to any governmental measure that would interfere with their practice on our campuses."
This post has been updated to reflect that the number of college presidents in Indiana opposing the law has grown to five.
UPDATE, April 1: University of Evansville President Thomas Kazee issued a statement Tuesday arguing the law is not in the best interest of the state:
I respect Governor Pence's argument that RFRA is designed to promote religious freedom and prevent government overreach, but this legislation cannot be divorced from the broader context of the national discussion about laws which arguably permit discrimination. I think we can all agree that we want Indiana to be a welcoming and inclusive state.

Unfortunately, RFRA fuels the perception that we are intolerant and thus is damaging to the public welfare and to the University of Evansville. I urge the Governor and the state legislature to reconsider this action or, failing that, pass legislation, as has been done in other states, to ensure that the law is not used as a tool for discrimination.
Calling all HuffPost superfans!
Sign up for membership to become a founding member and help shape HuffPost's next chapter