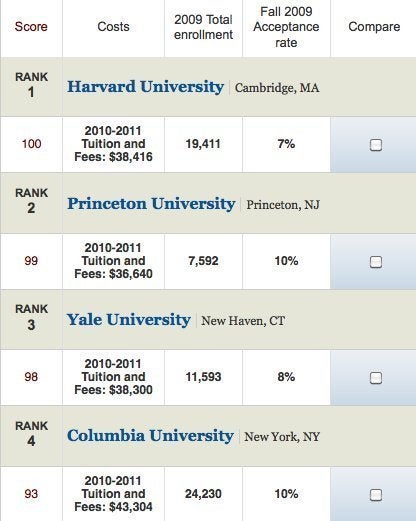 It seems that every day a new set of college rankings appears on the radar. Is it too much of a questionably good thing?
Some of the country's higher education critics have started to greet the rankings with a yawn. Evidently, the only thing surprising about the rankings is just how underwhelming they are.
The magazine would save itself a lot of trouble if it just flipped a coin every year to determine who was No. 1 since there are only two contenders. Or perhaps the magazine could find a three-headed coin so Yale would also get a chance in the college rankings sweepstakes.
Sure, the top 20 schools in both categories are rearranged annually, depending on undergraduate academic reputation, graduation and freshman retention, faculty resources, student selectivity, financial resources, and the alumni giving rate, among other things, but what does it really mean if, say, Harvard University supplants another Ivy League school, or the California Institute of Technology falls to No. 7? When I looked at schools, I was more-impressed by qualitative differences than quantitative ones. The quad! The library! The food! The stories about that much-beloved professor!

What do YOU think? Do the rankings mean anything to you? Join the discussion in the comments section.
WATCH: U.S. News and World Report senior education writer Kim Clark breaks down the rankings on the Today show.
Related
Popular in the Community