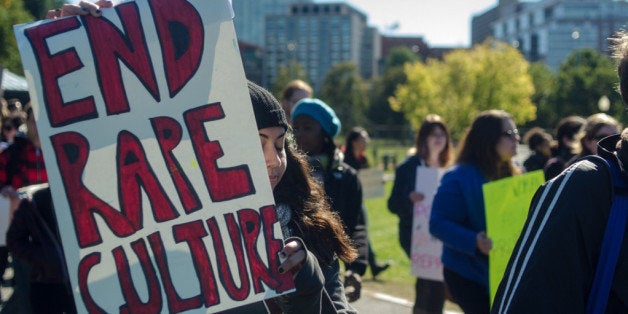 HANOVER, N.H. -- College administrators gathered at Dartmouth College this week hoping for policy prescriptions on sexual assault got something else: an ear full about rape culture.
From the very first session Sunday night at the Dartmouth Summit on Sexual Assault, experts have exhorted the more than 300 administrators and advocates in attendance to take a stand against misogynistic language, sexist imagery and anything that could discourage sexual assault survivors from coming forward.
"Wherever we are harboring rape culture, that needs to be eradicated yesterday," Catharine Lhamon, assistant secretary for civil rights at the Department of Education, told the audience Monday.
Speakers offered few policy suggestions for how schools can combat rape culture on campus, but cited plenty of examples that they want administrators to stand against. One change, speakers argued, was for colleges to stop inviting entertainers to campus who have been criticized for promoting misogyny -- Robin Thicke was among their prime targets.
University of Massachusetts at Amherst communications professor Sut Jhally said universities could not dismiss rape culture as a broader societal issue, because colleges "are in a unique place" to address its manifestations on their campuses.
"That requires political will that no one, as far as I know, has been prepared to take up that challenge," Jhally said.
Many of the remarks were bound to make officials in attendance uneasy.
Although it wasn't mentioned on stage, some attendees privately discussed Dartmouth's own problems with rape culture.
Susan J. Brison, chair of the Philosophy Department at Dartmouth, discussed her own rape during a panel, and attacked schools for using euphemisms for rape.
"We're not talking about sex -- this really cool, fun thing -- without consent," Brison said. "Calling rape 'sex without consent' obscures the very real violation built into the act of rape."
Brison joked that theft is not called "philanthropy without consent," to a burst of laughter from the audience, and she noted that trying to prevent sexual violence on campus does not equate with attacking sex.
"I am so tired of being called anti-sex because I'm anti-rape. I am pro sex," Brison declared to applause.
SurvJustice founder Laura Dunn scolded universities for trying to reform sexual assault policies without input from survivors like her.
"You are not addressing sexual assault if you are not listening to survivors," Dunn said. "If you are in meetings and there are not survivor voices, you are not doing enough."
Like Dunn, researcher David Lisak told administrators to welcome sexual assault survivors and activists into the process.
"The activists who are shaking their fists at you are not your enemies," Lisak said. "Their outrage should be our outrage."
Popular in the Community