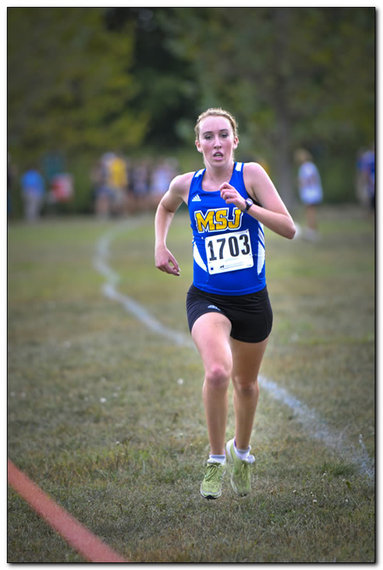 Last Christmas Amanda Shelby received a precious gift. She got to run again. It was only a jog around her neighborhood, but it was not the distance that mattered. She was back doing what she loves. Just months before she was so close to losing all of that.

Amanda Shelby is a great cross country runner. As a freshman for the College of Mount St. Joseph in 2012 she blazed her way to an invitational win in her very first race. By the end of the season Amanda had set school records and was one of the top two runners in the Heartland Collegiate Athletic Conference. She qualified for the NCAA Div 3 championship meet.

So as 2013 unfolded Amanda was preparing for a very promising sophomore season.

When the 4th of July came around, Amanda took a break from her training. She went with her Dad for a Whitewater rafting trip in West Virginia. What was to be several hours of fun took an unexpected turn, or leap.

The rapids were rough, and their boat hit them awkwardly. All of a sudden Amanda was flung eight feet into the air. An amazing sight. "You got some serious air" said her father. Amanda landed into the water. She hit her leg on a rock and was even submerged. Fortunately she was able to be brought back onto the raft.

Her leg was in great pain. She just knew it was broken. Amanda said, "crying is not going to help" as she fought back tears.

In the middle of such a remote area, they could not just stop the trip and tend to her injury. Amanda, her father and their guide would have to keep rafting for a couple more hours to get back to their cars.

They pushed onward. When they finally made it, Amanda had to be carried to the car. They now headed back home to Ohio. The next day they could get some treatment for what the family expected was a broken leg that needed to be put into a cast.

They were in for another surprise. The leg was not broken, according to a specialist they saw. With that diagnosis, Amanda could assume that the leg would get better with some rest. She could even get back to working out soon. Cross country season was coming up. Everything might turn out okay.

Weeks went by. Amanda's leg, though, was not getting better. After some further examination, she got a call. The leg was indeed broken. Since Amanda had not been getting the right treatment she was close to needing a major surgery. This would have likely ended her college running career.

Her 2013 cross country season was obviously over. Luckily, her career was saved just in the nick of time. Now with the right diagnosis she could get healthy.

Looking back Amanda knows how much worse it could have been. Her neck may have been broken or she may have even drowned. She could have gone into shock.

Now by Christmas of 2013 she was able to return to running, a sport she had first taken up in grade school. Amanda was a star runner at Lakota West high school before coming to Mount St. Joseph. Running runs in the family. Her mother was an elite cross country runner too.

Amanda has substantially increased her mileage. She even did a 9-mile run on the last day of February. It takes time to get back to race form. She is on her way.

She is also adding something special to her comeback training. Amanda is using a free smartphone app, Charity Miles, to raise funds for the U.N. World Food Programme, the largest hunger relief organization.
You download Charity Miles onto your smartphone and you run, walk or bike to raise money for various causes. Every mile means a donation to a charity of your choice, paid for by sponsors.

Every mile Amanda runs is feeding people a world away who are suffering from starvation. Amanda's own comeback is helping others with their struggle to find food in war, disaster or poverty stricken areas.

What's more is that Amanda has teamed up with several other students at the college for a special event. On April 12th, at 3p.m. a community Charity Miles walk will be hosted at the Mount. Walkers will use the college track to rack up miles for numerous charities like the World Food Programme, Stand up to Cancer, Wounded Warrior Project, Feeding America and so many others.

Amanda is back on track, literally. She is already fast becoming a top Charity Miler. She has a whole offseason of training to get ready for the next cross country season. Mount St. Joseph will be competing at the University of Kentucky Invitational (Sep. 13) as well as the National Catholic Invitational at Notre Dame (Sept.19th).

Look for Amanda and Mount St. Joseph in these and other races. You can also follow her Charity Miles at twitter @Ashelbymustang
Photo courtesy of Ashley Shelby
Popular in the Community