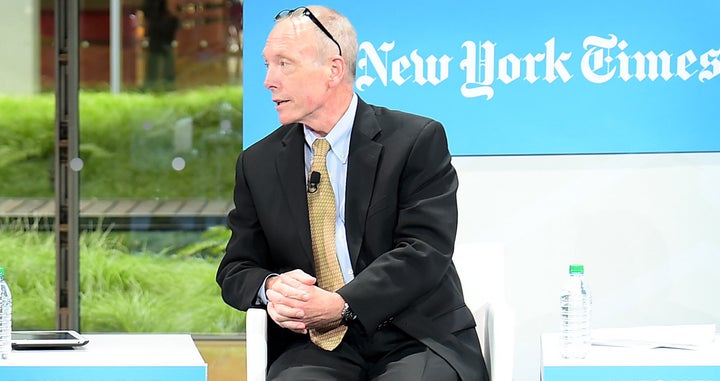 The new College Scorecard from the U.S. Department of Education, which the Obama administration touted as providing vital consumer information for prospective college students, actually leaves out a large swath of schools.
Schools offering certificate programs and accepting federal student loan and grant dollars are absent. That means there is no information in the scorecard about cosmetology schools, which provide certificates rather than degrees but charge tuition nonetheless. Almost all cosmetology programs at are for-profit institutions.
Dozens of colleges specializing in hairstyling and massage therapy are under increased federal monitoring, and most programs produce graduates that earn very little -- information that would show in the College Scorecard, if they were included.
Barber and beauty schools have increasingly drawn attention from policy wonks, some of whom think cosmetology programs need to be more transparent. Others question whether they should receive federal dollars at all. 
An Education Department spokeswoman didn't explain why the certificate programs were left out, but left the door open to adding them in the future. 
"The data provided on the Scorecard are intended to provide prospective students with a variety of useful information about an institution to help them make informed decisions about which institutions they should attend," the spokeswoman, Denise Horn, said. "At launch, we focused our attention on predominantly two- and four-year degree programs. We will be exploring ways moving forward to account for shorter degree programs and to incorporate them onto the website."
As of June, the Education Department had at least 68 cosmetology schools under heightened cash monitoring, which means federal officials are overseeing them more closely due to concerns with their compliance with financial or federal rules.
The cosmetology schools left out comprise nearly a quarter of all for-profit colleges under heightened cash monitoring. The colleges that made it in -- because they offer associate's and bachelor's degrees -- were included in the College Scorecard with a bright red warning label.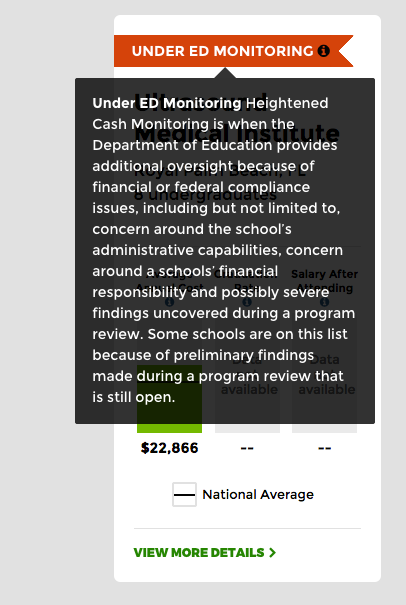 "We know certificate programs are some of the riskiest options in higher ed and we need to do more to warn people about them," Ben Miller, senior director for postsecondary education at the Center for American Progress, a left-leaning think tank, told The Huffington Post. 
Miller wasn't sure why the certificate programs aren't included in the scorecard, since that information is part of the large dump of raw data the Education Department released with the new website. 
Out of 671 cosmetology programs nationwide, only six "produced graduates whose earnings average more than $20,000 a year," a recent Brookings Institution analysis found. Sixty percent produced grads who earn $10,000 to $15,000 annually after finishing school. 
Last year, when the department released data on the rate of student loan defaults, it highlighted 21 schools as being at risk of losing their access to federal financial aid programs. Eleven of those were cosmetology and barber schools. 
Prospective students "deserve good, and easily digestible, information about job-placement rates and earnings of programs they are considering," wrote David Wessel, a senior fellow of economic studies at Brookings. While we're making progress in disclosing troves of government data on file, he added, "we haven't gone as far as we can."
"Really, we should recognize that cosmetology is very different from almost anything else in the higher ed market -- it's preparations for a low-wage, licensed occupation," Miller said. "It's job training." 
This brings up a larger question, he said: Should we lend the same amount of federal dollars to a student who goes to cosmetology school as we lend a student going to a traditional community college or four-year university?  
"It's obvious up front that the debt is going to put them in a very precarious spot," Miller said. "And you should use loans to expand opportunity, not guarantee failure."
Calling all HuffPost superfans!
Sign up for membership to become a founding member and help shape HuffPost's next chapter