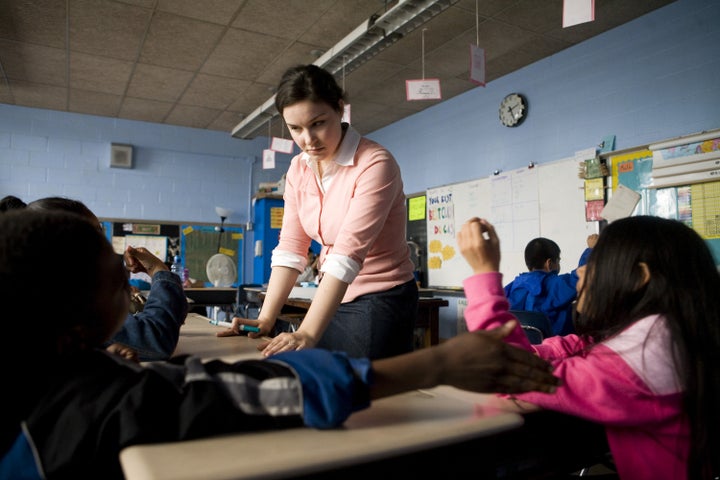 As the Spring semester begins, many college seniors across the country are preparing to apply for Teach for America, though a fortunate few have already been selected for the upcoming 2012 TFA corps. Teach for America selects high-performing college seniors and then places them in low-income schools to "help ensure educational opportunity for all."
If you were to read TFA's polished public relations and website literature, you would think that the organization is tantamount to a modern day civil rights movement, helping fight poverty through educational opportunities.
The reality, however, is quite different. Teach for America -- or as it is pejoratively known "Teach for Awhile" -- has mixed impact at best, according to studies which have evaluated it.
On the TFA website, there are links and summaries of a litany of studies that prove just how successful TFA has been. This limited set of studies unsurprisingly leaves out the largest study on TFA to date, a six-year Stanford study including 4,400 teachers and 132,000 students. The findings of this study were summarized in the press release succinctly:
The study assessed achievement gains on six different reading and mathematics tests from 1995 to 2002 and discovered that children who were taught by certified instructors outperformed those who were taught by uncertified teachers or alternatively certified teachers, including TFA recruits. The study noted that TFA teachers improved their performance once they were certified, and did about as well as other certified teachers in helping their students succeed.
Other studies, including those featured on their own selected list of positive studies, show mixed results, or only slightly positive results that call into question the revolutionary impact the program purports to pursue.
Of course, the very premise of TFA -- that changing elements of the school can lead to huge increases in student achievement -- is a questionable one to say the least. It is basically this same premise which is also driving the charter school movement.
Like TFA, the studies on the charter schools also contradict this premise. Stanford's CREDO study on charter schools, which analyzed over 70 percent of students in the nation's charter schools, published the following findings:
17 percent of charter schools reported academic gains that were significantly better than traditional public schools, while 37 percent of charter schools showed gains that were worse than their traditional public school counterparts, with 46 percent of charter schools demonstrating no significant difference.
The general mediocrity of charter schools and TFA performance seem to indicate that the achievement gap between the poor and rich students is not caused by bad teachers or bad schools. Other explanations, like the living conditions which face the 1 in 5 children in this country who live in poverty, are probably more to blame for the gap than anything else. After all, if your parents are working two jobs, the amount of time they can spend reinforcing lessons at the kitchen table is probably minimal. No injection of motivated young teachers or alternative school models will ever be able to change that.
If -- as the studies on TFA and charter schools increasingly indicate -- the achievement gap is caused by factors outside of the school (e.g. poverty), college seniors pursuing entrance into the TFA corps should reconsider. TFA has been successful at cultivating its media darling image, but not so successful at achieving the sort of strides that are supposed to bring us to a new era of real equality of opportunity.
For those who are interested in student achievement, there is one thing that is clearer than anything else: the poorer the student is, the worse their achievement tends to be. Thus, if my fellow college seniors are looking for a way to narrow the achievement gap, they should dedicate their efforts to narrowing the wage gap, which the 2010 census shows is higher than ever.
Related
Popular in the Community