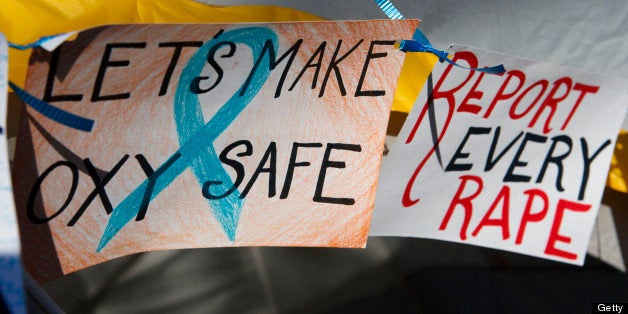 Three administrators at three colleges implicated in federal complaints for their alleged failures in handling sexual misconduct on campus have lost their jobs or are voluntarily resigning.
Occidental College in Los Angeles removed Carl Botterud from his position as the school's general counsel, though he will remain its Chief Risk Management Officer. Ann Penn will retire from her position as director of the Equal Opportunity Office at the University of North Carolina-Chapel Hill on Aug. 1. Tom Elverson, the alcohol education and intervention specialist and Greek liaison at Swarthmore College in Pennsylvania, had his job eliminated by the school.
Botterud, Penn and Elverson were each cited in the complaints against their respective institutions.
Occidental's Botterud received a vote of no confidence from faculty members in May following the federal complaint. But Caroline Heldman, chair of Occidental's politics department, questioned why the administration would deem Botterud unfit for one position, but keep him on in another while he faces at least one internal complaint of harassment.
"This is President [Jonathan] Veitch's idea of action, which is why the college is in the trouble it's in," Heldman said. "We need real and meaningful leadership on the issue of sexual assault prevention, and meaningful change will only come with new administrators at the highest levels who know federal law and will uphold it."
Veitch told The Huffington Post the college takes all complaints of harassment and intimidation seriously, and takes appropriate action in response. "We are unable, however, to comment on any specific personnel matters as those are private," Veitch said.
Penn told HuffPost she made her decision to retire after 30 years in education, the last seven of which she spent at UNC. Her decision "is not related to any university matters," she said.
Penn was in charge of training under the gender-equity law Title IX at UNC-Chapel Hill, and she set up a sexual assault policy task force that was meeting in response to the federal complaint against the university.
According to the complaint against UNC, Penn said in committee meetings that a Title IX coordinator with a background in sexual assault work would have a conflict of interest against accused perpetrators.
UNC junior Andrea Pino, one of the complainants against the school, said Penn played a role in alleged failures to provide resources for sexual assault victims as mandated under Title IX.
"When I was assaulted I had no idea what to do," Pino said, adding, "Ann was just there in the office and had all this power in this position and didn't do anything."
At Swarthmore, Elverson was not primarily responsible for handling sexual misconduct reports on campus, but was involved in some complaints involving fraternity members. His faced a conflict of interest in his role as a Greek liaison since he was an alumnus of Delta Upsilon, insists Swarthmore junior Mia Ferguson, one of the women who filed a federal complaint against the college.
"I think everyone knew that he was on the side of fraternity brothers," Ferguson said.
The complaint against Swarthmore claims Elverson told sexual violence victims, "I am first and foremost a DU brother. Second an alum. Third a drug and alcohol counselor. And fourth an administrator."
Lisa Sendrow, a recent Swarthmore graduate, said she confided to Elverson in May the name of a fraternity member who she said sexually assaulted her. Sendrow claims Elverson responded, "Oh he's such a good guy, he would never do that."
"Tom was not a bad person," Sendrow said, "I just never thought he was someone who would be good to work with [sexual assault] survivors."
Swarthmore spokeswoman Nancy Nicely said she could not comment on the specifics of any personnel matter. But she did say that "after very careful consideration and following a review of best practices" by an external review team, "the College has decided it should separate the roles of alcohol and drug counseling and fraternity advising." This meant eliminating both roles Elverson served, leaving him without a job at the school.
Elverson was not available for comment.
Annie Clark, a UNC alumna who joined in the complaint against her alma mater, and assisted in the filings against Occidental and Swarthmore, said more needs to happen at these schools "beyond the necessary and long-awaited first step of replacing certain administrators."
"Like having a good policy on paper, it's still only pretty words and people with fancy titles if the spirit of the policy is not implemented properly or taken seriously," Clark said. "While I'm thankful certain administrators nationwide are no longer in their positions, this is merely the beginning of a long process that will hopefully create much needed change."
Calling all HuffPost superfans!
Sign up for membership to become a founding member and help shape HuffPost's next chapter
BEFORE YOU GO
PHOTO GALLERY
Schools Investigating Or Reviewing Policies On Sexual Assault