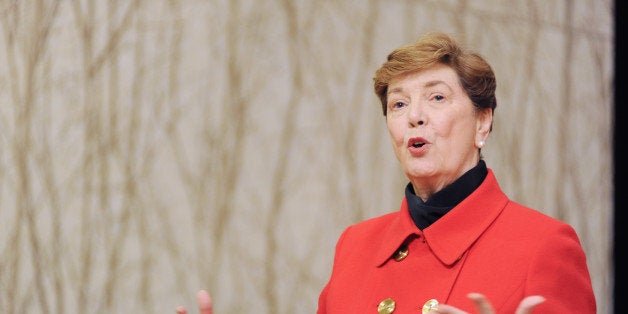 A bipartisan group of senators plans to unveil new legislation to address campus sexual assault, something that university leaders aren't exactly jumping with excitement about.
Following a wave of federal complaints alleging colleges and universities mishandled sexual violence at their schools, which has led to 71 ongoing investigations at the U.S. Department of Education, the lawmakers are set to reveal their proposal in a Wednesday morning press conference. Earlier this year the White House launched a task force whose recommendations are reflected in parts of the legislation.
College leaders complain, however, that they already face an obstacle course of regulations on handling campus sexual assault with several laws -- the Clery Act, Title IX and the Violence Against Women Act -- setting forth conflicting responsibilities.
Anne Neal, president and co-founder of the American Council of Trustees and Alumni, argues that the Obama administration is putting too much of the burden of ending sexual violence on colleges, noting that educational institutions "are ill-equipped" to adjudicate serious crimes.
"I don't think anyone is disputing that sexual assault occurs on college campuses and the broader society," Neal said, "but I think it's sad the administration is more interested in assisting privileged college students and not helping victims outside of the ivory tower."
Neal would prefer that federal attention and resources focus more on helping police departments address sensitivity issues and other concerns with the criminal justice process.
"This system being rolled out on campuses will end up requiring a very extensive, costly quasi-judicial apparatus that will disregard due process and constitutional protections," Neal warned.
Molly Corbett Broad, president of the American Council on Education, wrote in a letter to senators last month that "college administrators are often asked to be all things to all people" when it comes to sexual assault cases, yet they don't have many of the tools of the criminal justice system.
"We lack the authority to subpoena witnesses, control evidence and impose legal standards," Broad told the Senate Health, Education, Labor and Pensions Committee. "Our disciplinary and grievance procedures were designed to provide appropriate resolution of institutional standards for student conduct, especially with respect to academic matters. They were never meant for misdemeanors, let alone felonies."
Broad called for more federal funding of sexual assault education and prevention training, and greater "clarity and consistency with respect to federal expectations, requirements and enforcement." She also pointed out that while the Education Department tells schools to deal with sexual assault cases in a timely fashion, the department's Office for Civil Rights can take years to resolve a single complaint against a university -- a concern that happens to be shared by the activists filing such complaints.
Several senators have already indicated that they want to give more power to the Education Department to punish colleges for violating sexual violence laws. Earlier this month, a survey, commissioned by Sen. Claire McCaskill (D-Mo.), showed that universities aren't abiding by the current statutes.
But university leaders say they're well aware of the problem. "There's not a conversation you can have with a senior administration leader anymore without sexual assault coming up," said Jeff Lieberson, vice president for public affairs at the Association of Public and Land-grant Universities.
For the lawmakers' part, McCaskill conceded at a campus violence roundtable in June that the final sexual assault bill could be notably different than what is initially proposed.
Calling all HuffPost superfans!
Sign up for membership to become a founding member and help shape HuffPost's next chapter