Dana Bolger, a recent graduate of Amherst College, didn't expect to get a call Wednesday morning from the White House.
A staff member with the White House Council on Women and Girls was making sure that Bolger had seen the news about President Barack Obama's new initiative on college sexual assault. Bolger said the staffer pointed to the efforts of ED Act Now, a group that Bolger works with, in pushing the federal government to do more to ensure that schools respond to sexual violence appropriately.
"The administration has clearly heard our plea, and I'm hopeful we'll see real change on our campuses as a result," Bolger told The Huffington Post.
Obama on Wednesday announced the creation of a task force to examine how institutions of higher education are handling reports of sexual assault. It is supposed to provide colleges with best practices on responding to such reports, build on existing law enforcement efforts against sexual violence, and broaden awareness of how schools comply with the law in this area. Education Secretary Arne Duncan, Health and Human Services Secretary Kathleen Sebelius and Attorney General Eric Holder are all members of the group.
Along with the task force announcement, the White House issued a report on college sexual assault. Although it doesn't contain any new data, the report paints a troubling picture: It's estimated that one in five women in college experience an assault, most know their assailants, and the victims frequently face mental health problems afterward, including depression, anxiety and post-traumatic stress. It's also estimated that only 2 to 10 percent of rape reports are false.
Both the report and the president's remarks paid tribute to the role of activists in bringing attention to college sexual assault.
"We have seen progress, including an inspiring wave of student-led activism, and a growing number of students who found the courage to come forward and report attacks," Obama said. "That's exactly what we want them to do. And we owe all these brave young people an extraordinary debt of gratitude."
In recent years, students, graduates and faculty have filed an unprecedented wave of complaints accusing colleges of failing to properly handle campus rape reports. Student sexual assault survivors have criticized the Education Department for not coming down hard on schools that don't take such reports seriously enough, and federal investigations have been launched into procedures at several universities.
"The task force is not an end in itself," said one of those critics, Yale Law School student Alexandra Brodsky. "We have not stopped sexual assault because Obama said something on TV, but it is a tremendous step in the right direction."
The White House task force is specifically instructed to find ways to increase the transparency of enforcement activities consistent with the "interests of affected students." Activists hope that will translate into better disclosure of when colleges face federal complaints and investigations and when they are found at fault.
This is not the first time President Obama has taken steps against sexual assault. Last year, his administration issued a veto threat against one version of the Violence Against Women Act reauthorization that did not include provisions commonly called the Campus Sexual Violence Elimination Act, or Campus SaVE. In 2011, Vice President Joe Biden took part in the announcement of an Education Department "Dear Colleague" letter clarifying what standard of evidence colleges and universities should apply in determining if a student has committed rape. And the administration has recently ordered reforms in how military sexual assault is handled.
"This changes that dynamic, changes the conversation," said Dunn, a sexual assault survivor herself. If the federal government includes survivors and activists in finding ways to address the problem, "rather than just bureaucrats," she added, "we can actually do work to diminish sexual assault."
Obama said that to make real progress against sexual assault, American culture must change. Young men need to recognize sexual violence and "be outraged by it," he said, adding that he wants "every young man in America to feel some strong peer pressure in terms of how they are supposed to behave and treat women."
The task force must submit proposals and recommendations to the president within 90 days, and then on an annual basis provide a report on the progress of those proposals.
"We need to keep saying to anyone out there who has ever been assaulted, you are not alone," Obama said. "You will never be alone. We have your back. I've got your back."
Read the White House memorandum on college sexual assault:
Support HuffPost
The Stakes Have Never Been Higher
Related
Before You Go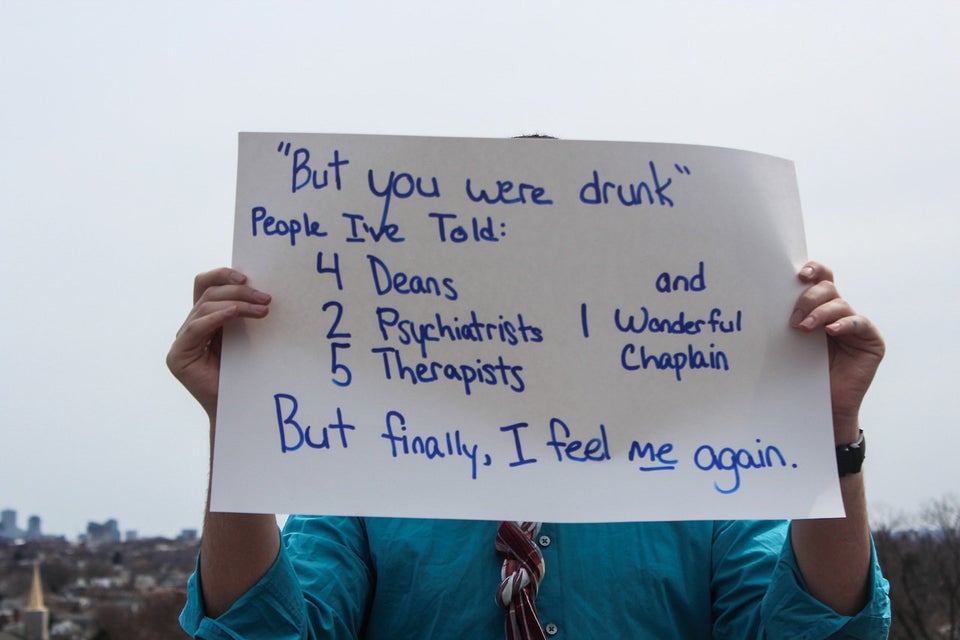 Surviving In Numbers: Stories Of Sexual Assault Survivors
Popular in the Community