NEW YORK -- When Marci Robin first read about the questions surrounding a local police investigation of the rape case involving Florida State University's star football player, she felt a sense of deja vu.
Robin remembered "some unfortunate parallels" she experienced as an FSU student more than a decade earlier when she reported her own rape to the same police department. Despite having done what she's "supposed to" as a rape victim, Robin said she never got justice.
"I'm not even sure if they did go talk to him," Robin told HuffPost, referring to her alleged assailant. "I sort of expected that once somebody says, 'Here's what happened to me, here's where it happened to me,' that I had passed the torch." Police had all her information if they needed to follow up, Robin noted.
In the more recent FSU case, the woman who accused star football player Jameis Winston of rape has said Tallahassee police never followed up with her before deciding to close the case. Questions have been raised about possible failures by the school, and whether football was given priority over a crime; but other sexual assault survivors say they see similar problems with many sexual assault investigations, regardless of who is involved.
The issue of sexual assaults on college campuses has received increased attention in recent months, due to an unprecedented wave of complaints and federal investigations into university policies. Some outside observers -- and even some survivor advocates, such as the Rape, Abuse & Incest National Network -- have argued that the solution may be to turn cases over to local police and remove schools from the investigation. RAINN made the suggestion to the White House Task Force to Protect Students from Sexual Assault, which was due to submit its recommendations to the administration this week.
But turning over sexual assault cases to local law enforcement may prove no less problematic, as the Winston case demonstrates. Critics of the police's handling of that case say the department acted inappropriately and failed to bring justice.
Robin reported her assault in Fall 1999, four months after it took place. But because she had no forensic evidence, no rape kit was performed and she had no photos of her injuries, Robin said the police questioned whether she wanted to press charges.
She chose to proceed, but after making the report, Robin never heard from police again. She said she didn't realize she could also have reported the incident to the school.
The police's silence had a lasting effect on Robin, who later wrote about her experience on xoJane. Robin told HuffPost about the fear she felt when she saw her alleged assailant a few months later at a bar, not knowing whether or not he was aware of the police report. In Robin's opinion, the police dropped the ball: "I don't know if their win-loss record is more important to them than doing the right thing."
Tallahassee police did not respond to requests for comment.
After Boston police took a statement from Emerson College student Sarita Nadkarni about her sexual assault and examined the bedroom where she said it had taken place, a detective left a card and never followed up with her. She has no idea what they decided to do with her case.
In Boston, Sgt. Michael McCarthy said his department "thoroughly and appropriately investigates every report of sexual assault that it receives," but would not comment specifically on Nadkarni's case.
"When I go out and do these trainings in Florida," said Julie Weil, a survivor who frequently advises police departments, "what I say to them is, 'If nothing else, return that phone call at the end of the day. Follow up on that phone call. You don't have to have all the answers for the victim, you just have to show that you care.' That personal contact means everything."
How Rape Reports Disappear
When a college woman reports a rape to police, it does not often result in a prosecutor pressing charges. Sexual assault is consistently both an underreported crime and one that rarely leads to an arrest, let alone a conviction. However, it may be hard to track exactly how many rape reports are made to begin with.
One study by Corey Rayburn Yung, an associate law professor at the University of Kansas, concluded nearly 1 in 4 police departments responsible for populations of at least 100,000 persons are undercounting rape reports. The undercounting occurs when officers designate a report "unfounded" after little or no investigation, mark down a report as a lesser crime, or mislabel it as "investigate persons" or another noncriminal matter. Separate research by Kimberly A. Lonsway and Joanne Archambault suggested that sometimes police close a case without investigating and simply describe it as "call to service," meaning that it is omitted from the count.
Even among cases categorized as rape, the Federal Bureau of Investigation's Uniform Crime Report indicates that only a quarter of police reports result in an arrest.
The problem is particularly of note for college-age women, since they represent a disproportionately large segment of all female sexual assault victims, according to a 2010 survey by the Centers for Disease Control and Prevention.
"We just see this, unfortunately, in a lot of situations where the police seem very eager to dismiss these cases," said Sandra Park, an attorney with the Women's Rights Project at the American Civil Liberties Union.
Public confidence in the police's ability to pursue sexual assault cases is similarly low, with just 37 percent of respondents to a HuffPost/YouGov poll conducted Jan. 30-31 saying that they place "a lot" of trust in police to properly handle sexual assault cases, while 63 percent said they trust police only "a little" or "not at all."
'A Self-Fulfilling Prophecy'
Rapists do not go to trial or plead guilty when prosecutors don't prosecute. And whether or not a prosecutor files charges is largely dependent on whether police help them build a case.
University of Montana student Kerry Barrett said that, to the best of her knowledge, local police did not interview any witnesses before they decided to close her sexual assault case against a fellow student. Barrett said she was told the accused claimed it was consensual, and consequently police didn't think they had enough evidence to prosecute.
Barrett said she was disturbed when a detective told her early on that the case would be "he said, she said," and that she didn't think anything was likely to come of it.
"That was before she had conducted any sort of investigation," Barrett said. "If you go into something not expecting anything, it sort of becomes a self-fulfilling prophecy and nothing will come of it."
The U.S. Department of Justice in 2013 found Missoula, Montana, where the university is located, to be in violation of the Safe Streets Act after an investigation determined that officers repeatedly made statements to dissuade victims from pressing forward with their cases.
But not every victim wants to report to police.
Aryle Butler, a University of California-Berkeley student, decided not to report her assault following an experience in November 2012, when police, having received a tip about her roommate's rape, tried to persuade the women to make a statement at 2 a.m.
The Berkeley Police Department said the late hour was due to the officer's concern "about the victim's welfare and general condition."
That experience, however, made Butler distrust police. It was pressure from other students like her that led to changes in recently proposed legislation in California that would require colleges to submit all reports of sexual assault to local police. The bill now includes an exception for cases when a victim requests that police not be notified.
"A lot of advocates have opposed those laws," said ACLU's Park, because getting involved in the criminal justice system should be the survivor's decision.
"I think there is this illusion the criminal justice system is somehow better than the university system, and the idea of going through police is everyone's option," Butler said. "Essentially what you're telling me and every other survivor is, 'Why didn't you follow the proper steps if you were truly raped the right way?' You're putting it back on the survivor: 'You didn't report it right, so why should I believe you?'"
Related
Before You Go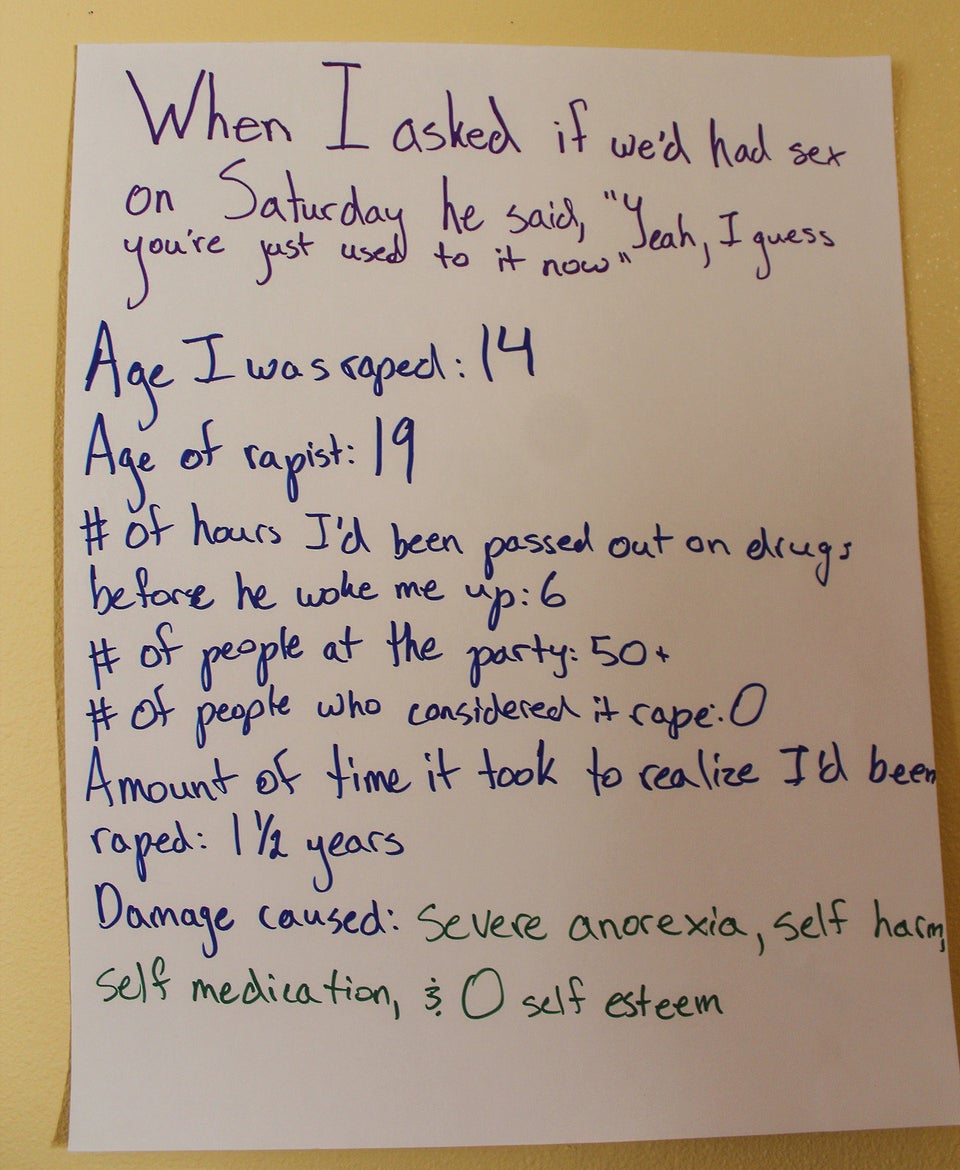 Images From 'Surviving In Numbers' -- A Project Highlighting Sexual Assault Survivors' Experiences
Popular in the Community