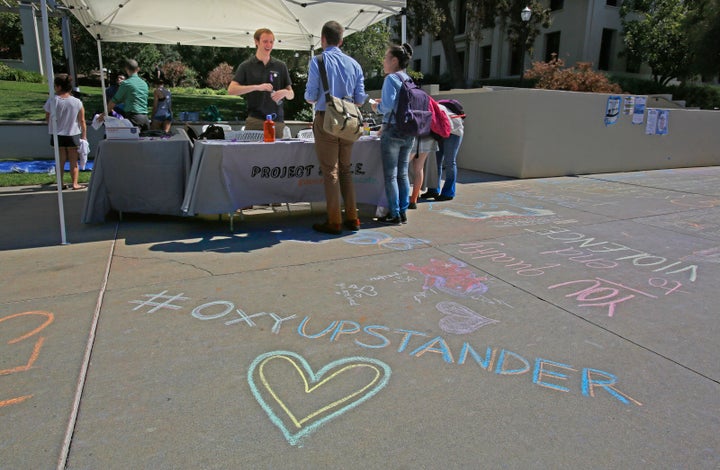 Close to half of residential four-year colleges nationwide reported zero sexual assaults from 2011 to 2013, according to a new analysis of federal data shared in advance with The Huffington Post, something sexual assault advocates and experts consider a troubling sign.
"If you see a school with zero reports, then it suggests that at that school, no one's comfortable reporting it," said Lara Kaufmann, senior counsel at the National Women's Law Center.
Forty-five percent of colleges nationwide reported zero sexual assaults during the two-year period, while another 19 percent reported only one or two, according to the analysis, which was conducted by market research firm Fractl and published Monday on PsychGuides.com. A total of 71 percent of schools reported three or fewer instances of assault.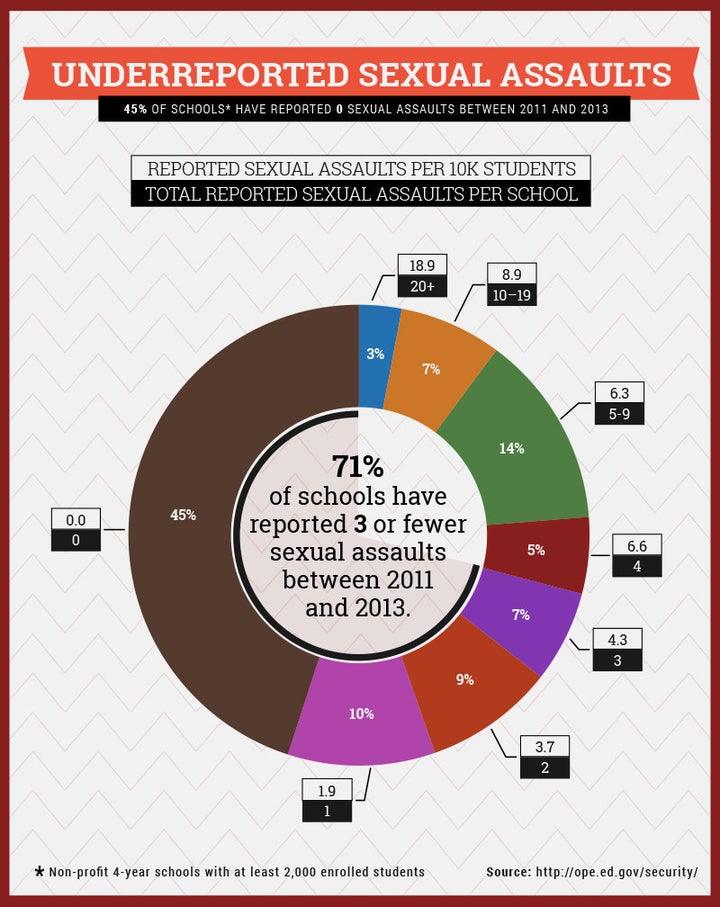 The team focused its analysis on non-profit schools with four-year degree programs and at least 2,000 enrolled students, using the Department of Education's Campus Safety and Security Data Analysis Cutting Tool, which provides customized data. The rankings reflect per capita measurements, comparing the number of sexual assaults reported against the number of students enrolled.
The Clery Act, a law passed in 1990, requires colleges to accurately track and disclose the number of forcible sex offenses among students and on campus. Each year, colleges and universities release their annual tallies in Clery reports that they make available on their websites, usually by Oct. 1.
That's because, as a 2000 study funded by the Department of Justice found, fewer than five percent of attempted and completed rapes of collegiate women were reported to police.
And 2011 research from the National Institutes of Health showed that among all women, fewer than 16 percent of rape victims report their assault to police, a rate nearly unchanged since the 1990s.
Many of the campuses ranked in the analysis as having the most assaults reported per 10,000 students were small liberal arts colleges like Vassar, Trinity, St. Lawrence and Wesleyan.
"That kind of information doesn't necessarily mean that the school has more assaults, it just means that more people are reporting the assaults and the school is being honest with their numbers," Kaufmann said.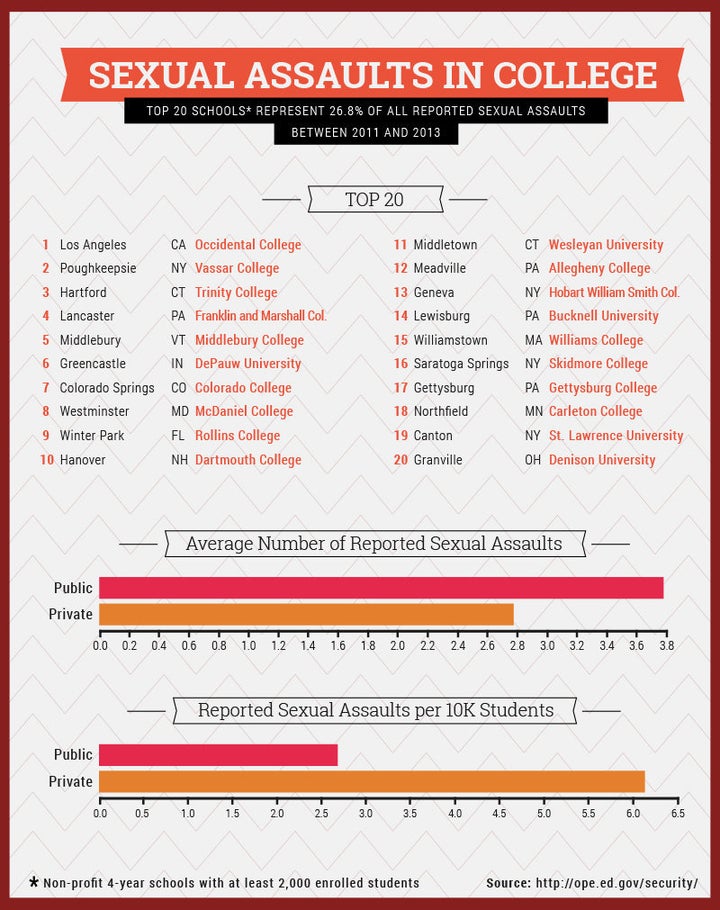 Occidental College, ranked at No. 1, attributed its placement in the rankings to having disclosed a number of assaults it failed to report in previous years. The school also believes rape awareness has increased due to activism and dialog on campus, which in turn may have led to a higher reporting rate.
"We believe the increase in reports from both victims and bystanders is a reflection of the heightened sensitivity to these issues that we have been working to create," said Kathy Andrews, director of community outreach at Trinity College, which ranked No. 3.
Andrews, who is also a member of the school's task force on sexual assault, said Trinity raised awareness on campus by implementing targeted educational programs and teaching students to intervene if they think someone is in a risky or harmful situation.
"If you have more students reporting, it's actually a success because students believe in their administration to believe them," said Ellen Cocanougher, co-founder of Not On My Campus, a sexual assault advocacy group at the University of Texas at Austin.
Getting students to report an assault is only the first step, Cocanougher said. "I've discovered through all of my work, students have no idea what resources are available if they are in a situation and that's upsetting."
Popular in the Community