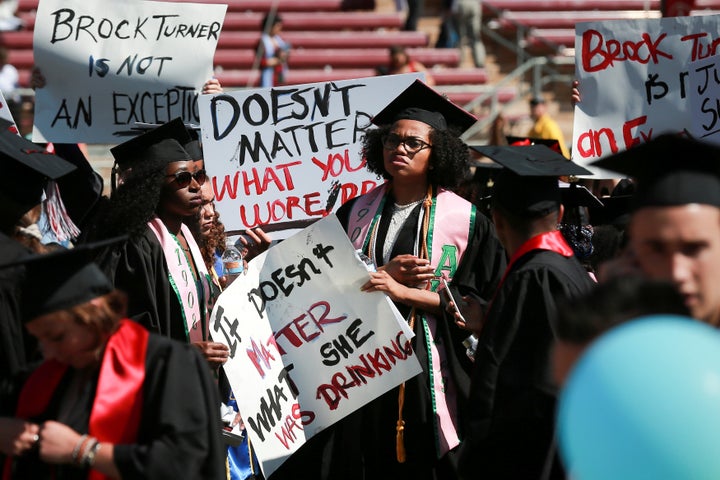 As many as one in four women experience sexual assault at college, though the vast majority never report it, according to a study of students at nine schools released Wednesday by the Bureau of Justice Statistics.
An average of 21 percent of female undergraduates at the unnamed colleges and universities told researchers they had been sexually assaulted since starting their higher education. One in four female seniors reported being sexually assaulted in their undergraduate years, with the rate ranging from a high of one in two at some of the schools that were studied to a low of one in eight.
The prevalence of campus sexual assault found by the federally funded study, while shocking, is similar to the results of earlier research. The new study also shows sexual violence varies considerably at different schools, said Christopher Krebs, a research scientist who was the report's lead author.
"We don't think a single statistic is of interest to universities trying to combat this problem," Krebs said. Instead, he explained, researchers tried to provide ranges of what students had experienced at the nine schools studied.
In the 2014-15 academic year, an average of 4.2 percent of female undergraduates said they had been raped, with the rate at some schools as high as 8 percent, according to the study. During the same year, an average of 10.3 percent reported being sexually assaulted.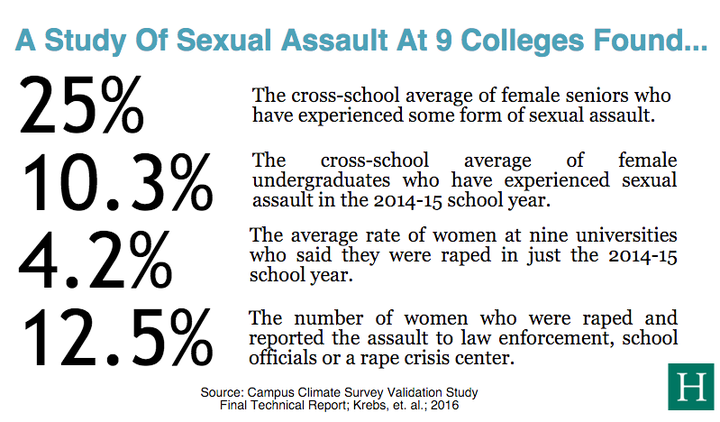 The study defined rape as any penetrative sexual act, including oral sex, anal sex, intercourse or sexual penetration with a finger or object. The term sexual assault in the survey counted rape, as well as sexual battery -- defined as "unwanted and nonconsensual sexual contact that involved forced touching of a sexual nature, not involving penetration."
"We set a pretty high bar" in defining sexual assault, Krebs said. "We weren't including somebody being sexual harassed. We're very clear that we were defining sexual assault as sex that they did not consent to and that they did not want to happen."
Among female sexual assault victims, only 12.5 percent of rapes and 4.3 percent of sexual battery incidents were reported to any official, defined as a university administrator, law enforcement or crisis centers.

A majority of women who experienced sexual assault reported only one incident happening to them, while about one-third said they experienced two incidents.

An average of 21 percent of female undergrads had experienced sexual assault since entering college, and 34 percent had experienced it in their lifetime.

An average of 7 percent of men said they had been sexually assaulted since starting college, and 11.2 percent experienced it in their lifetime.

Those who identified as LGBT or non-heterosexual reported sexual assault at higher rates than their heterosexual classmates.
"This is a major advance in the research about sexual assault on campus," said John Foubert, a researcher at Oklahoma State University. "Overall, the study is well done and we have many reasons to trust the results. The use of stratified random samples is excellent; it enhances validity highly and gives further confidence that this is a good study."
The survey included responses from 15,000 women and 8,000 men who filled out surveys in March 2015.
The study's findings on the prevalence of rape match a survey of 300,000 collegiate women in 2007 that concluded 5 percent were raped annually, and 13 percent were raped before college or by the time they graduated.
"One questions what it is going to take to convince people that rape on campuses is serious when the siren has been on for 25 years"
Krebs' team selected the nine schools by size, status as a public or private school, and region. Researchers cautioned that the data is not intended to be nationally representative of all college students or institutions of higher education. Instead, the results are best compared with other campus or national surveys.
"One questions what it is going to take to convince people that rape on campuses is serious when the siren has been on for 25 years," said Koss, now a public health professor at the University of Arizona. "However, the numbers suggest that the alarm is louder today."
Foubert, of Oklahoma State, said the survey leaves him with questions about the schools that were outliers in sexual assault rates. He said he would be curious to study whether aspects of their campus life contribute to higher or lower rates.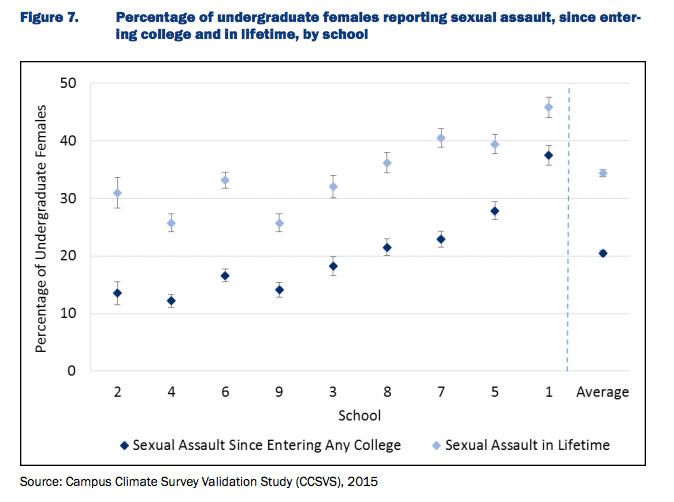 Charts From Campus Climate Survey Validation Study Final Technical Report
Related
Popular in the Community