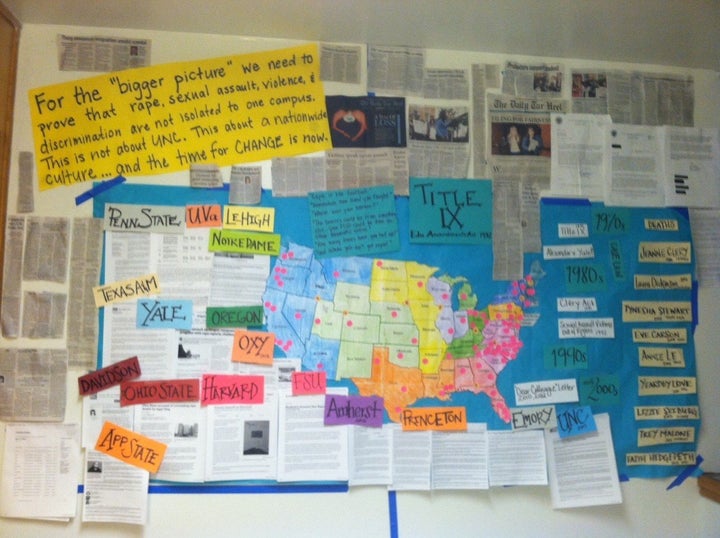 Annie Clark's wall is covered with notes and news clippings about people who, like her, resent how their school responded to their sexual assault.
Clark initially didn't tell many people about the attack she survived as a freshman at the University of North Carolina in 2007. Few close friends knew, and her family wouldn't hear the full details until she was preparing to file a complaint against UNC with the U.S. Department of Education's Office of Civil Rights in January. The complaint alleges UNC failed to provide adequate resources and properly respond to victims reporting sexual assaults on campus. UNC has not responded to the entire complaint, but has pledged to cooperate fully with the OCR investigation and hired Gina Smith, a Philadelphia-based attorney, to advise the school on reforming its policies.
Soon after Clark filed the complaint along with others, news stories about it and the broader trend of sexual assaults on college campuses began to gain attention on the Internet. Clark, who graduated from UNC in 2011 and now lives in Oregon, began to receive emails and messages from students all over the country who shared similar experiences they endured at their schools -- and Clark kept notes. Now a visitor to her apartment can see stacks of folders and documents detailing assault victims' cases from Amherst College, Stanford, Penn State, Harvard, Yale and several universities in North Carolina. A map on her wall plots the schools geographically under a banner she's titled "The Bigger Picture."
The result is an informal network of sexual assault survivors who have formed around Clark.
"We're not going to treat it as a UNC issue or a Yale issue," Clark told The Huffington Post. "Our goal is to show that there is a pervasive culture of sexual assault which needs to be addressed on a national level."
"Perhaps the most important thing we found is that institutional betrayal was associated with worse outcomes," Freyd told HuffPost. "So the students who were assaulted were more distressed, more likely to describe problems with anxiety and depression."
Landen Gambill, fellow complainant to the OCR against UNC, where she is currently a sophomore, described sexual assault survivors as the "largest undergraduate sorority that no one knows about."
Some days, Clark is helping survivors connect and counsel each other. Other messages request Clark's assistance in protesting campus sexual violence policies, and she passes on advice she received from women at Amherst and Yale.
Before Clark filed the UNC complaint, she received advice from Dana Bolger, an Amherst student who'd been networking with survivors and who helped to launch a photography project called "It Happens Here."
Bolger was in touch with students at Smith College, Mount Holyoke College, Rice University, and Tufts and Boston universities. Bolger had also connected with Alexandra Brodsky, who two years ago filed a federal OCR complaint against Yale University. Bolger in turn advised the UNC women concerning their OCR complaint, and predicted the influx of survivor stories they eventually received in their inboxes. She had experienced something similar.
Bolger explains that she, Clark and others are working collaboratively to overcome the discontinuity faced by campus policy reform advocates as students cycle through every four years. "I'd love to solidify the network that Andrea, Annie, Alexandra and I are already building right now," Bolger said, "so that in the future, survivors and student activists don't have to start from scratch."
Clark is now advising women at Occidental College in Los Angeles, who plan to file their own OCR complaint against that school's administration. Caroline Heldman, chair of the politics department at Occidental, said they'd spent four years pushing the administration to reform its policies before deciding to make it a federal case.
But Clark likely would never have spoken to the women at Occidental had she not followed Brodsky's footsteps and spoken out on how she feels her assault was handled. Clark hopes these survivors -- operating now in a political climate outraged by events in India and Steubenville, Ohio, and colored by controversial comments about rape by congressional candidates -- can help to force long overdue change on campuses.
"People have been very angry about this issue for a long time, but it hasn't really clicked," Clark said. She hopes now, as survivors continue to put their stories on the Internet, it will.
When people hear about other victims "expressing the reality of how horrible it was," Freyd said, it can cause victims who haven't spoken out before to re-evaluate what's happened to them. Indeed, Clark said it was when people came to her with their stories that she realized, "Okay, this is way bigger than me."
"I felt so alone," Clark said. "I know I'm not now."
Before You Go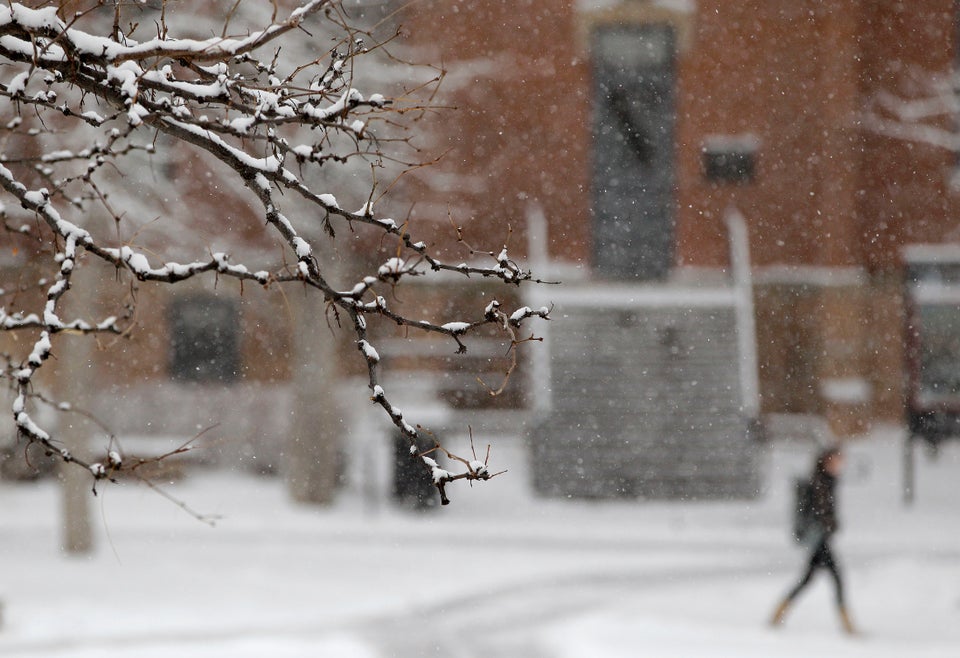 Schools Investigating Or Reviewing Policies On Sexual Assault
Popular in the Community