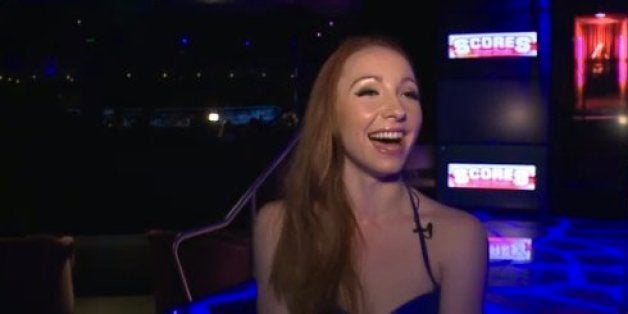 "Maggie" told ABC News she's a Spanish and political science double major at the University of Maryland, graduating debt-free due, in part, to her part-time gig as a stripper at Scores New York.
The college student, who works four nights a week and takes the train to New York twice a month, says she brings home about $180,000 per year.
Scores spokesman Steve Sabbeth told HuffPost that dancers at his club can indeed earn $180,000 in a year, and then some.
"We have people making way more than that," he said. "Our clients are exceptional clients. They have a lot of money." (Yes, patrons can run up jaw-dropping tabs.)
Sabbeth chalks up his top-earning dancers' success to being very smart and very pretty. "And there are people that like to talk to them. That like to see them dance," he said.
Diaz says that a more expected yearly take-home-pay range for a full-time exotic dancer would be "somewhere just under $50,000, all the way to $150,000 or more depending on how much effort is put into her work."
"With devoted regulars anything is possible. Is it a common or likely annual income? No. And probably not realistic over a multiple year time frame," said Story, the former dancer and blogger, who questioned why it's necessary to wonder too much about Maggie's salary at all.
"The fact is she is brave to announce her job considering society's hang-ups with sex work," Story said. "Meanwhile, why not raise hell over corporate moguls' salaries? Why give a s**t about some random college girl making a haul? I hope it's true for her sake."
CORRECTION: A previous version of this story did not mention "Maggie" works four nights a week. In addition to that, she makes her twice monthly trips to Scores New York. The text has been amended to reflect that information.