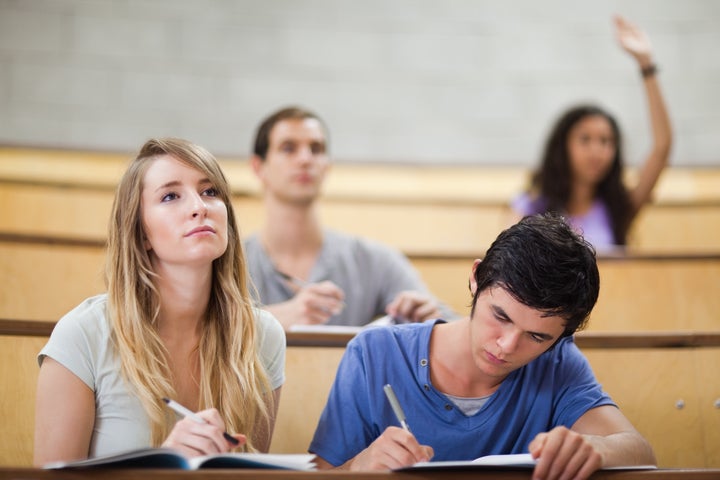 College freshmen across the nation get the red-carpet treatment this time of year.

The first year itself is often a wonder of developmental education, with orientation seminars and introductory classes. We offer leadership camps, traditions instruction, social interaction workshops, entertainment, community service explorations and a myriad of other creative activities focused on student involvement.

Colleges recognize the key truth that those students who are most successful -- the first level of success being graduation in four years -- form the patterns that make them successful early in their academic experience. And it's true as well that students who make deep connections in their first months in college, whether to faculty, staff or peers, are more likely to continue on to graduation. This is both a developmental and a financial concern.

Additionally, many colleges have begun to give greater attention to the senior year. A component of many small college curricula is the senior project, wherein every student has the opportunity to work one-on-one with a faculty member on a 'capstone' project that will help bring coherence to the previous three years.

But in shaping the welcome and the capstone, we too often fail to consider students' development in between. How are we helping them to make their way from uninitiated first-year student to graduate? We know that much of our students' growth and learning in their college years takes place outside of the classroom.

At Alma College, where I am president, thoughtful advising of students as they make their way to graduation is key to our success. This is crucial, particularly when most students, as is the case at the majority of colleges across the country, are unsure of their major when they enter college and change their major at least once. Every alumnus I talk to can point to that one faculty member who pulled them aside, gave them unasked-for advice, and helped to make a difference.

Lately we have been asking if we can better shape the entire college experience in order to help students thrive to graduation and beyond.

At Alma, we believe that it is critical to help students "see" the path to four year graduation and have centered our planning around the concept of a four-year developmentally sequenced student plan that addresses both academic and student life components. This four-year partnership between the college and its students will offer enhanced experiences outside of the classroom that prepare them for their post-graduate goals. With each stage of the journey, students will develop knowledge and skills that lead to increased self-sufficiency and independence.

These student "touch points" along the way will focus on declaring an academic major, selecting an applied experience that provides context to their classroom experiences, preparing for graduate school and careers, and developing the skills required for their professional lives such as communication and leadership. These opportunities for growth supplement but will not replace one-on-one guidance from their faculty advisor.

We know from studies like the National Survey for Student Engagement that high impact practices such as study abroad, internships, independent study, community service and research lead to improved student outcomes. Many students seek out these out-of-classroom experiences, but not all. Some students think they cannot afford an off-campus experience, or they don't know how to identify opportunities and incorporate them into an already full schedule.

So our proposed four-year student roadmap will include a funded applied experience coordinated by a new office that has been designed and staffed to assure that each student can identify an opportunity that will most effectively enhance the academic program. Students will be eligible for a financial stipend in support of an applied learning experience like an internship, summer research project, study abroad, or other off-campus study experience.

Many alumni talk about how their college experience included learning experiences that changed their lives. Our goal must be to make these kinds of opportunities available to all students to give them a head start to post-graduate success. Our mantra must be "not just access, but success."