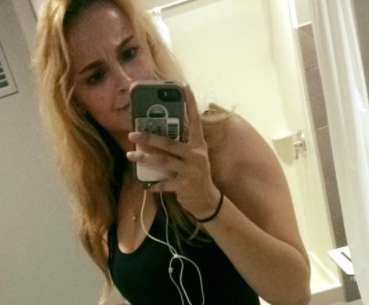 A sophomore at the College of Charleston was recently told to leave the school's gym because of her tank top.
On April 19, Sarah Villafañe posted a photo of herself on Facebook wearing yoga pants and a cropped, black tank top ― what appears to be a rather normal gym outfit. According to Villafañe's post, however, the College of Charleston gym staff did not think her outfit was up to gym standards.
"I've worn this same outfit all day. Went to 3 classes and spoke personally with each of my professors today and they didn't have a problem," Villafañe wrote. "But when I walked into the gym they asked me to put on a different shirt. Obviously I didn't bring an extra shirt to the gym and wasn't about to wear my flannel while working out. So I just said mhm ok and went about my work out pretty pissed off that they even asked me to change."
Villafañe claims that a few minutes later, the gym manager approached her and asked her to put a shirt on. She recalls that that the manager said she'd have to leave if she didn't change.
"I bought this outfit to work out in because it's COMFORTABLE. What is the issue?" Villafañe wrote. "Why can't I work out in this outfit?"
Read Villafañe's full Facebook post below.
As of Wednesday afternoon, the post had received over 1,000 likes and 500 comments.
Villafañe later added an update to her post, writing that the gym staff contacted her and clarified that they made her leave for "sanitary concerns." "They never made those sanitary concerns clear when they asked me to change," Villafañe wrote. "They told me I need 'more coverage' and nothing more."
"Because of this possibility, the College of Charleston and many other colleges and universities follow best practices that require people in the gym to wear a full shirt while working out in order to minimize skin exposure to possible infectious agents," Robertson told TODAY.
According to Villafañe, there are no dress code requirements on display at the gym or online. The only sign in the gym that addresses a dress code reads: "Athletic wear must be worn," Villafañe wrote on Facebook.
"Many people have told me that they have seen girls wearing similar outfits to mine in the [College of Charleston] gym, as well as men wearing muscle tees that expose their midriffs," she told TODAY. "It is interesting to me that the men I have seen wearing jeans in the gym (a quite obvious violation of their one dress code rule, 'Athletic attire must be worn') were not bothered or kicked out for not abiding by the dress code rules."
Popular in the Community