College freshmen are spending less time with friends than ever, a survey released Thursday shows, a shift that experts say may reflect declining mental health.
The University of California, Los Angeles, Cooperative Institutional Research Program's annual survey shows that incoming students in 2014 reported the lowest level of self-rated emotional health since the survey began 49 years ago. The survey included responses from 153,015 first-time, full-time students at 227 colleges and universities.
Students "are more stressed because they're not allowing themselves to find the release from all of the stress," said Kevin Eagan, director of the UCLA program, who said he sees a connection between the decline in socializing and in emotional health.
The survey shows freshmen concerned about financial security and feeling depressed and overwhelmed. At the same time, students were less likely than in the past to spend more than 16 hours a week socializing. The percentage of students dedicating six hours or more per week to social media increased to 27.2 percent in 2014 from 18.9 percent in 2007, the report said.
"One of the things we have seen is there is an association of depression and time spent on social media," said Dr. Victor Schwartz, a psychiatrist and medical director at The Jed Foundation.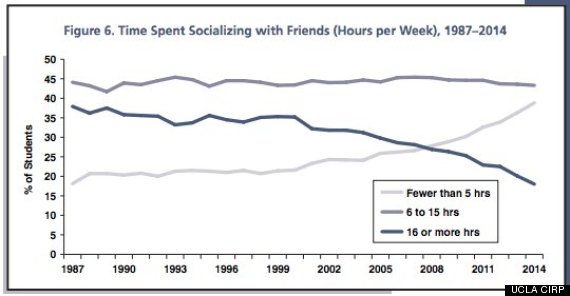 Schwartz cautioned about drawing conclusions. "It's hard, often, to know which is the chicken and which is the egg," he said. The survey didn't explore whether students were spending more time online, studying and away from friends because they were stressed, or vice versa, Schwartz explained.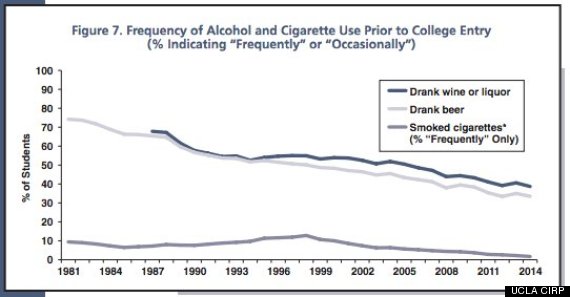 The survey also shows incoming students reported the lowest rates of alcohol and cigarette use in more than 30 years. The rate of students frequently or occasionally drinking beer as a teenager, for example, dropped to 33.2 percent in 2014 from 74.2 percent in 1981.
This, too, may be cause for concern, Schwartz and Eagan said.
"On the one hand, it's good students may not be drinking so much in high school," Eagan said. "But what does it mean when students have no prior experience with alcohol in high school, and there's more opportunities to drink in college?"
Related
Popular in the Community