There's certainly been much talk about colleges going green in recent years. In today's world, schools know they need to be committed to environmental sustainability in order to attract the best students and fulfill their mission to improve the world. Now there is a way for ordinary students, faculty and alumni to support the efforts of their campus in their own lives.
America's Greenest Campus is the new contest created to find our "greenest" campus community by tracking the personal carbon reductions of college students, faculty, staff and alumni, all through an innovative contest web site.
Everyone who enters in the America's Greenest Campus contest will see that it is one of the most compelling and informative energy efficiency campaigns today. Participants use their ".edu" email address to sign up on AmericasGreenestCampus.com and then make specific commitments to reduce their energy use and carbon footprint. Many of these commitments are small, everyday actions that add up to a big impact. To date, contest participants have already saved 1,820 tons of CO2, equivalent to taking 350 cars off the road. (And the contest just launched!)

The college that recruits the most members of their campus community to join AmericasGreenestCampus.com will win $5,000 for their school's sustainability projects, as will the school with the most carbon reductions per participant - that means $10,000 for campus communities truly committed to going green.

America's Greenest Campus is a partnership between the new web site, ClimateCulture.com, and my non-profit organization, SmartPower. The contest utilizes Climate Culture's unique web site, which hosts an incredible online community (fully integrated into Facebook), a virtual island that reflects your real carbon footprint and avatars that you get to deck out when you save more carbon.
The truly incredible piece to the Climate Culture web site and America's Greenest Campus, though, is that it's powered by an advanced carbon and energy advisor, which helps participants create customized savings plans. There are literally hundreds of actions in home, work, travel, and shopping to choose from. The savings numbers are specific for each person, depending on where someone lives, their lifestyle, and their personal preferences. Green-minded participants can see how much CO2, electricity, gasoline, and many other resources are saved.
Then America's Greenest Campus participants can track their school's progress on the leaderboard, comparing member numbers and carbon reductions. And integration with social networking sites like Facebook, Twitter and YouTube enable AGCers to encourage friends and classmates to join the contest, and really compete to be the greenest campus community in the country.

Ever thought about the electricity you waste by leaving the television on for hours when no one is watching it? How about the energy your dorm room or office wastes to keep stale coffee warm for hours past its prime? Do you know exactly how much money you would save on your energy bill by adjusting the thermostat when you leave your home? Or how much CO2 you could save if you made all those changes together?

The average American has a carbon footprint of 25,000 pounds of CO2, almost 2.3 times an average European or Japanese. Your own carbon footprint may surprise you. For instance, the average person in a rural area uses more than 15% more energy than an average person in an urban area. No kidding. Take a look at this map to see where you stand: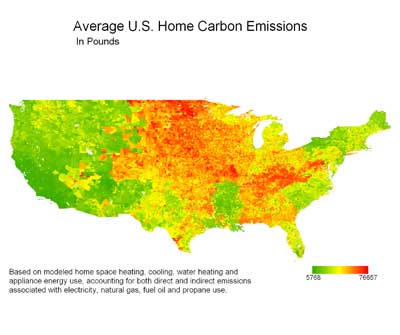 America's Greenest Campus now gives the campus communities, the tools and knowledge to reduce their energy use, save money and reverse climate change, all in a way that's easy, fun and effective. Through AGC, the power of social networking, the spirit of competition, and education on how to truly live a greener lifestyle come together for a one-of-a-kind campaign, and at just the right time. And you don't have to be a student to log onto ClimateCulture.com. Anyone can become part of the online community and start living smarter today!
I'll keep you updated on the contest - which schools are winning, how many people across the nation have joined, and how much carbon, energy and other resources we're saving.
Currently, George Mason University and University of Maryland, College Park have strong leads and are battling for first place. Think your school or alma mater can do better? Log on today, make your energy smart commitments, spread the word and help make your school become America's Greenest Campus.
Brian F. Keane is the president of SmartPower, a nonprofit organization based in Washington, D.C. that promotes clean energy and energy efficiency. www.smartpower.org
Calling all HuffPost superfans!
Sign up for membership to become a founding member and help shape HuffPost's next chapter