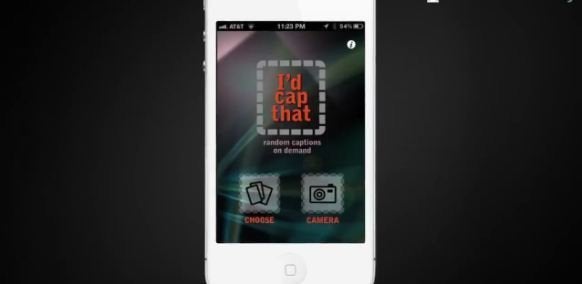 One of the most popular apps for iPhone was made by a 21-year-old who isn't making any money off of it.
Cody Kolodziejzyk, a recent Duke University graduate living in California, created "I'd Cap That" -- an application that adds captions to any photo. In late May, it topped the Free iOS App Of The Week after amassing four million users within four months, according to Pando Daily.
But don't expect Kolodziejzyk to try to become the next Mark Zuckerburg; he doesn't want to start his own company, he'd rather join one.
That kind of focus is certainly rare here in Silicon Valley. Most developers I talk to who have developed their own apps are focused on becoming a CEO or founding CTO and building their own companies. And this fact is a big reason why companies are struggling to find great talent. There's a cool factor to being a "founder," but so many of these developers have so much to learn. I give Kolodziejzyk a lot of credit for wanting to be a part of an existing team where he can work with developers who far exceed his experience so that he can increase his skill set at an accelerated pace.
The reporter who interviewed him for Pando said she received six Facebook messages from CEOs looking to recruit him within four minutes of posting her video.
You don't need to know how to code in order to create an iPhone app, though, and it could help you land a job after the college the way it did for Jared Guyer.
Guyer created an in a Business Analysis course at American University. He used iRise to create a prototype for an app in a "client presentation" using data from the U.S. Government's Immigration Benefits Management System. Guyer said he doesn't come from a technical background but found it "incredibly easy to use." He presented it to representatives from IBM, Deloitte Consulting, Unisys, Marriott, and other companies as his "final exam" for the course and it was "very well received."
"Consultants from both IBM and Deloitte Consulting asked for a copy of our presentation so that they could show their colleagues that were actually working on the Immigration Benefits Management System," Guyer said. After graduating with an MBA from American, he landed a gig as a consultant at Deloitte Consulting LLP.
College students have made apps for smartphones and tablets before, but now there are services like iRise available to help them invent apps without knowing how to technically put it together.
iRise makes software that allows people to create prototypes for apps without actually writing the code. Basically, it allows someone with a business idea and limited computer skills to showcase their idea for potential investors. Recently, iRise launched their an on campus program allowing students at American, Harvard University, New York University and the University of Southern California to use their software for free.
"Since so many students are budding entrepreneurs — before they graduate — we thought it would be great to make iRise available to them at no cost to help turn their dreams into reality," said Emmet B. Keeffe III, CEO & Co-Founder of iRise, "and at the same time help them with some of their class projects."
Apple has gone on campus too.
With companies and services like iRise promoting themselves as being able to allow young entrepreneurs to create prototypes of iPhone apps "without writing a line of code," imagine how different things would be if something like this was available to the Winklevoss twins.
Related
Popular in the Community