This university practiced what they preach when they surprised a deliveryman with an incredible act of generosity.
Keith Newman, Indiana Wesleyan University's CEO of Residential Education, wanted his students to truly understand the main point of a lesson he was sharing at their weekly chapel service -- "do for one what you wish you could do for everyone." So, on Wednesday, Newman ordered two pizzas from Domino's totaling $12.50 to the university chapel, WRTV reported. He then passed a collection basket around, and asked students to write thank-you notes.
When deliveryman James Gilpin arrived, he was brought to the stage and presented with more than $1,200 in tips, a piece of cake and a bag of thousands of inspirational notes.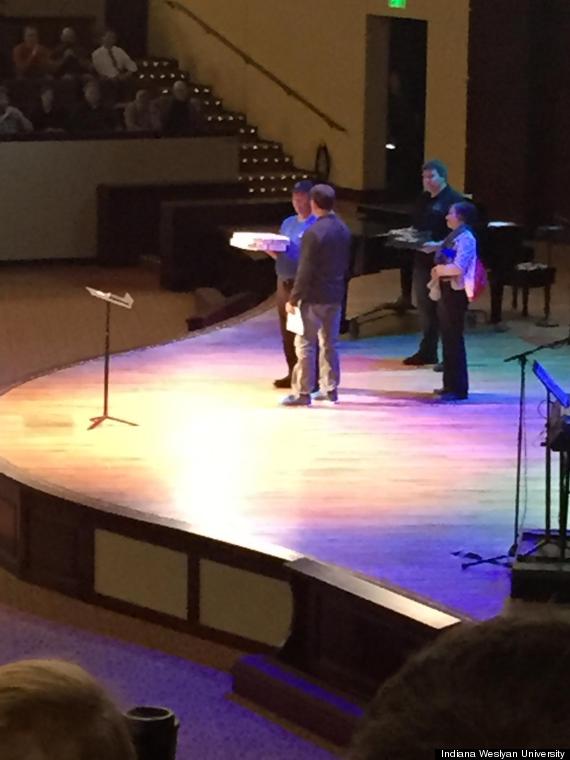 Deliveryman James Gilpin receiving his surprise.
"When it was announced what was being given him, James' face actually went blank for a few moment, wondering if he was hearing correctly," Jim Lo, a faculty member and one of the event organizers, told HuffPost in an email. "The smile on his face as he was leaving the stage was wonderful to behold."
Gilpin said he was overwhelmed by the act of kindness, according to RTV6. And he wasn't the only one affected by the act.
"I saw students clapping, crying, and cheering all at the same time and all spontaneous," Charlie Alcock, another faculty member wrote to HuffPost. "I don't think they fully comprehended at the beginning of chapel [the impact] this act of kindness would have on them personally."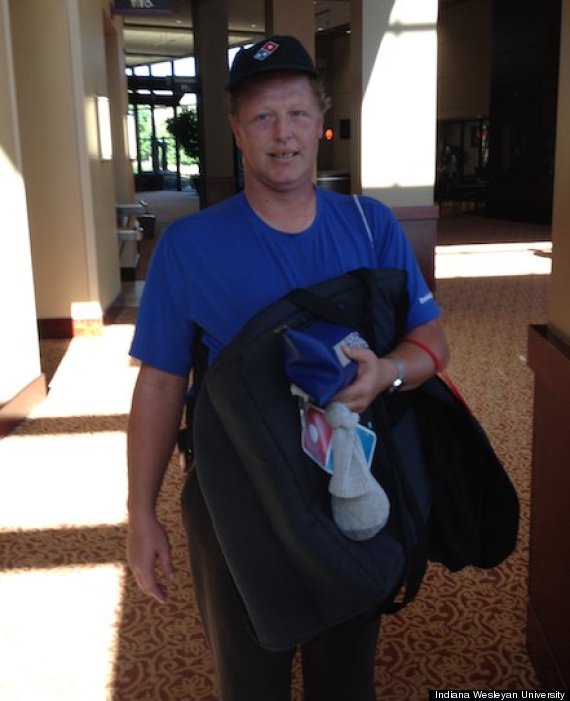 Gilpin with his gifts.
Students of the Christian university who witnessed the tipping said that Newman's tactic worked -- there was definitely a lesson learned. And it's a lesson that anyone, regardless of religious affiliation, can stand by.
"Something about doing an act of kindness without knowing the outcome is really rewarding for both the receiver and giver," sophomore Amy Tews told HuffPost in an email. "I think it taught everyone who experienced it to always be willing to do something for others."
Since the incident, some of the students said they want to do more kind acts in the future.
"I hope we get to do more of these things in the community of Marion. You don't necessarily have to give a $1,200 tip, but even a small smile can go a long ways," student Karen Hernandez said.
As for Gilpin, he said he'll use the money for his children's Christmas gifts this year, WRTV reported.
Related
Popular in the Community