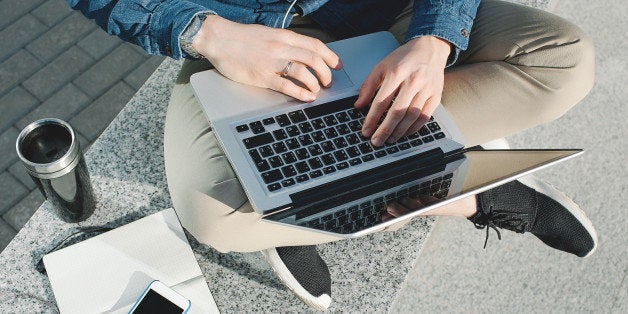 We like to think summertime and the living is easy but maybe not. Summer is when you need to get busy. We think of summer as a time to kick back and relax. Lazy beach days, hiking, vacation time. The reality is that except for kids at camp that is rarely true. Yes, people may take a week or so for some vacation time but in this country 57 percent of us do not take the paltry vacation days we are entitled to take. So if you think of college as dress rehearsal for the rest of your life--which it is--then toss thoughts of those lazy, hazy days of summer out of the window. Summertime can be useful time.
Yes, do kick back some. But this is when you can be building up your resume and your networks. Couch potato does not look good on a resume. You need to be engaged in an internship, summer job or volunteer work. Using your campus career office start early in the year to look for these opportunities. The paid ones will go fast but chances to engage in service may be more available even as you get closer to June. There are often summer programs that look for students. There are the summer jobs that sometimes go begging like, surprisingly life-guarding and waiting table at resorts. (Maybe taking a look at the classic film "Dirty Dancing" or the new "Baywatch" movie will spark more interest...)
You should have internships or chances to "test-drive" careers that are of interest to see if they really do fit what your image of them is and what you really want to do. If you do a great job you may even get an offer to come back. Even if the job is not in a field you intend to enter, at the very least you could end up with someone willing to write a letter of recommendation or even be a mentor for you. That can be someone you meet as a nanny or life-guard. The discipline of working and interacting with people well is the value here. Someone on whom you have made a good impression in that work context may keep you in mind if they hear of future opportunities. I know of students who were invited to come to company sponsored events because they made such a good impression and these events gave them even more opportunities to expand their networks further. And if it is a paid option then the money can go toward your college expenses.
Doing a good job at the job (paid or unpaid) that you have should include not only doing the tasks assigned really well but also how you manage relationships, your attitude, your appearance, your courtesy and your smile.
This is preparation for the rest of your life (when you will have very little vacation time anyway.) But another use of summer down time from school will be to get ahead of things you may have to do in the fall. If you are applying to graduate programs this is a great time to also prepare. Actually the process should be underway now. Here are things to begin and continue through the summer. Some may be done on a laptop lying in the sun in the park....
• Research schools of interest. Talk to your faculty to learn about faculty in the field at other schools. Read articles by them or study their research. Line up all the professors needed to write recommendations. (This will relate to jobs as well as to graduate school or fellowships.)
• Take relevant tests: GRE, GMAT, MCAT, or LSAT. They are often offered during the summer so you have time to prepare.
• Ask professors, mentors, or former employers to serve as references. As with applying for a job, be sure to ask them well in advance and be specific about the school you are applying to as well as any skills or accomplishments you hope they will highlight. Graduate schools usually require an online recommendation form in addition to a letter of recommendation for references to fill out as part of the application process. Don't forget to thank the individuals you ask for references afterwards - regardless of the outcome.
• Work on personal statements. Share drafts with advisers or faculty. Expect to do several drafts. It is much easier to do them during the summer.
• Request applications for all the schools you are considering, or download them from the Internet. Review their requirements and deadlines to determine what documents and information will be needed. Transcripts will be needed from the registrar and sometimes this can take time.
Finally what you can do while lying on the beach, at the pool or in the park is reading. Your literacy and vocabulary can be crucial to your ultimate success in life. The importance of vocabulary has been demonstrated by repeated scientific experiments and wide ranging data analysis studies which show that the strength of a person's business vocabulary is the single measure that is found to predict income - every time. Being in on the conversation whether it refers to the New York Times or the latest best seller can determine your access to important people and opportunities. One employee of a major bank said that firms want to know that you can present yourself well. They will teach you what you need to do but they do not want to teach you how to speak and write well. Reading lots addresses that need. Have a summer reading list and it should be from sources like the Times.
Lots to do! But in addition to being a dress rehearsal for the years you will not have much vacation time, a useful and productive summer can set you up for the kind of life you really do want to live--vacations included.
Marcia Y. Cantarella, PhD is an educator, consultant and author of I CAN Finish College: The Overcome Any Obstacle and Get Your Degree Guide. See www.icanfinishcollege.com for more blogs and information.
Calling all HuffPost superfans!
Sign up for membership to become a founding member and help shape HuffPost's next chapter